A chilling message
New research using satellite measurements shows polar caps are shrinking three times faster than 20 years ago
Lewis Smith
THE polar ice sheets are melting three times faster than they were 20 years ago, according to satellite measurements. More than 4,200 gigatonnes were lost from the polar ice sheets from 1992 to 2011, an average of 223Gt a year and rising.
Researchers described the losses as being at "the high end" of forecasts by the Intergovernmental Panel on Climate Change (IPCC) in 2007.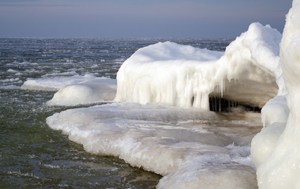 Causes and mechanisms behind the increased rate of ice loss are not fully understood, but it is widely attributed to global warming.
The findings are based on previous satellite readings but have been combined and correlated to provide what scientists believe is "the most accurate assessment" yet of polar ice loss.
Accurate calculations of how much ice is lost from Greenland and Antarctica are notoriously difficult. In 2007, the IPCC wasn't even sure if there was a net loss or gain.
Professor Andrew Shephard, of the University of Leeds, said it was "two or three times" more accurate than previous assessments. He said the implications were serious: "The ice sheets used to be a minor player in sea-level rise. Now they seem to be a substantial player."
It provides "baseline" data which will make future forecasts of ice loss and sea-level rises much more accurate.
Net losses of ice contribute to sea-level rises and the study found that the rate has increased significantly in only 20 years. During the 1990s, ice sheet loss accounted for 10 per cent of sea-level rises but in the past five years it has risen to more than 30 per cent.
Melting ice caps, the new calculations show, caused 11mm of the overall rise since 1992 but the rate of loss is increasing rapidly. In the 1990s, 0.27mm of annual sea-level rise was blamed on polar melting, whereas in the past five years it has risen to 0.95mm annually.
Melting of ice in Greenland has had the biggest impact, contributing 7.4mm to sea-level rises since 1992. Antarctica has contributed 3.7mm but there are clear regional differences. While West Antarctica has lost an average 65Gt annually and the Antarctic Peninsular 20Gt, there has been a 14Gt gain in East Antarctica.
Annual sea-level rises are still small but are forecast to increase significantly and the study suggests the most pessimistic forecasts will be proved right.
It comes after a report published recently showed overall sea levels rose 3.2mm a year between 1993 and 2011, 60 per cent above the 2mm estimate in projections by the IPCC.
The findings, published in the journal Science, were made by an international team of scientists jointly led by Prof Shepherd and Dr Eric Ivins at the National Aeronautics and Space Administration's (NASA) Jet Propulsion Laboratory.
Professor Michiel van den Broeke, of Utrecht University in the Netherlands, warned: "Sea-level rises are at the very upper end of what the IPCC has predicted."
The causes and mechanisms behind the increased rate of ice loss are not fully understood but it is widely attributed to global warming.
Professor Richard Alley, a climate scientist at Penn State University in the US, who was not involved in the study, said: "This project is a spectacular achievement. The data will support testing of predictive models, and lead to a better understanding of how sea-level change may depend on the human decisions that influence global temperatures."
Enough ice is contained in the ice sheets to cause sea-level rises, if it all melted, of an estimated 63m — 7m from Greenland and 56m from Antarctica. — The Independent