real pulse: tricity
Rental rise
Even as the realty sector remained lacklustre this year, rents have appreciated
Dipin Preet Singh
While the sale volumes have remained woefully low and the price trends, too, have not shown any buoyancy in 2012 in the tricity region, it is the residential rental segment that has seen a positive trend this year making it lucrative for homeowners here to retain a house and rent it out rather than to sell it to make a profit. The increase in rentals has also had an impact on the realty scene in the periphery areas of the tricity. The rising rentals within Chandigarh, Panchkula and Mohali have made a large number of salaried class people shift to the residential societies in the periphery areas as the rents there are not only much less but it is also easier to own a house there as the prices are affordable.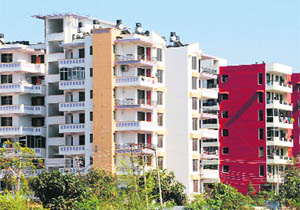 City of handsome returns
Coming back to the rental scene within Chandigarh, the rentals have seen at least 60 to 70 per cent appreciation in the past couple of years. The rent for a second floor of a two-kanal house in northern sectors has gone up to Rs 50,000-55,000 per month while the same was around Rs 20,000 about four years back. Similarly, a first or second floor of a one-kanal house is available for around Rs 30,000 now, up from Rs 15,000 three years back.
A first floor of a 10-marla house in Sector 15 can fetch a rent of Rs 15,000-18,000 depending upon the quality and age of construction and internal fittings, while the second floor of similar house is available for around Rs 12,000-15,000. These rents which were around Rs 6,000-8,000 in 2008-2009 have shown a substantial increase. In Sector 19 a two-bedroom annexe on the first floor can fetch Rs 12,000 per month and in the southern sectors like sector 43 a three-bedroom MIG-lower is available for around Rs 11,000, while in Sector 47 HIG (Super) three-BHK on the first floor is available for around Rs 17,000. The MIG flats had fetched Rs 4,000-Rs 4,500 per month as rent in 2008.
In sectors 33 and 32, which are in close proximity to the educational hub of Sector 34 and where the PG culture is quite prevalent, the rentals have gone up to a whopping Rs 22,000 for an upper floor of a 10-marla house and up to Rs 15,000 for a floor of a 7-marla house. The ever busy bylanes of Sector 22 are sought after by people who prefer to live close to the bus stand and major markets and here an upper floor of a 7-marla house can cost one Rs 15,000 at present, up from Rs 8,000 around four years back.
The increase in rents in Chandigarh, however, is not limited to the old or the posh northern sectors, apartments in the relatively new sectors between 48 and 51 are also giving handsome returns to owners who have given these on rent. Tejdeep Singh, who lives in a four-BHK flat in one of the biggest societies in Sector 49, is paying Rs 24,000 per month, the rental in 2007 when he had shifted in the same complex but in a different house was Rs 12,000, the rental within the same vicinity for a three-BHK accommodation has also increased from Rs 8,500 to Rs 18,000 over the same period of time.
A two-BHK flat in group housing society with decent upkeep and woodwork would fetch a rent of Rs 12,000 onwards in Sector 48-49 of Chandigarh.
Commenting on the favourable impact of rental rise on the overall realty scene in the area, J K Sharma, who is a partner in Future Estates, a property consultancy firm, says, "High rentals have lead to appreciation in the cost of apartments, especially in the southern sectors. For example a four-BHK flat in some southern sectors of Chandigarh carry a price tag of Rs 1.5-1.7crore, as the rentals there are so high and an owner can get a handsome return for his investment. "
Panchkula's punch
According to experts rentals in Panchkula have appreciated by almost 40 per cent in the past two years and are likely to increase by 15-20 per cent annually due to increased demand by those working in the IT Park as well as executives working in Baddi and nearby areas. Summing up the rental scenario in Panchkula, Asid Kapoor, a local property consultant says, "Proximity to the IT Park has made Mansa Devi Complex area a hot destination for rental accommodation. Here ground, first and second floors of 10-marla houses have a going rate of Rs 18,000, Rs 16,000 and Rs 10,000 respectively.
A single bedroom accommodation is available in the prime sectore like 6, 7 and 8 for Rs 12,000. While rent for a two-bedroom accommodation in Sector 20 can be approximately Rs 14,000, three-bedroom flat depending upon the society and the quality of upkeep of the unit can be had for between Rs 18,000 and Rs 20,000.
Because of the increasing rentals people are preferring to take smaller accommodation as well hence the first floor of a one-kanal house is being divided into three units by the landlords thus fetching them higher rents.
Gains on the periphery
A lot of the are shifting to the high-rise Group Housing Societies in the southern sectors of Chandigarh, or even in Panchkula, Mohali, Kharar and Zirakpur because of other factors, Harpreet Singh, Chief Technology Officer of a leading Telecom company says, "With my increased touring the security of my family is of paramount importance and this you get only in gated communities with 24 hours security, along with round-the-clock availability of the support functions like electricians and plumbers." Rents in housing societies in Zirakpur are relatively lower. A two-BHK flat in one of the better societies can cost Rs 8,000, and for a three-BHK flat the rental is Rs 10,000-Rs 12,000. Similarly, a three-BHK flat in Kharar is available for Rs 10,000-Rs 12,000.
Still the general feeling is that with increasing salaries and the focus of the state governments of the region on developing Chandigarh and Mohali into IT hubs the rentals of properties specially those near the IT Park in Chandigarh as well as across Mohali, are likely to increase even further. ISB the most prestigious management college has already set up a campus in Mohali and another international school launched its branch in Mohali only last week, as a result this region will be one among the most influential educational hubs of the country and would keep attracting talent from far and wide and the demand for quality residential accommodation will remain upbeat.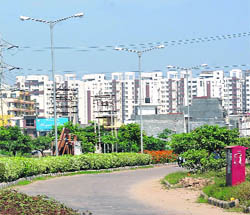 Mohali scores high
Interestingly, rentals in Mohali are even higher than those in Chandigarh. Market watchers claim that it is because of a large number of executives of IT and telecom companies living here. With over 3,000 employees of various telecom companies that have set shop with their regional offices for Punjab, Haryana and Himachal Pradesh in Mohali during the past 7-10 years and each of these 5-6 telecom operators having strength of 300 plus employees with decent salary packages and the availability of a limited number of rental properties has jacked up the rentals in Mohali.
Apart from this corporates like Dell, Quark and various other IT companies, too, have set up huge complexes and are operating from Industrial Area of Mohali. Rentals in Mohali have, in fact, increased more in the past five to seven years than these had in past two decades.
Narinder Katoch, a Mohali-baseed property consultant says, "At present the rent for a first floor of a 10-marla house is in the range of Rs 10,000-12000 per month and these floors did not have many takers in 2008-2009 even for Rs 5,000-Rs 6,000 per month." While the rent for a ground floor of a one-kanal house is around Rs 30,000 and an independent one-kanal house can cost one Rs 40,000 per month. The upper floor of a 7.5-marla house in Mohali can cost Rs 8,000-9,000 per month at present, while the rental was Rs 3,000-4,000 around three years back. A 1,425 sq ft apartment in Mayfair, one of the most sought after societies in Phase 7 Mohali, is fetching a rental of Rs 20,000-25,000 per month at present.
He further added that, "In Mohali Phase 3B1, 3B2, Phase 4, Phase 5, Phase 7 and Sectors 69-71 the rentals are the highest because of the proximity of these areas to the Industrial Area that is the hub of telecom companies and major markets, while the rents are comparatively lower in Phase 1 and Phase 6 and in sectors 76-80."
Rents in the newly developed group housing societies in Kharar and on Kharar-Ladran road as well as in Zirakpur vary between Rs 8,000 to Rs 14,000 per month.