Warm weaves, cool cuts
As temperatures dip, couture wear is available in a mind-boggling array of designs, fabrics and hues to beat the chill
Neerja Bahadur

Every year when the world's foremost designing houses announce their new Fall and Winter collections, fashion breaks all rules. Their new exotic creations are pointers to the world, the way fashion will be shaped in coming times.
Going by leading international haute couture trends, the 2013 wardrobe essentials are going to be tapered trousers, bomber jackets, multi-panelled skirts, crop tops and long flouncy vests. There are plaid shirts, patched jeans, floral dresses, long-john vests and grandpa shirts. For the formals, there are the tuxedos in vibrant cuts and styles. The look is bold yet simple and individualistic.
Classic case
For the winter of 2012-2013, designs are combining aesthetic elements with a hint of classic. These are in sync with the free-flowing and free-thinking attitude. Experimentation is the key for many designers, and so are vibrant colours like yellow, blue, citrus green and deep red. Cuts and styles, too, are coming in for a complete makeover.
The classy colours are shades of black, burgundy, green, slate grey, gold, copper and a rich shade of brown as in bamboo. The fabrics this season range from cashmeres, tweed and corduroys to chic lamb's wool, satin and velvet as also silks and chiffons. In terms of shapes and proportions, it seems to be the season of 'anything goes'.
For the ladies, the range covers the classic pullovers, jackets, long skirts and figure-hugging dresses. Simplicity has been replaced by frills. Once again, skin is the major fashion statement. Adorned by fabric, sectioned by straps, contoured by criss crossing strings, skin has never been more under the spotlight.
Women's ensembles
The ensembles reflect the various facets of a woman — her modern outlook, sensuality, vivaciousness, sobriety, and ethereal beauty. The elements of joie 'd' vivre and funk are very much in evidence in these 2012-13 fall and winter collections.
Top couturiers are making men more outgoing with colourful shirts, tuxedos and tapered trousers reminiscent of an era gone by. Men's suits this winter have a very Italian look. These are less fussy with straight lines, giving a combination of allure and power. The colours are highlighted with designer neckties, which add a dash of wit and offset sombre suits. Party suits are more imaginative with satin lapels and others which are tuxedo-inspired.
The shape of the sweaters has gone back to the basics. Tunic tops to be worn as blouses with long skirts, round neck tops to be coordinated with tights are much in vogue this season. For the fashionably bold, the pullovers come in bottle green, turquoise, red, black, brown and gray and also in geometric patterns.
Breaking free
Fashions are breaking free as far as women's jackets go. These are coming in all shapes and hues. Donna Karan, this season has a crepe jacket with draped asymmetric collar and gathered pleats. It can be worn as part of a sleek ensemble with high heels. Marc Jacob has given a new twist to the jacket with faux fur pockets. Stella McCartney's wool coat has an upright collar and five buttons.
Men's jackets, too, are coming in for experimenting and change. There are the ubiquitous parkas, single and double-breasted suits and winter blazers. But there are also waist-length jackets, down-padded coats made of sheepskin and coats made of fur and various other fabrics. The bomber jacket has made a dramatic comeback with leading designers like Alexander McQueen, Diesel, Gucci, and many more offering their own exquisite versions.
The warm, fuzzy, woollen Scottish fabric tweed is once again a fashion celebrity this winter. It is setting style trends and is fast becoming a wardrobe essential. For long considered an outcast in the fashion world, tweed is making a dramatic comeback and most leading designers are looking at it with renewed interest.
If high fashion is taking new steps into the future, much of its new-found dynamism has seeped in to the leading designer houses of the world. Jackets, trousers and sweaters have gone haute couture. Things, indeed, are heating up this winter with a plethora of colours, fabrics and breathtaking designs.
INDIAN FASHIONS GO GLOBAL
What do international celebrities like Madonna, Julia Roberts, Lady Gaga, Kate Perry, Anna Hathaway, Victoria Beckham, Angelina Jolie have in common? The answer is their love for the Indian sari. All of them have worn it on more than one occasion and have expressed their feelings for it.
Global designers like Hermes, John Galliano, Louis Vuitton, Alexander McQueen and John Galliano have been inspired by the saree. Leading British designer Paul Smith did an entire collection based on India- inspired attire and this included men's shirts created out of saris. Zandra Rhodes and Donna Karan, too, have done extensive work with sarees and sari borders.
A number of leading overseas designers and luxury designer houses are being increasingly influenced by the Indian craftsmanship and fabrics which have been adding value to their creations. Indian fashions have worked their magic on global designers like Giorgio Armani, Donnatella Versace, Jean-Paul Gaultier to Zandra Rhodes and Donna Karan.
The big names in the fashion industry make a beeline to India whenever they need delicate embroidery. Some time back leading French designer Jean-Paul Gaultier's collection showed India-inspired designs, including models dressed in Sikh turbans, tailored saris, bathing suits encrusted with mirrors and spicy colours such as saffron at the Paris fashion month.
DUCHAMP PAISLEY WINTER SHIRT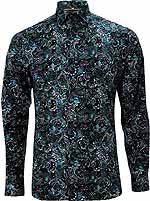 The intricately patterned Duchamp Paisley shirt adds a stylish flourish to your formal attire. It has a smart semi-cutaway collar and buttoned cuff. The complexity of the pattern detailing this Duchamp shirt means that it looks best worn open collar. If you want to add a tie, go for a plain one.
Price: Rs 11,275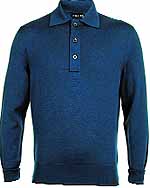 TOM FORD POLO KNIT
One of the most revered American designers who transformed the Gucci and Yves Saint Laurent brands, Tom Ford has now got his own line of stylish couture. An example is this striking long sleeve knitted polo with button closure at the neckline, chevron placket and rib knit trim.
Price: Rs 31,350
GIVENCHY BLACK & RED SWEATER
Give your streetwear an edge with this Givenchy's Fall/Winter 2012 'American Dream' inspired striped sweater. The bold black and red sweater has a recurring motif of stars and stripes. Wear it over a pair of slick jeans and leather-high tops for a distinctly contemporary city look.
Price: Rs 30,800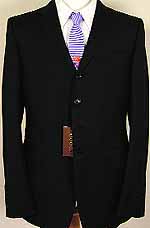 GUCCI SINGLE-BREASTED SUIT
This Gucci navy stripe four-button single-breasted suit has a timeless appeal to it. The quality and craftsmanship from one of the world's top fashion houses is unmatchable. Made primarily of wool with mohair mix, this ticket-pocketed suit is an absolute personality enhancer.
Price: Rs 1,35,575
ALEXANDER MCQUEEN BOMBER JACKET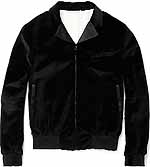 This luxurious velvet bomber jacket from Alexander Mcqueen fuses an urban silhouette with tuxedo-inspired details such as the satin lapels, which give it the hallmark of a classic. Team it with sturdy black boots and a white roll-neck shirt for a stylishly sleek city-ready look.
Price: Rs 95,150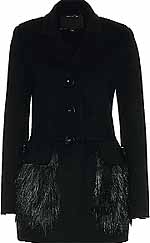 MARC JACOBS COAT WITH FAUX FUR
This winter Marc Jacobs has taken the ordinary ladies wool coat in jet black and rejuvenated the style with faux fur detail at the pockets. Made of viscose and polyester, the coat with oversized buttoned cuffs and a pointed collar, is a great option for understated yet quirky style.
Price: Rs 1,45,475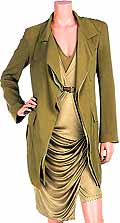 DONNA KARAN CREPE JACKET
This stunning stretch-crepe jacket in bamboo colour with asymmetric double-layer draped lapels is a typical Donna Karan outfit — complex and elegant in detailing. The fully lined viscose and silk jacket has full-length sleeves, three front patch pockets with pleat detailing and an open front.
Price: Rs 44,000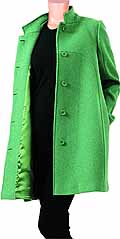 STELLA McCARTNEY'S WOOL COAT
Legendary former Beatle Sir Paul McCartney's daughter Stella is today one of Britain's leading designers known for her tailored cut feminine coats and jackets. This winter her standout design is a light green wool coat with an upright neck, hidden closure and five buttons with eyelets.
Price: Rs 86,900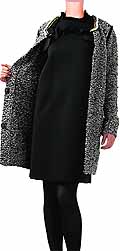 LANVIN KNITTED COAT
Lanvin's hyper feminine and sophisticated style has been a rage for almost a century. It's knitted bouclé coat in grey, black and silver threads with two pockets and pearl necklace around the neck is simply luxurious. No wonder, the label is the favourite of top Hollywood stars.
Price: Rs 1,32,000
DIANE VON FURSTENBERG CASHMERE SWEATER
Diane Von Furstenberg is a top Belgian-American fashion designer best known for her iconic wrap dresses. An example is her Cashmere knitted crew neck sweater from her latest winter collection. The bottom half of the sweater is lined with jersey giving a very elegant look to the wearer.
Price: Rs 19,800