ARTS
Lovers' museum
From Sohni Mahiwal to Mirza Sahiban to Laila Majnu, the Uruswati Museum of Folklore in Haryana opens a world of love legends while celebrating and cataloguing these folk tales from the days of yore
Narendra Kaushik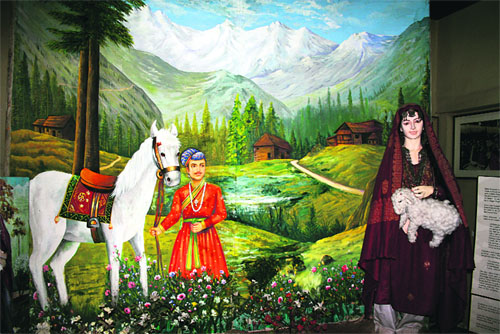 Habba Khatoon, the beautiful 15th century Kashmiri poet, tending a sheep as Yusuf Shah Chak looks on in a diorama
it looks like an old haveli somebody may have constructed to spend quiet hours away from the hullabaloo of the city life. Its majestic black doors with motifs carved on them, heavy door frames, brown-ochre colour of walls and decorated parapet — everything reminds you of the havelis people would build in the area around Chandni Chowk in old times to house their large families.
A dusty lane leads to the three-storied haveli, located at a stone's throw from Shikohpur village on the Delhi-Jaipur Expressway, about 50 km from New Delhi. The place is so non-descript that unless you look for Revanta, a large multi-storied project, which is coming up right next to it, you may even drive past it. For all practical purposes, the place is hidden behind the towering apartments, which are being built around it. But once you reach the place, you realise that it is a treasure trove ensconced behind Gurgaon's plush real estate market.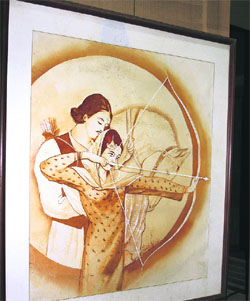 The legendary lovers Mirza-Sahiban are about to shoot at a target
As you walk into the first floor after climbing the wide staircase, a world of love legends and folklore opens before your eyes. On your right, you find a print where legendary lovers Mirza-Sahiban are about to shoot at a target. Take few more steps into the dimly lit floor, and you have Laila-Majnu looking down on you through a trans-light on the wall. Right next to the trans-light is tucked a painting of Sohni-Mahiwal, the folk tale that has been shown on Indian celluloid at least a number of times. The lifelike painting also has buffaloes grazing behind Mahiwal, a trader from Bukhara (Uzbekistan), who traversed long distances to meet Sohni, a potter's daughter in Sindh (now Pakistan). Turn right, and you have a diorama depicting Heer and her lover Ranjha. There are also oil paintings which exhibit the scene when Ranjha appeared at Heer's doorstep disguised as an ascetic. There is also a painting of Sassi-Punhun, another couple from the days of yore.
The floor has different enclosures exhibiting love tales from states like the erstwhile Punjab, Haryana, Jammu and Kashmir, Rajasthan, Madhya Pradesh and Gujarat. You have Himal and Nagrai, the fabled lovers of Jammu and Kashmir. And you have Habba Khatoon, the beautiful 15th century Kashmiri poet, tending a sheep as Yusuf Shah Chak looks on in a diorama. Musical instruments, artefacts, terracotta, ornaments, depiction of famous stories through miniature paintings, copper and brass utensils, figurines and smoking pipes of lovers' era is what completes the milieu the lovers lived in.
The second floor of the museum houses more such artefacts, musical instruments, ornaments, nagadas (drums), and even a spinning wheel. It exhibits the story of Pannai Dai, who saved the life of Maharana Pratap, the legendary warrior from Rajasthan, who challenged the might of Mughal rulers. It also depicts the story of Feroz Shah Tuglaq, the Muslim ruler, who fell in love with a Gujjari and built a palace for her in Hisar. It displays Rupmati-Baz Bahadur (from Mandu in Gwalior), Gagaur dance of Haryana, and Karma dance of Chhattisgarh, Heeramal-Jamaal, another love legend of Haryana, leather puppets and costumes of other gypsy dancers.
The museum, called Uruswati Museum of Folklore, is run by a former Haryana cadre IAS officer Komal Anand, who headed the Archaeological Survey of India before demitting office. Anand first set up the museum in Delhi. Initially, it was funded by the Ford Foundation but in 2002, she shifted it to the outskirts of Shikohpur village.
There is an equally interesting story behind why Anand decided to celebrate and catalogue the love tales of yore.
According to Anand, she was born on the banks of Chenab (now in Pakistan), the river that gave birth to several love tales. In fact, she hails from Kunjah village of Gujarat (Punjab province of Pakistan) which was believed to be the birthplace of Sohni. "My family came from Kunjah village. The place was witness to several love tales, including that of Sohni and Mahiwal. I set up the museum to preserve the rich heritage," says Anand, who is honorary director of the Urusvati Trust that runs the museum.
Anand has big plans for the museum. She intends to add to it a connecting floor to have an art gallery. At the same time, she wants to open a performing and fine arts centre. She is constructing a six-floor building for this same.
"The new building will have an institute for performing and fine arts here. We will also have a floor where people will be able to stay," she discloses.