Leading from the front
Reviewed by Lt-Gen ( Retd ) Harwant Singh
Through Wars and Insurgencies
By Brig ( Retd ) Kuldip Brar.
Pentagon Press. Rs 595
Through Wars and Insurgencies, is an autobiographical account of Brig Brar's journey through an eventful military career. Autobiographies generally tend to lose objectivity and the authors attempt to gloss over their failings and lay more emphasis on achievements. It goes to Brar's credit that throughout the narrative he has succeeded in retaining objectivity and tried to tell the story as it unfolded.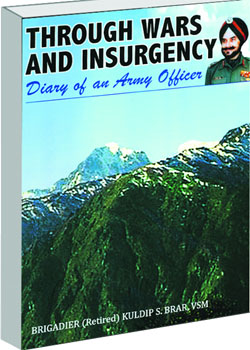 The book highlights the imperatives of leading from the front, particularly for junior leaders. His account of counter-insurgency operations and the methods of dealing with ambushes hold out important lessons for those who may have to take part in such operations. An account of the battle of Walong, fought at the forward end of a 200-km-long foot-track and supported through a small air strip where only light aircraft could land. The conduct of battle under the most trying circumstances is what makes the account so much more readable.
The heroism and grit displayed at Walong by one and all, in the face of impossible odds is well brought out in the simple narrative. The authorís narration of the battle makes one feel as if one is in the very midst of action. The doctor who refuses to leave the wounded unattended to escape Chinese encirclement and is finally killed by the enemy is a story of dedication to duty and profession. His own escape to Hayuliang, along with a dozen soldiers, himself and some others wounded, across series of mountain ranges and deep valleys lasting 14 days, without food, is a story of which legends are made of. It is a story of sheer willpower, grit and inspiring leadership. The pursuit of excellence in peacetime soldiering and the will to excel in various competitions stands out as an essential feature of regimental spirit and a prerequisite for junior leadership in the military. He spells out the imperatives of getting along with people to achieve a common goal. The account of the battle of Sehjra, during the 1971 war with Pakistan, where the author was the Brigade Major of the Brigade tasked to capture this salient, spells the essence of the functioning of a staff officer during operations, where in the absence of the commander, staff officers may be called upon to take tough decisions, with full sense of responsibility, which may possibly alter the very course of the battle.
The book is eminently readable. It is a must for all young officers and those in the field of exercising leadership, both in the military and the corporate world. It highlights the importance of setting personal example and leading from the front and how family support matters.