Loving and losing
Reviewed by Aditi Garg

The Last Love Letter
By Minty Tejpal
Hachette India. Pages 248. Rs 395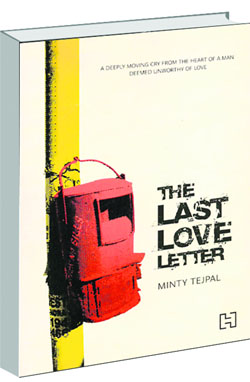 Love is a wonderful emotion that makes the world a better place but can just as well turn every living moment into a nightmare. There are a few whose companionship helps you discover the blissful side of love and others who leave you with a heart-break from which it takes you a lifetime to recover. While marriages may be made in heaven, when love leaves, it is more like living hell. A person who loses all in such a marriage has little more to lose by laying open his heart for all to peek into.
Minty Tejpal's The Last Love Letter, is a poignant account of a marriage gone wrong and a man who is hanging on to the threads of normalcy by a fraying thread. A book written for his children to read when they grow up, hoping against all hope that someone would see his side of the story, however farfetched it may have seemed at that time to those pitched against him. He delves into the nooks and crannies and lays bare the cobwebs that had accumulated over the seven years of his marriage and also the build up to the final showdown that had its roots in an accident that was supposed to have purged him a long time back, but didn't.
Tejpal has the uncanny ability to tell with utmost conviction a story so close to his heart that you cannot but sit and listen with rapt attention. His ability to deal with his shortcomings with a certain brashness makes him endearing, as does his ability to shift from being a very rational man to one who is swayed by the supernatural and is also a hopeless romantic. The beautiful letters that he exchanges with his wife make one want to believe in the magic of love till the tide turns and the letters turn to tomes of accusations, unfulfilled expectations, hurt and seething rage.
Waitng for his chance to make it big in life, he summarises that most of his misfortune stems from being unsuccessful, even his losing in love.
When someone who you cared for most in the world and who loved you back with equal passion leaves you, it is but natural to wonder over and over again as to what went wrong. And there are no easy answers, only more unanswered questions. Every time Tejpal brings up his kids and his longing to be with them, even the hardened reader would shed a tear or two. It is a tale that tugs at your heart, making you want to tend your relationships better.