Regal repast
Dining with the Maharajas explores cuisines that are prepared and passed down for generations in the royal houses of India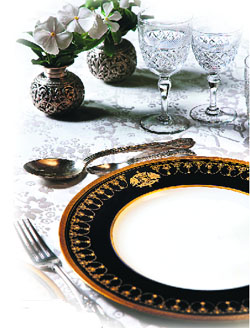 'His highness had to have money for his Arabian Nights palaces, his host of beautiful women, all of whom seem to have adored him, his parks full of fantastic animals, of birds from every part of the world, for the polo and cricket he so magnificently supported, for his jewels and gold plate, his prodigious hospitality, his fleet of cars, and also for his boundless personal generosity,' describes English writer Rosita Forbes while visiting Maharaja Bhupinder Singh of Patiala in the 1930's. Ms Forbes and many other great chroniclers of our time, who witnessed the Indian maharajas in all their glory before the dictates of time, politics, and public opinion led to the abolition of the monarchy in India, have captured a bygone era where even the exigencies of time and money did not interfere in the pursuit of perfection. Perhaps this drive for excellence was most evident on the dinner tables of these ruling families. Palace kitchens were laboratories for producing gourmet cuisine that was the handiwork of master chefs who channelled love and labour in creating unforgettable meals and recipes.
Fancy budgets
The Patiala royal kitchens had a budget of 14 lakh rupees per annum to be able to afford the lavish entertaining by its gregarious maharajas. Abul Fazal in Ain-i-Akbari, which is an account of life during Akbar's reign (1542–1605), highlights the importance of the royal kitchens which came directly under the supervision of none other than the prime minister of the state. Mir Bakawal or master of the kitchen, an officer of the rank of commander, personally supervised everything from the kitchen budgets to the quality of the produce being used for the preparation of the food. While Emperor Akbar was known to be a frugal eater even his supposedly simple everyday meal consisted of forty courses served in grand dishes. Around 100, 650 maunds or 3, 800 metric tonnes of firewood were used in the kitchens every year and 600 carts were used to fetch this wood.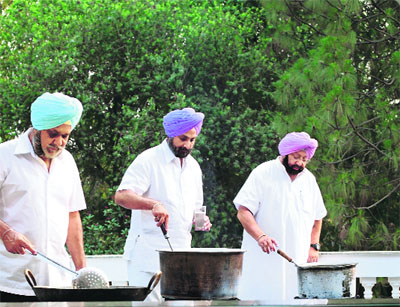 Chefs royale

: (from left) Randhir Singh, Raninder & Amarinder Singh. Patiala royals love cooking and partying.
An everyday meal for Nawab Shuja ud Daula of Awadh and his wife Bahu Begum was prepared in six different kitchens and the monthly budget for just one of these was 60, 000 rupees. This amount did not include the salaries of the cooks and their helpers. Master chefs were given support by an army of sous chefs to do their bidding as they worked on their dishes with the flair of an artist and the precision of a doctor. A skilled khansama or cook could demand any price if he caught the fancy of a nobleman. Nawab Shuja ud Daula's brother-in-law Salar Jung had in his service the highest paid chef in the country at 1, 200 rupees, in those days.
Service in style
Historically, royalty especially the Hindu kings ate their meals off dishes in precious metals like gold and silver, as they were considered pure metals that added their beneficial properties to the food that was served on them. However, under the Muslim rulers Chinese porcelain became popular in the palaces. Later these princes began to commission dinner services through the European trading companies from porcelain factories in Europe in the early nineteenth century. Food and drinks were laid out and presented on dinner services of the finest china and porcelain from famous European manufacturers like Limoges, Spode, and Flora Danica; goblets of heavy Baccarat and Lalique crystal; cutlery and chafing dishes crafted in silver and gold from Christofle and Mappin and Webb. Maharaja Pratap Singh Gaekwad of Baroda ordered the most unusual porcelain dinner service from Royal Worcester in 1947–48 with vivid images of Hindu deities like Radha Krishna and Brahma and the company was more than happy to meet their clients' unusual request as the maharajas of India were their most lucrative clients. In fact, after the Great Depression in America and the First World War when most of the Western world including Europe was financially crippled, these manufacturers of luxury goods survived solely on the orders of the maharajas of India.



At your service:

Randhir Singh with his youngest grand-daughter Sia. being served khatta meetha pulao by Mumtaz. The latter has been with the royal family for many years
The famous miniature train of silver and glass in Jai Vilas Palace in Gwalior was used after dinner to serve mints, chocolates, cigars, and liquors around the dinner table and would stop as each guest reached out to take his pick. This rare specimen of engineering and craftsmanship was designed by locomotive and automobile makers Armstrong Whitworth & Company for Maharaja Jayaji Rao Scindia in 1906. While Maharaja Ripudaman Singh of Nabha entertained his guests to a 42-course dinner in a made-to-order red and white crested dinner service from Minton, Maharaja Bhupinder Singh of Patiala actually purchased a dinner set of silver gilt for 30,000 pounds back in 1921 from the Goldsmiths and Silversmiths Company specially for a dinner he was hosting for Edward, Prince of Wales. In fact, one of the largest orders of gold plates ever done by the Goldsmiths and Silversmiths Company was for Maharaja Bhupinder Singh.
Mughlai cuisine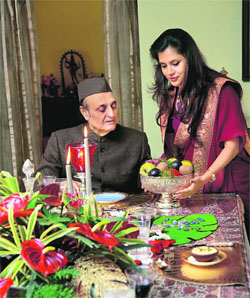 Dogri delicacy:

While the food cooked at Kashmir House is a mix of Kashmiri, Maratha and Dogri dishes. Dr Karan Singh relishes Dogri food the most.
The first marked change in Indian cuisine, predominantly in the north Indian palate can be accredited to the Mughal warriors in 1526, when Hindustan got a new emperor Zahir-ud-din Muhammad Babur after he defeated Ibrahim Lodhi in the Battle of Panipat. Babur was a man of simple tastes and missed the food and the flavours of Central Asia where the meats were grilled and not over spiced, the breads of Samarkand were unparalleled in texture and taste to anything he found in India, and the indigenous fruits could not match the sweetness of the Persian melons, Samarkand apples, apricots, and grapes from his land. While he made his cooks from Central Asia train the local chefs in his court in Agra, his successor and son Humayun (1508–56), preferred the rich and refined flavours of Persian cuisine like pulaos, stuffed roasts, and delectable sweetmeats. His cooks began to draw heavily from Persian recipes and cooking techniques. Finally it was under Emperor Akbar that the cooks in the Mughal courts achieved a synthesis of the best of Indian, Central Asian, and Persian cuisines and Mughlai food was born.
Anglo-Indian influence
Perhaps one of the strongest influences on the Indian dining table was that of the British who came as traders in the form of the East India Company and ruled the country after the Battle of Plassey in 1757 for the next 190 years. The Anglo-Indian cuisine with its mulligatawny soup, hot vindaloo curry, mutton roast, Irish stew, and mince cutlets was born. The cuisine was a curious mix of French, Portuguese, Dutch, and British food like a bouquet of flavours representing different foreign tastes brought about by foreigners venturing to Indian shores`85.The Maharaja of Kapurthala was clearly a lavish host, who treated his guests to Grande Fine Champagne Ritz 1800 to chase down the Chateau-Yquem 1877, Chateau Ducru-Beaucaillon 1875, and a magnum of Moet & Chandon 1889 for good measure. His menus were hand-coloured with Indian scenery and his coat of arms'. In Patiala where the young prince and princesses were brought up by English nannies, a Christmas dinner complete with roast, mince pies, and pudding was a given .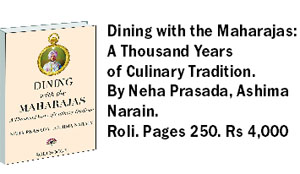 The abolition of the privileges and privy purses that guaranteed them an income according to the size and worth of their previous kingdoms and personal wealth since 1947, hit them hard. Their most pressing concern was to adapt to their new station in life. The glittering court life, which called for celebrations and grand feasts, receded to the annals of history, the memories of courtiers, and elders in their families. Some custodians of this grand legacy have not let go and tried to revive their palaces and their traditions by getting into the hospitality industry where guests can get a peek into a lost lifestyle. In Patiala, the largely agrarian state, each flamboyant maharaja has bettered the other in his cooking skills and generosity as a host. The women of the house have long conceded defeat in the kitchen.