SPORTS
'We can't afford private coaches'
The Commonwealth Doubles Gold medallist Jwala Gutta is known to speak up her mind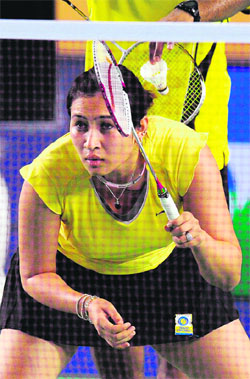 Jwala Gutta at the Badminton World Super Series Masters Finals in Malaysia
Badminton is in exciting phase in India. A medal at Olympics, various players consistently doing well at various international events, recently announced cash-rich International Badminton League on the lines of IPL, and controversies off the court have forced even the most casual follower to take note. No doubt, badminton is the fastest growing sport in the country. Jwala Gutta, a national champion at 16 and the current Commonwealth Doubles Gold medallist, speaks to Amit Khanna about the future of the game:
Q: After Olympics you have not played much? What are your plans ahead?
A: I am taking a break right now as I think I deserved one fully. I have had a long eason. And I believe I had really worked hard to earn a break. I have been through enough, both physically and mentally in the past few months. So, whenever I decide to come back on court, I will let everyone know. I never hide anything.
Q: How do you think the game has progressed in the past few years in India?
A: Oh, it has been extremely good. And it is because we players work extremely hard and win medals for the country to make everyone sit up and take notice of our performance. But we do not have back-ups like China has. Some years ago, in any national championship you could not guess who would win as there were many upcoming players then. But now if Saina Nehwal is playing, you know she will win easily. There is no competition now, which is not healthy for the game. There are issues which still need to be addressed if we want to take the game to the level that it ensures us medals.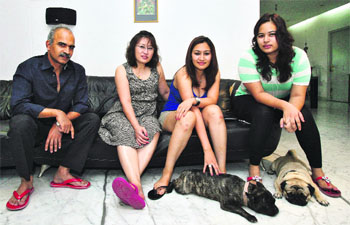 Jwala (2nd R) with sister Insi (R), mother Yelan (2nd L) and father Kranti Gutta at home in Hyderabad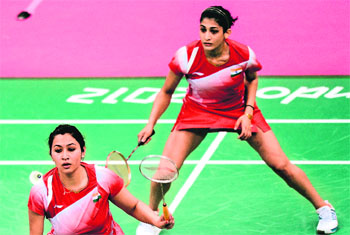 Jwala with Ashwini Ponnappa (back) during a womens doubles match at the London 2012 Olympic Games File photos: AFP, Reuters
Q: What are those issues?
A: The game is becoming very costly and it is bound to discourage a common man to take it up. The government should come in the picture. And this privatisation of coaching by a select few should be stopped immediately. How could someone, who is also a chief national coach, run a private academy? Everyone cannot afford this costly private coaching. If you ask me, even I cannot afford now. And secondly, we all — Saina, me, Ashwini, Kashyap, Diju — have done well consistently. We won the Commonwealth Games Gold and World Championship bronze too. Nobody before us could do it and I don't see anybody after us winning it in near future. too. Then why does only one player gets all the sponsorships and the accolades? Saina has done well, there is no doubt, but there are other players, too, sweating and winning for the country.
Q: You mean Pullela Gopichand should not be allowed to run the academy?
A: I don't have anything personal against him. He does not give me a penny neither do I give him. I do not train at his academy. But tell me how can you presume him to be unbiased and fair? He is a chief national coach and his job is to spend his energies on the talent consolidation in the entire country, isn't it? Selections should be based on performance and not where do you come from or where you train.
Q: Does the aping of the IPL format in the form of IBL mean there are no fresh ideas?
A: The league is a great thing for the game. It will attract new talent, and hopefully, the game will be able to reach to the masses. We have stadiums, which were erected during Commonwealth Games, but these are not being looked after properly. I hope with the league starting, these facilities will be put to use and maintained for posterity.
Q: Do you plan to become a coach at any stage?
A: I respect my coaches a lot. I can't say at this moment but I think I do not possess the kind of patience required for coaching.
Q: How do you cope with the criticism on the personal front?
A: I am a woman who travels all around the globe. I have friends and I do not see anything wrong in that. I don't mind what is written about me. My fight is for badminton and I will continue to do so. I cannot just sit back thinking I am the only victim in this world. Playing any sport is my fundamental right and nobody can take it away from me.