SPORTS
A quiver full of laurels
Bronze medal winner at the 2010 Commonwealth Games, Gagandeep Kaur took up archery to gain fee concessions. Now she dreams of an Olympic medal
Gagan K. Teja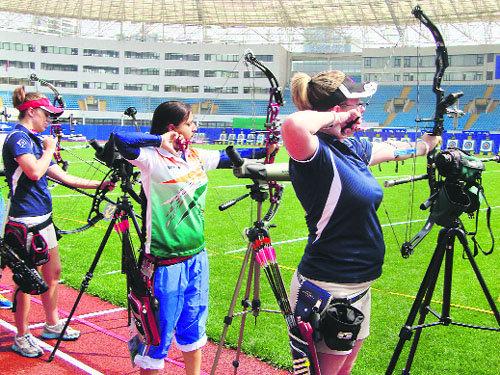 Gagandeep Kaurís (centre) focus is on the 2014 Asian Games. It is for the first time that compound archery has been included in the Asian Games
Having shot to fame with a bronze medal in the 2010 Commonwealth Games at New Delhi, archer Gagandeep Kaur has become a household name in Punjab. She has won numerous medals in various international championships, including a silver medal in the World Cup in Ogden, USA, last year. She has been a permanent member of the Indian contingent (compound round) for quite some time now and her recent performance in the inter-railway championship is a proof enough that she is here to stay.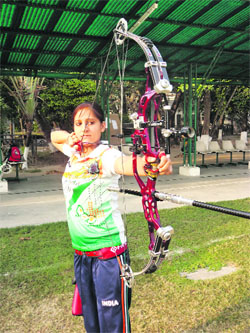 Gagandeep Kaur during a training session
Born and brought up in a lower middle class family, Gagandeep, till a couple of years back, was like any other school student. Not even in her wildest dreams she had thought of taking up sports as a profession. Gagandeep used to accompany a friend to the archery ground. There she came to know that sportspersons were given fee concessions, so she decided to take it up.
When she entered college she realised that she could gain more by being a professional sportsperson. Gagandeep started of shooting on the recurve bow. But since she was of short height and had a lean body, she could not go beyond winning a couple of medals in the inter-university championships.
Her coach Jiwanjot Singh, who is working with Punjabi University, Patiala, suggested that she should switch to the compound event and that did the trick for her. Within one year of switching, she not only made it to the Indian team but also won back to back medals in various Asian Grand Prix tournaments. These were followed by the her bronze medal win at 2010 CWG.
At present her focus is on the 2014 Asian Games that will be held at Incheon, Korea. This may prove to be a very special tournament for her since it is for the first time that compound archery has been included in the Asian Games.
The archery star shares her dreams and future plans:
Q: What is next in line this year?
A: My immediate focus is on the senior national championship that will be held in December-end since this will be a deciding factor as to which players would be selected for the India camp for all future international tournaments, including the 2014 Asian Games. It is a big opportunity since archery will be making its debut in the prestigious tournament. Therefore, it becomes all the more important to be a part of it.
Q: Any special preparations for the championships?
A: I am currently focusing on my form as there it's been almost six months since we participated in an international tournament. Therefore, I am currently training for about five to six hours each day to get in the groove and it seems to be going fine.
Q: One dream you have cherished all these years?
A: Like every sportsperson, I, too, want to be a part of Olympics but unfortunately compound archery has not yet been included in Olympics. Now, that it has become a part of Asian Games, we are hoping that it soon finds a place in the Olympics as well.
Q: Any message for the upcoming players?
A: Continue to chase your dreams no matter what because anything is possible if you are committed. I literally had to struggle to continue my game but my family and coach always supported me and here I am today. I only wish that the government would be a little more supportive and give jobs to all deserving players so that they would perform well without bothering about their future. After the Commonwealth Games, I was hoping that the Punjab Government would offer me a job but it did not happen. I was lucky to be chosen as senior clerk in the Railways. There are many more international archers in Punjab but since there is no job scope, they are drifting towards other states, which is unfortunate. I just wish the government, instead of focusing on particular games, supports every talented youngster. ó GT