ENTERTAINMENT
Kamasutra in 3D
Kerala-based Rupesh Paul is soon coming up with a film on the treatise on sex, whose 3D trailer was released at IFFI recently
Nonika Singh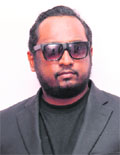 Rupesh Paul
In India, only sex and Shah Rukh Khan sell. Not exactly a new dialogue. Neha Dhupia said it sometime ago. But since there is no copyright over utterances, Rupesh Paul, a filmmaker from Kerala, has no hesitation in reiterating it either. More so, since he is soon going to come up with his latest film on ancient Indian treatise on sex Kamasutra, whose 3D trailer was released at the International Film Festival of India, Goa. Sure, the film will be graphic enough and he has no intentions of cutting corners.
The trailer had the bare breast image of Sherlyn Chopra, who had featured on the cover of Playboy. On casting Sherlyn, he says, "Well, I did approach many top heroines who I thought fit the bill. They liked some parts but had serious objections to many." So he zeroed down on Sherlyn, who, he thinks, not only looks hot but can act too. But sex is not the only reason why he has picked up Kamasutra. He feels it is the sacred text of India, an epitome of our rich tradition and culture. He adds, "Go to any country, and you will find them selling abridged editions of Kamasutra. Now even the DVDs of Mira Nairís Kamasutra are available."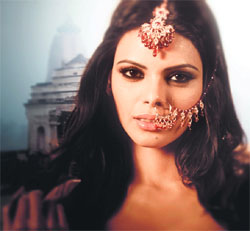 Sherlyn Chopra, who was featured on the cover of Playboy, is starring in the film
Is he targeting foreign audiences? Yes and no. Since the film was announced at the Cannes Film Festival and will be premiered at the same, he is eyeing international film festivals for sure but India release, too, is very much on his mind. Of course, he remembers that Nairís version of Kamasutra ran into trouble with the censors, and despite 40 cuts, was considered too hot for Indian sensibilities.
But Paul, whose second film Saint Dracula, is about to hit the screens soon is not a worried man. In a country where even painting exhibitions showing nudity have to be taken off, he doesnít think the nudity content of his film is going to raise the hackles of others. He quips, "Under the law, nudity is not forbidden." Besides, he asserts if his film is banned, he will ask for a ban on the texts of Kamasutra too.
Of course, he has no intention of making a pornographic film. Rather, he dubs it an epic film on the lines of Jodhaa Akbar, with some nudity and erotica, a theme he understands well.
"Ask me to make a war movie, and I will fall flat."
Indeed, the writer-turned filmmaker did taste failure when he made his first film My Motherís Laptop inspired by the new wave cinema, of the kind made by South Korean filmmakers. As the film ran into heavy losses, he had to flee his village. But with Kamasutra, he is set to start a new account and is confident his balance sheet wonít turn red.
To viewers, he promises he will be faithful to the text and historicity. The year 2013 when Indian cinema celebrates 100 years, he thinks is the perfect year for the release of Kamasutra.