M A I N N E W S
India has been hurt by scams, court process, tax laws: Tata
'Govt must promise its approvals can't be taken lightly'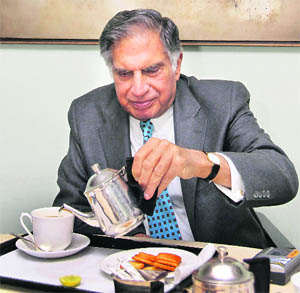 Ratan Tata during an interview with PTI in Mumbai. — PTI
Mumbai, December 9
The outgoing Chairman of the Tata group Ratan Tata is "rattled" by India's current image emerging from scams and retrospective taxation, and wants the government to give an "irreversible commitment" that law of the land has sanctity.
"Never before has India had that kind of image," he said in a freewheeling interview to PTI three weeks ahead of his retirement on December 28 after serving the group for 50 years including 21 years as chairman.
In the hour-long interview, Tata, who turns 75 later this month, spoke about the major decisions taken during his chairmanship, the current investment scenario, and business ethics and crony capitalism.
India has been "hurt" by scams, court process and some of the retrospective taxation acts which had given "a sense of uncertainty to investors in terms of the credibility of the government", he said.
"You get FIPB approval to invest in India and to own a company, you get a licence to operate and, then three years later the same government... tells you that your licences are illegal and that you have lost everything. "This leads to a great deal of uncertainty. Never before has India had that kind of image. So that really rattled me because then anything can happen," the Tata patriarch said.
India must give an "irreversible commitment" that law of the land has sanctity and the government approval cannot be taken lightly, he emphasized, adding "otherwise India would be taken lightly".
Despite being critical of the current situation, Tata sounded quite optimistic about the future of India as an economic power.
Welcoming the recent steps taken by the government to boost investor confidence, Tata said, "what they did recently to FDI and other things, I think, will reinstate some degree of confidence".
While these steps may have had a "great" positive impact it was not not enough, he said. "There will have to be efforts made to reassure people that the laws that are in place, the legislation that is in place, is here to stay. If it is changed, it has to be changed in some rational way of announcing a change which is prospective and not retrospective," he said.
Describing FDI in multi-brand retail as a significant step, Tata said that it would help the consumer in terms of having an opportunity to choose, hopefully at lower cost. "If it doesn't do that then the model has failed."
Tata had words of praise for Prime Minister Manmohan Singh describing him as a leader of high integrity and an architect of the 1990 reforms. — PTI