M A I N N E W S
Pandit Ravi Shankar 1920-2012
Pandit Ravi Shankar dies at 92 in US
Suffered complications from a heart surgery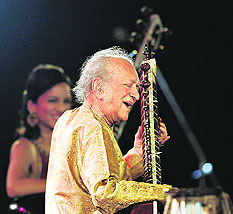 The sitar maestro performs at a concert. File photo

How does one put the spiritual significance of music on paper? Music transcends all barriers and is one of the most beautiful communicative skills one can have. Music makes us all experience different emotions or the navarasa as well call it.

— Pandit Ravi Shankar
San Diego, December 12
Legendary sitar maestro and composer Pandit Ravi Shankar, who popularised Indian classical music in the West and had a major influence on icons such as The Beatles' George Harrison and Yehudi Menuhin, died here today at the age of 92.
Shankar, whose health had been fragile for the past several years, underwent heart-valve replacement surgery last Thursday at the Scripps Memorial Hospital in La Jolla, California, where he breathed his last. The music icon was admitted to the hospital last week when he complained of breathlessness.
"It is with heavy hearts we write to inform you that Pandit Ravi Shankar, husband, father, and musical soul, passed away today," his wife and daughter, Sukanya and Anoushka Shankar, said in a joint statement.
A recipient of Bharat Ratna in 1999, Shankar maintained residences in both India and the United States. He is survived by his wife Sukanya, daughters Norah Jones and Anoushka Shankar, three grandchildren and four great-grandchildren. "God has blessed me with Lakshmi and Saraswati," he would often say of his daughters.
"As you all know, his health has been fragile for the past several years and on Thursday he underwent a surgery that could have potentially given him a new lease of life. Unfortunately, despite the best efforts of the surgeons and doctors taking care of him, his body was not able to withstand the strain of the surgery. We were at his side when he passed away," the family said.
A three-time Grammy award winner, Shankar last performed in California on November 4 along with Anoushka. The first of the Grammy awards came in 1967 for his collaborative album with Menuhin, 'West Meets East'.
The night before he underwent surgery, he was nominated for a Grammy for his latest album 'The Living Room Sessions, Part 1'. Anoushka has also been nominated in the same category.
Political leaders and artistes across the spectrum mourned the demise of Ravi Shankar with Prime Minister Manmohan Singh describing him as a national treasure and a global ambassador of India's cultural heritage.
As news of his death came in, messages started pouring in with melody queen Lata Mangeshkar and top musicians Shivkumar Sharma, Hariprasad Chaurasia and Vishwa Mohan Bhatt condoling the death of the legend.
"An era has passed away with Pandit Ravi Shankar. The nation joins me to pay tributes to his unsurpassable genius, his art and his humility. He was a national treasure and global ambassador of India's cultural heritage," the PM said.
A Bengali Brahmin, Shankar was born Robindra Shankar on April 7, 1920 in Varanasi. He had a son 'Shubho' Shankar from his first wife Annapurna Devi. Shubho, who was also a musician and often toured with him, died in 1992. — Agencies