M A I N N E W S
Haryana accepts 10% quota for five 'special backward classes'
Jats, Bishnois, Rors, Tyagis & Jat Sikhs to benefit
Tribune News Service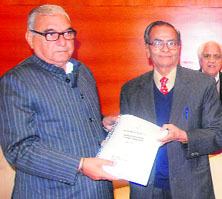 CM Bhupinder Singh Hooda with chairman of state backward classes commission Justice KC Gupta. Tribune photo

57% reservation
The Haryana Cabinet accepted, in principle, a 10% reservation for five "special backward classes" on the recommendation of the Haryana Backward Classes Commission This takes the existing 47% reservation (20% for SCs and 27% for OBCs) in the state to 57%
We want reservation within the 27 per cent meant for OBCs. Since reservation cannot exceed 50 per cent, it will be struck down by the courts. Also, if the Jats are outside the OBC, the Centre will not include us in the list.

— Yashpal Malik, Jat leader
Chandigarh, December 12
The Haryana Cabinet on Wednesday accepted in principle a 10 per cent reservation for five "special backward classes", including Jats. This quota will be over and above the existing 47 per cent reservation in the state.
Other beneficiaries of this "exclusive" category are Bishnois, Rors, Tyagis and Jat Sikhs, who together account for a little over 7 per cent of the state's population. This takes the existing 47 per cent reservation (20 per cent for SCs and 27 per cent for OBCs) in the state to 57 per cent. This will go up by another 10 per cent once reservation for the general category comes through.
By carving out a special category, the Haryana Backward Classes Commission saved a lot of heartburn to communities apprehensive that inclusion of additional castes in the OBC category would eat into their share of reservation.
Accepting the Commission's 255-page report, first submitted to Chief Secretary PK Chaudhery and later to Haryana Chief Minister Bhupinder Singh Hooda, the Cabinet also gave its nod to another 10 per cent reservation for the economically backward of the general category. The recommendation for this will come in due course after fixing a survey based on a yet-to-be fixed criteria by the Commission.
Stating that the Cabinet had agreed to forward the recommendation of inclusion of the five castes in the Centre's Other Backward Classes (OBC) list, the Chief Minister made it clear that the reservation for the five castes would come into effect only after the Commission submitted the report in toto.
"Since we have accepted the Commission's recommendations on the five castes, our intention is very clear.
However, we will wait for the complete report, which includes the recommendation of reservation for the general category, to come in before we implement the same. The sentiments of the Cabinet to expeditiously finalise the rest of the report will be conveyed to the Commission," said Hooda.
The Chief Minister also announced constitution of a six-member Cabinet sub-committee headed by Finance Minister Harmohinder Singh Chatha to examine criteria fixed by the Commission for the economically backward of the general category as also the recommendation of extending various welfare initiatives to the Special Backward Classes category. While the Chief Minister evaded a direct reply on whether or not the recommendations will make the protesting Jats "happy", Jat leaders spearheading the agitation were not particularly "enthused" about the recommendations and have decided to go ahead with their protest and block all entry points to Delhi on December 23.
Jat leader Yashpal Malik said they were not interested in a separate category for the community. Sarvkhap Jat Arakshan Samiti spokesperson Subey Singh said the recommendation meant nothing if a notification was not issued by the government.