M A I N N E W S
Special to the tribune

Indian-origin nurse's kin turn to Keith Vaz in hour of grief

Shyam Bhatia in London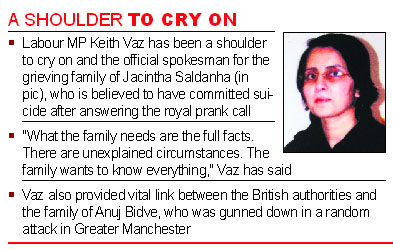 Keith Vaz may be the chairman of the House of Commons Home Affairs Select Committee and MP for Leicester East, but as the recent tragic cases of both Jacintha Saldanha and Anuj Bidve show, he has also become the first and possibly only port of call for Indians who get into trouble in the UK.
For the past few days, Vaz has been a shoulder to cry on and official spokesman for the grieving family of Jacintha, the 46-year-old Mangalore-born nurse who is believed to have committed suicide after answering the royal prank call.
The two Australian RJs who made the hoax call inquiring about the well-being of the pregnant Duchess of Cambridge, who was being treated for morning sickness at the King Edward V11 Hospital in Central London, have apologised and been suspended indefinitely from their programme.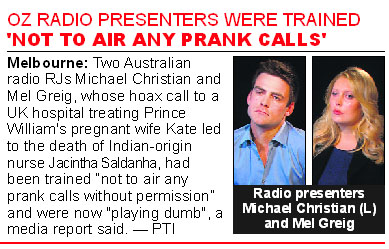 Such is the esteem that the ethnic Goan MP is held in the hearts and minds of British Asians that he was requested for by name by the Saldanhas. On their behalf, he has painted a harrowing and moving picture of a supremely dignified Catholic family struggling to come to terms with the events of the last week.
As the British authorities carry out a post-mortem on the causes of Jacintha's death, it turns out that the nurse left a note for husband Benedict Barboza and their children, 17- year-old Junal and 14-year-old Lisha. The note is expected to shed some light on the circumstances of her death.
Of course, this is not Vaz's first moment as a Knight in Shining Armour. Just under a year ago, the Indian student - Anuj Bidve - studying at Loughborough University in Northern England gunned down in a random attack in Greater Manchester.
Once again it was Vaz who provided that vital link between the British authorities and the Bidve family. He was the first person of some authority to pay his personal condolences to the family as he met them on arrival in the UK.
Some British cynics describe Vaz as 'the British Indian community's self-anointed political leader, whether they like it or not', but clearly as these two recent examples of human tragedy prove, Vaz is a lifeline for the Indian community in the UK.
Born in Aden in 1956, he was under 10-year-old when his parents moved from Yemen to Bradford and then London. Educated at a prestigious private London school, followed by Cambridge University, he obtained a first-class degree in law and qualified as a solicitor before moving into politics.
He joined the Labour Party in 1982 and was first elected to parliament in 1987. When he was first elected as MP for Leicester East in 1987, he won with a slim majority of less than 2,000. That majority has steadily increased to a point where at the last election, he won comfortably with 14,000 votes more than his nearest rival.
He served as the Minister for Europe under Tony Blair between 1999 and 2001 before becoming chairman of the powerful Home Affairs Select Committee in 2007, a post he holds to this day.
Although question marks have been raised in the past about Vaz's links to at least one ethnic Indian business house based in the UK, and he was suspended from the House of Commons for one month in 2002 for making false allegations against a former policewoman, none of this has affected his standing with the Indian community.
According to a recent survey by UK-based Garavi Gujarat Publications group, he is Britain's most influential Asian, surpassing the likes of steel tycoon Lakshmi Mittal, the Hinduja brothers and leading Punjab and NRI industrialist Lord Swraj Paul. Married with two children, Vaz is now Britain's longest standing Asian MP.