M A I N N E W S
Gunman kills 27 in US school shooting


18 children among victims

Attacker had 4 weapons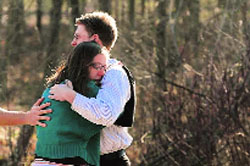 Family members outside the school after the shooting.
Newtown (Connecticut), Dec 14
At least 27 persons, including 18 children, were killed on Friday when a shooter opened fire at an elementary school in Newtown, Connecticut, officials said. The principal and school psychologist were among those dead in one of the worst mass shootings in US history.
The holiday season tragedy follows a series of shooting rampages in the United States this year that have killed multiple victims, and it was certain to revive a debate about US gun laws.
Witnesses said they heard dozens of shots with some saying as many as 100 were fired. The suspected shooter, 24, was armed with four weapons and wearing a bullet-proof vest, WABC reported. There were unconfirmed reports of a second shooter.
Another person was being held in police custody after he was detained in the woods near the school wearing camouflage pants, a TV channel reported.
Sandy Hook Elementary School teaches children from kindergarten through fourth grade — roughly ages 5 to 10. "It was horrendous," said parent Brenda Lebinski, who rushed to the school where her daughter is in the third grade. "Everyone was in hysterics — parents, students. There were kids coming out of the school bloodied. I don't know if they were shot, but they were bloodied."
Television images showed police and ambulances at the scene, and parents rushing toward the school. Parents were seen reuniting with their children and taking them home. "This is going to be bad," a state official said, requesting anonymity because the scope of the tragedy remained uncertain.
President Barack Obama was notified and would receive regular updates throughout the day, White House spokesman Jay Carney said. Obama remains committed to trying to renew a ban on assault weapons, he added.
Lebinski said a mother who was at the school during the shooting told her a "masked man" entered the principal's office and may have shot the principal. Lebinski's daughter's teacher "immediately locked the door to the classroom and put all the kids in the corner of the room." A girl interviewed by a TV channel described hearing seven loud "booms" as she was in gym class. Other children began crying and teachers moved the students to a nearby office, she said. "A police officer came in and told us to run outside and so we did," the unidentified girl said. — Reuters
Shootouts in US this year
April 2: Gunman kills seven persons, wounds three in a rampage at a Christian college in Oakland
July 20: A masked gunman kills 12 when he opens fire on moviegoers at The Dark Knight Rises show in Aurora, Colorado
Aug 5: Six killed during Sunday services at a Wisconsin gurdwara
Aug 24: Two killed, 8 wounded in a shooting outside Empire State Building in New York City
Sept 27: A disgruntled ex-employee kills five and takes his own life in a Minneapolis company from which he was fired
Oct 21: Three people killed in a Milwaukee area spa, including the estranged wife of the suspected gunman
Dec 14: A shooter opens fire at an elementary school in Newtown, Connecticut, killing 27 persons, including 18 children