Cook's corner
The good old kitchen has undergone a makeover, as Engineers and designers re-invent the way we cook, and a promise to usher in a stress-free experience
Mukesh Khosla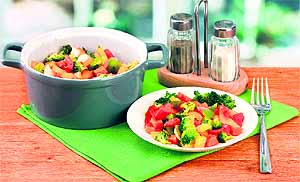 You can 'fry' chips without oil. You can mince meat with the flick of a switch, whip up a frothy lassi in seconds, shred vegetables with the blink of an eye. The days of back-breaking chores in the kitchen are over. Hi-tech appliances promise to banish the drudgery and add a dash of fun to cooking. Cashing in on the growing appetite for kitchen appliances are global manufacturers, who have struck gold by introducing a glitzy range of products — from the ubiquitous mixers, grinders, OTGs, microwaves and food processors to the more innovative table-top ice makers, one-touch jar openers, compact herb choppers, ultrasonic vegetable cleaners, hands-free sauce stirrers, all-in-one grilling tools and a host of fancy gadgets that promise to make the kitchen a sci-fi place.
Recipe for success

That cooking gadgets have hit the right recipe for success is evident from the fact that the global kitchen appliances market is booming like never before. According to the Global Industry Guide, this market is expected to clock a mindboggling turnover of $154 billion up by 19.3 per cent from 2008, which was pegged at around $129 billion. In India, too, there is a growing appetite for these new-age cooking tools because of the fast-changing lifestyles. The Indian market with an annual turnover of around Rs 1,500 crore is attracting a number of foreign players, who are poised to enter with a flurry of mergers and acquisitions.
Technological marvels
Modern kitchens are no longer just your gas chulha-sink-cabinet corner rooms where food is cooked in basic utensils. Designers, engineers, and researchers are giving free rein to their imagination to create technological marvels that work with computer precision and promise to usher in a completely new and stress-free cooking experience. Gone are the days when the kitchen consisted of basics like metallic cooking pans, stainless steel stirrers and spatulas, a sharp knife and a cooking stove. Today, the modern kitchen has come in for a complete technological overhaul and electronics is playing a great role in this change. Designers and engineers are coming out with implements that perform better, are lighter, durable, sleek and high-functioning multi-taskers.
Smart innovations
In some homes, gas stoves and cooking ranges are giving way to smart innovations like the induction cook tops and convection microwaves. The ordinary wash-basin has turned into a sleek sink with touch on/off taps. Refrigerators are coming in for a serious makeover with many advanced models being wired with the android phones that monitor the availability of various kinds of foods and keep checking the expiry date of edibles. But the real revolution is happening in the gadgetry. Small, and novel, gizmos are being invented to make life easier. A housewife who has struggled all her life cutting and peeling veggies and other ingredients can now heave a sigh of relief with automated crushers, shakers, choppers, peelers, scrapers, slicers, strainers, corers and sprayers.
Design labs
Leading cookware companies are encouraging designers to come up with pioneering concepts. The thinking behind these concepts is that ideas that look impossible today can become a possibility tomorrow. Many companies like Electrolux and Whirlpool have design labs where competitions are held every year for innovative kitchen gizmos. Take, for example, a meal sniffer. Now you don't have to depend on your olfactory powers to find out whether the fruit/meat/vegetable is past its expiry date. The food sniffer does the work for you and tells you how fresh or stale the particular food is. The market is flooded with such inventive devices like a portable microwave oven, touch screen recipe reader, egg white separator, fruit de-seeder and a salad spinner.
Multi-tasking contraptions
The multi-tasking contraptions, too, are bringing in a silent revolution by saving time and energy. A breakfast station that makes coffee, egg and toast at one go, a juicer that doubles up as a food processor, grater and a pureeing machine — all of which can be done simultaneously; an immersion blender that works as an ice crusher, blender, whisker and food processor; a coffee maker that can be plugged to your car batteries. And finally, the mother of all gadgets, the multi-machine that can weigh, chop, blend, knead, steam, juice, grate, whisk, simmer, mill and crush — in effect, it can eliminate 30 appliances in your kitchen. Space age has certainly arrived in the kitchen.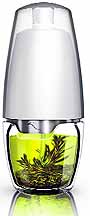 OIL MISTER
For all you people counting calories, here is a gizmo to pep you up. With the Tabletop Oil Mister, you can jazz up salads with just a spray of oil. The gadget is great to mist the pan when cooking meats and vegetable or while baking cookies. You can infuse herbs of your choice in the Mister.
Price: Rs 1,100

SALAD SPINNER
This is a very useful device to bring crispy and crunchy salads to the table. A salad spinner, also known as a salad tosser, washes and and removes excess water from salad greens. It uses centrifugal force to separate the water from the leaves. The bowl can double as a serving dish
Price: Rs 990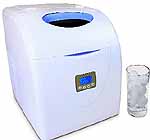 KITCHEN COUNTER-TOP ICE MAKER
This countertop ice maker from one of the world's leading online retailers Hammacher Schlemmer produces 15 kilos of ice per day. Fill the reservoir with water and it freezes in 10 minutes. It makes ice cubes in three sizes and has a timer that automatically starts ice production.
Price: Rs 15,400

BOILED TO PERFECTION
Boiling a perfect egg is an art, which requires perfect timing and attention to detail. The BeepEgg Egg Timer is a clever boiler that offers an ideal solution. Simply place the device in the pan with the eggs and it will boil the perfect kind of egg you want — soft, medium or hard boiled.
Price: Rs 1,340
ROCKER GARLIC CRUSHER

We've seen top TV food hosts use it in their shows. Now UK-based Joseph Joseph Kitchenware has launched the rocker garlic crusher that rocks back and forth to crush and mince garlic. Made of odour-resistant stainless steel, this garlic crusher completes the messy task in a jiffy.
Price: Rs 825
MUSICAL CAKE SLICER
Next time, someone cuts a cake you won't have to sing 'Happy Birthday'. The Kitchencraft musical cake slicer will do the singing for you. Now you can celebrate in style with this amusing musical cake slicer, which plays four different tunes, including 'Happy birthday' and 'Jingle Bells'.
Price: Rs 935

VACUUM FOOD SEALER
This Best Vacuum Food Sealer preserves and seals vegetables, fruits and all other kinds of foods. The vacuum settings adjust to ensure a proper seal for moist or dry foods and the device automatically senses and grasps on to the bag and shuts off when complete — all in just eight seconds.
Price: Rs 9,900

ONE-TOUCH JAR OPENER
Most of us have struggled to open jars and bottle tops of jams and fruit crushes. The one-touch Culinare Jar Opener simply aligns over the lid, and when the button is pressed, it removes it with ease. A battery-operated device, it is powerful enough to open the toughest jars and cans.
Price: Rs 3,300
SLOW COOKER

Switch from fast food to the slow method of cooking. The slow cooker is like a comforting return to traditional values. Great for vegetables, meats and healthy soups, the Cuisinart Slow Cooker will cook food between 30 minutes and 20 hours, and then keep the food at the right temperature.
Price: Rs 5,225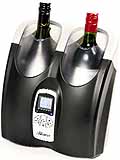 TWIN-BOTTLE WINE CHILLER
To get the best of the flavours, red, white or sparkling wines have to be served at specific temperatures. The Hostess Twin Bottle Wine Chiller can cool or warm two bottles at temperatures between five and 20 degrees, thus becoming an ideal companion for the wine connoisseur.
Price: Rs 3,575
AIRFRYER

A very innovative device, the Philips AirFryer is a gizmo for the glutton. Now you don't have to feel guilty about chomping those potato fingers or other fried snacks as this clever devise 'fries' them without oil with the help of rapid hot air technology. And even expert can't tell the difference.
Price: Rs 14,995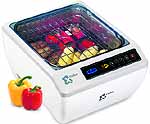 ULTRASONIC VEGETABLE CLEANER
Ever thought of the pesticides and other invisible muck that comes with the vegetables and fruits you buy? Get yourself a chemical-free vegetable cleaner by Hammacher Schlemmar, which uses ultrasonic waves in water to remove dirt from the hard-to-reach crevices of fruits and vegetables.
Price: Rs 27,500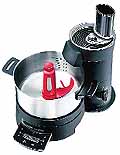 UNIQUE HOME COOKER
This amazing Philips Home Cooker claims to take the pressure out of cooking by stirring, steaming and sautéing automatically. The hi-tech pot has a built-in stirring arm, a temperature setting and timer to let the cook stay in control when making special dishes that need constant stirring.
Price: Rs 22,000
BOOMERANG WOK

Stir-frying may be a healthy and delicious way to make meals but it is, by no means, easy as some of the ingredients tend to spill out. But not with the Boomerang Wok. With its cupped edge, it eliminates the need for tossing as the same can be done with the simple movement of a spatula.
Price: Rs 5,225
SHOWPIECE KITCHENS
With appliances becoming smarter and slicker, the kitchen, too, is coming in for a complete overhaul. An increasing number of high networth individuals are fast realising that in the modern world, a fully loaded kitchen can be a showpiece just like the drawing room.
Tapping in to this demand, a number of international companies have set shops in India to give the kitchen a stylish makeover. These specialists go into minute details to bring out the finer aspects of the kitchen.
The lighting is planned tastefully to enhance the ambience. Storage spaces, work platforms, flooring and matching colours palettes all play a dominant role in transforming the simple kitchen into an ornamental showpiece.
Once the designer kitchen is complete, it can be displayed prominently. It has neatly decorated crockery and cutlery, dining ware, plates, cups and saucers, glasses and stemware. It could also have a coffee-maker and a wine chiller, a microwave oven and an induction cook-top. It has a smart refrigerator, which contains colourful juices, fruits, bottled water, soft drinks, beer, wine and other beverages.
Many of these modern kitchens are an extension of the drawing room or the dining room and have a mini-bar from where the guests can be entertained. The kitchen can also have a small dining area where a table is laid out to seat four to six persons for an intimate evening with friends.
This kitchen is not to be mistaken for a working area. The 'real' cooking is done in another area which would have a gas cook-top, an oven, a blender, a big storage refrigerator, a place to keep vegetables, oils, spices, groceries and all utensils like pots, pans and bowls used for cooking, baking and frying. It will also have a large washbasin to clean the dishes. This kitchen is usually not displayed.
The two-kitchen concept is a very neat arrangement and also spares the guests the smells and odours emanating from the food factory. All they see is attractively laid-out dishes being placed on the dining table in the food showroom.