M A I N N E W S
Classroom carnage: US looks for answers, motive
Attacker went on rampage after killing his mother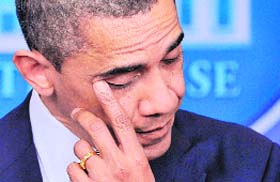 Newtown, Connecticut, December 15
Investigators assembled "some very good evidence" to explain what drove a 20-year-old gunman to slaughter 20 children and six adults at an elementary school, the police said on Saturday, a day after one of the worst mass shootings in US history shattered a small Connecticut town.
The attacker, identified by law enforcement sources as Adam Lanza, opened fire on Friday morning at Sandy Hook Elementary School in Newtown, which teaches children aged five to 10.
Adam reportedly first killed his mother Nancy at the Connecticut home they shared and then went on the shooting spree in the school before turning the gun on himself. Nancy was a teacher in the school.
"Our investigators at the crime scene did produce some very good evidence that our investigators will be able to use in, hopefully, painting the complete picture as to how — and more importantly why — this occurred," Connecticut State Police Lieutenant Paul Vance told a news conference. He declined to describe the evidence, but did say the gunman forced his way into the school.
Nancy legally owned a Sig Sauer and a Glock, both handguns of models commonly used by police, and a military-style Bushmaster .223 M4 carbine, said law enforcement officials who believe Adam used some of those weapons. He is believed to have suffered from a personality disorder.
FBI agents interviewed his brother Ryan in New Jersey's Hoboken area as well his father Peter Lanza, who was divorced from his mother.
Saddened by the incident, US President Barack Obama choked up several times as he mourned the death of the children. He said "our hearts are broken today" and sought "meaningful action" to prevent such tragedies in future.
Addressing the tragedy for the second time, Obama sympathised with the families of the dead and said that "every parent in America has a heart heavy with hurt."
Obama said he and his wife, Michelle, "are doing what I know every parent is doing - holding our children as close as we can and reminding them how much we love them."
School librarian Yvonne Cech said she had spent 45 minutes locked in a closet with two library clerks, a library catalog assistant and 18 fourth-graders. "The SWAT team escorted us out," she was quoted as saying by the New York Times.
Panicked and weeping parents were seen rushing to the school and were gathered at a staging area near the school as the children were led out in a single file from the school. — PTI
Debate intensifies on gun laws
The shooting spree in the Connecticut school soon after similar massacres in a Colorado theatre and a Wisconsin gurdwara has revived a debate about gun-control in a country with a flourishing firearms culture and a strong lobby that has discouraged most politicians from any major efforts to address the easy availability of handguns and rifles.