Return of the great Indian traveller


Forget the firang. Travel experts advise on the need to concentrate on the dependable, growing, high-spending Indian traveller. Give the aam aadmi more affordable, tourism facilities all across our diverse land
Hugh & Colleen Gantzer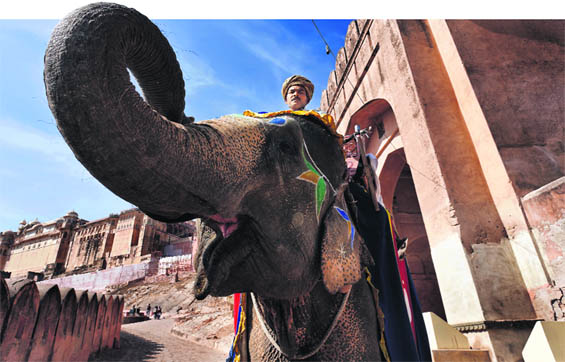 T

he

national tourism organisations of more and more countries are making a beeline for India, trying to court the Indian tourist: the world's highest-spending visitor. Even the once-lethargic, chalta hai, domestic tourist industry is waking up and smelling the coffee. Western nations might be facing financial crisis after financial crisis but in spite of the doomsayers in our land claiming that everything is going down the drain, perceptions tell a different story. Cellphone penetration is up, digital TV has become the rule rather than the exception, and the number of motor vehicles from scooters to SUVs outpaces the construction of highways.
---
ARTS
Sculpture seen from close
Art historian Devangana Desai's latest collection of essays on early Indian art takes the reader on a grand tour of Indian sculpture, halting briefly at some places, and in an engagingly leisured manner at others
Icon: one knows that the word comes from Greek eikon, image in other words, which, in turn, stems from eikenai, meaning, 'to be like'. In the Greek world, in the Eastern Church, in particular, and in Europe, in general, it signifies a representation of Christ, the Virgin Mary, or a saint, ordinarily painted in oil on a wooden panel in the Byzantine style. But it is astonishing how much the use of the word has changed over time.



broad brush
---
Wellbeing
Winter wows
If winter brings woes like bone-chilling cold, it is also time to gorge on warming foods that can raise the body temperature and help one to cope with the dipping mercury
Nature has its own ways of keeping the body warm in cold winter weather. This heat can be generated from within the body and also by eating foods that can raise body temperature and help the body cope with the falling temperature outside. The body tends to burn more calories to keep warm and thereby the need to eat more. However, certain foods have a more profound warming effect than others. The overall warming effect of food known as "diet induced thermognesis" is due to energy released during digestion and assimilation. This released energy is in form of heat and helps increase the body temperature.



Health Capsules
---
Society
Will learning alter her quality of life?
There is focus on the education of girls, but will increasing access make women, especially those in the rural areas, educated? The larger question is has it improved the employment avenues of those who can go to schools and colleges?
Sudhamahi Regunathan
Time and again studies are finding the number of girls harnessing undergraduate education to be increasing in areas where they have access to it. Have women benefited from the education they have accessed and if they have, in what way?
---
travel
Delft delights
Located between Rotterdam and The Hague, the historical Dutch town of Delft is known for its lovely canals; besides painter Vermeer and blue pottery
Nivedita Choudhuri
There is more to Delft than blue plates. The delightful town was home to Dutch Golden Age painter, Johannes Vermeer, and lies between The Hague and Rotterdam. The town, with its humpbacked bridges and eye-catching buildings along pretty canals can boost anybody's spirits.



Globetrotting
---
Entertainment
Chronicles rooted in reality
The space occupied by commercially oriented Hindi films that address burning socio-political questions is steadily expanding
Saibal Chatterjee
Veteran writer-director Sudhir Mishra's upcoming release, Inkaar, starring Arjun Rampal and Chitrangada Singh, deals with the social and emotional ramifications of gender politics. The film's female protagonist is a victim of sexual harassment in the workplace — a figure that has rarely, if ever, been seen in popular Hindi cinema.
In the heart of terror
The 26-minute documentary Angels of Troubled Paradise gives a different perspective to the situation in Kashmir
Shoma A. Chatterji
"If there is heaven on earth,
it is here, it is here, it is here."
This was poet Firdaus' exclamation when he saw the valley of Kashmir for the first time. What happened to this paradise on earth? One gets a small glimpse of things we do not know happened to the children of Kashmir who are innocent of all the political implications in the Kashmir conflict and its constant impact on the lives of ordinary people. This comes across in Angels of Troubled Paradise, a 26-minute-long documentary by Raja Shabir Khan. The film tracks three years in the life of 11-year-old Adil, who grows to be 14 when the film ends.
---