Ovarian cancer: The risk factors
Dr Bharti Goel
Ovarian cancer is a disease which starts in the ovaries (the part of female reproductive system that produces hormones and eggs). There are several types of ovarian cancer and it can occur at any age. The more common type is epithelial ovarian cancer which generally occurs in women older than 50 years but is also seen in younger women. One out of 70 women can develop ovarian cancer in her lifetime.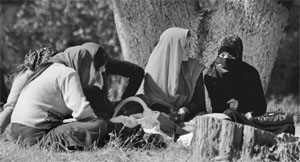 The outcome with ovarian cancer depends upon the stage of the disease which is defined according to the degree of its spread within the body. Early stage disease (when it is limited to the ovaries) has a very good survival rate of 90 to 95 per cent. Unfortunately, most women are diagnosed at an advanced stage and fewer than 50 per cent live longer than five years after diagnosis. Therefore, early detection is the key to a better prognosis, for which awareness is essential.
Symptoms
The symptoms are very non-specific. They include:
* Swelling of the stomach or bloating, shortness of breath
*l Persistent pelvic or lower abdominal pain or pressure
* Trouble eating or feeling full quickly
* Feeling the need to urinate urgently or often
These symptoms are common for some women, and may not mean that there is ovarian cancer. However, if these symptoms are new and persist daily for more than two or three weeks, the woman concerned should ask her gynaecologist about ovarian cancer so that certain tests can be performed to rule out this disease.
Other symptoms of ovarian cancer can be tiredness, gradual weight loss or weight gain, constipation, upset stomach or heartburn, back pain, pain during sex, unusual vaginal bleeding, and developing coarse facial hair or a change in voice.
Unfortunately, there is no accurate test at present to screen for early detection of ovarian cancer. However, a routine annual gynaecological check-up may help in early detection. It is pertinent to mention here that sometimes an ultrasound of abdomen done for some other problem may detect a cyst in the ovary. Women should know that all cysts are not cancerous. Most of these cysts during the child-bearing years are functional. They show up in response to hormonal changes during the menstrual cycle and as the ovaries produce and release eggs. Most of these cysts are harmless and disappear on their own without any medical intervention.
Is ovarian cancer hereditary?
A woman can inherit an increased risk for ovarian cancer from either her mother's or father's side of her family, particularly if a first-degree relative (grandmother, mother or sister) has or has had cancer of the breast, colon, uterus or rectum. Furthermore, women with a strong family history of ovarian cancer are more likely to develop the disease at an early age (younger than 50).
Other risk factors
Aging is a risk factor, but there are other considerations. Going through menopause after age 50 and having a personal history of breast, uterine or colorectal cancer puts one at a higher risk. Women who have never been pregnant or conceived for the first time after age 30 have an increased risk. Still, it should be noted that there are women with ovarian cancer who do not have any of these risk factors.
Can ovarian cancer be prevented?
At present, there is no known method to prevent ovarian cancer, but certain factors appear to reduce a woman's risk of developing the disease:
Oral contraception: Birth control pills reduce the risk of ovarian cancer by 50 per cent, especially among women who use them for three or more years.
Breast feeding and pregnancy: Having one or more children, particularly if the first is born before age 25, and breast feeding may decrease a woman's risk.
Tubal ligation: Surgically tying the fallopian tubes to prevent pregnancy reduces the relative risk of developing ovarian cancer.
Hysterectomy: Surgical removal of the uterus has been demonstrated to reduce the relative risk of ovarian cancer. A woman should not have a hysterectomy exclusively to avoid the risk of ovarian cancer, but if one is being performed for valid medical reasons and she has a family history of ovarian or breast cancer or is over age 40, she should discuss concurrent removal of the ovaries and fallopian tubes with her gynaecologist.
Preventive surgery: Women who are at a high risk due to their personal or family history of cancer can undergo preventive removal of ovaries and the fallopian tubes. A discussion with your gynaecologist is necessary to determine your individual risk and options for surgery.
Optimal treatment of ovarian cancer can result in a prolonged healthy life. There are two main types of treatment for ovarian cancer: surgery and chemotherapy which need to be taken at a specialised centre.
The points that need emphasis are:
* All women are at risk
* Symptoms exist — they can be vague, but increase over time
* Early detection increases survival rate
The best thing one can do for one's gynaecologic health is to be in tune with her body. As one cancer survivor said, "Take the time to get to know yourself and realise what is normal for you. If you know something is wrong with your body, pursue it with a vengeance."