art conservation and restoration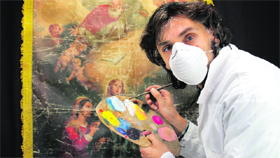 Art saviours
India's art market is on the upswing. Art galleries have mushroomed, exhibitions of works of art, and art auctions attract more than just connoisseurs and critics, and even artists can expect to eke out a decent living from their artistic endeavours.

Conservation and restoration and is a specialised skill that aims to examine, document, treat and extend preventive care to art objects.

Career Hotline


What's the scope for make-up artists?


Right course of action


Low salary blues


Is engineering degree must for taking GATE?
Give yourself a booster dose of NLP
NLP (Neuro Linguistic Programming) is a body of practical knowledge and understanding, concerning the nature and functioning of human mind, language, and behaviour.
Scholarship roundup
The Ministry of Culture invites nominations/applications for the award of fellowships/scholarships under the scheme of Tagore National Fellowships for Cultural Research.
career compass: technology reviewer
For the love of tech talk
The most fascinating point about the tech TV show — Gadget Guru — is the ability of the anchors to portray the techno babble in consumable chunks that a common man can understand and comprehend.


CareerCature
Sandeep Joshi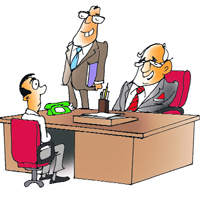 We'll hire you as chief junior executive. Our firm is pioneering the concept of getting more from less.

Fair chance
While business schools have opened their doors to admit more women candidates by changing the selection criteria, extra weightage for the degree level marks, business situation written analysis as selection criteria (instead of group discussion) and a request to admission panelist to remain sensitive towards women candidates are the few initiatives that have been taken by the premier Indian B-schools for enhancing the gender diversity.
Course cruising
Applications are invited from highly motivated students for admission to the Integrated Ph.D. programme starting from August 2013 at the Indian Institute of Science Education and Research – Thiruvananthapuram (IISER-TVM).
hard facts: do good looks matter?
Banking on Face value
We live and work in the world of increasing public interface. Be it a client meeting, a sales pitch or an official presentation, the pressure to look good is ever increasing.
news board
Positive signals on the hiring front
Hiring activities are expected to pick up in the next three months as companies, especially in in the IT and FMCG sectors, seem to be bullish on business prospects, says a survey.
biz sense: running a start-up
Being different pays
Modestly speaking, as an entrepreneur there is most definitely nothing more significant than to see your business thrive and prosper.