M A I N N E W S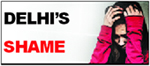 Constable hurt in protests dies, 8 booked for murder


Victim's statement re-recorded


Dikshit complains of police 'interference'
Tribune News Service
Victim better but remains critical
New Delhi, December 25
The condition of the gang-rape victim is "a shade better than yesterday" though she is still on the ventilator and remains critical. She met her parents today and is alert, conscious and very hopeful of the future. Doctors attending on her at Safdarjung Hospital here said ventilator support was reduced today and her platelet and total lycolyte count had improved as compared to yesterday. Concerns remain as the victim has high fever and her bilirubin levels — a measure of infection — continue to rise (at 7.3 today). — TNS
Helping kin
Delhi Police chief Neeraj Kumar has said those willing to help constable Subhash Chand Tomar's family can send a cross cheque in his wife Amresh Devi's favour to Additional Commissioner of Police (Headquarters), Delhi Police, MSO Building PHQ, New Delhi-110002
Cheques can also be deposited in Amresh's favour in PNB's Dilshad Garden branch account No. 392700-0100161800
New Delhi , December 25
A 46-year-old Delhi Police constable who was injured in Sunday's violent protests at India Gate against the gang rape incident died in hospital on Tuesday morning. The police have invoked murder charges against eight persons arrested for violence during the protest.
The scale of protests was much less today and largely peaceful. All nine Metro stations were re-opened and the traffic situation improved on account of fewer vehicles on the roads on account of Christmas holiday and reduction of barricades.
Subhash Tomar, who hailed from Borali district in UP, was cremated with full police honours in the presence of Delhi Chief Minister Sheila Dikshit, Union Minister Ajit Singh and Minister of State for Home RPN Singh.
Tomar was posted in a North-east Delhi district police station and was called in to maintain law and order at India Gate on December 23. He was found lying injured on Tilak Marg and was rushed to hospital where he breathed his last at 6.40 am today. He is survived by his wife and three children.
Hospital Medical Superintendent TS Sidhu said the constable was brought to hospital in a "collapsed condition (after suffering a heart attack)" and was revived by doctors. Praising the constable for giving up his life in the line of duty, Police Commissioner Neeraj Kumar said doctors told the police that Tomar had sustained injuries on his neck, stomach and chest. The exact cause of his death would be ascertained after a post-mortem.
Tomar's anguished family blamed the violent protesters for his death. The protest left 77 policemen and 65 demonstrators injured. A distraught Deepak Tomar told reporters that his father was "hit many times. He was only doing his duty... people had come there for a purpose, but what they did was wrong." The family had learnt of the assault on television.
The Police Commissioner announced financial assistance of Rs 18 lakh for Tomar's family even as Delhi Police personnel decided to contribute a day's salary for their colleague. Besides pension to his wife Amresh Devi, the police have offered a job to one member of the family that includes sons Deepak (22) and Sonu (18) and daughter Jyoti (24). Tomar will also be paid salary till his scheduled retirement in 2026.
The police, which had arrested eight persons, including an activist of Arvind Kejriwal-led Aam Aadmi Party, today charged them with murder in connection with the injuries caused to Tomar. Kejriwal alleged the police had wrongly implicated the persons and that there was no evidence of their involvement.
A fresh controversy broke out after Sheila Dikshit wrote to the Home Ministry seeking a high-level independent probe, alleging interference by Delhi Police officials in the recording of statement of the victim.
Neeraj Kumar refuted the charge, stating that the family of the victim and doctors refused permission to videograph when the Sub Divisional Magistrate was recording the statement.