Accessories unlimited
Get set to sizzle the New Year party with bold colours, cool styles, varied patterns and exotic accessories
Divisha Saran
Fashions are taking on a kaleidoscopic meaning in this festive season. Leading designers are giving a free rein to their creativity and coming up with dresses that would bring out the essence and spirit of New Year. They say that the theme is going to be clashing hues and chaotic patterns to lend a dash of vibrancy to the dressing style.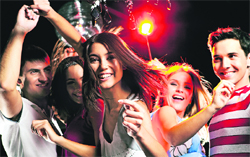 Leading designers are urging youngsters to add excitement to the New Year eve with many-splendour fabrics, rainbow-hues and exotic accessories. Colourful dresses, high boots, belts and stoles for the girls and for the guys, it is going to be trench coats, ties, bows, waistcoats and double monk strap shoes.
Cocktail dresses
"Girls should look flirtatiously beautiful on the New Year eve," says Amrita Trivedi, an up-and-coming Delhi designer. "Cocktail dresses are a great choice. If it gets chilly, they can cover themselves up with a stylish scarf or a stole, which will make them look gorgeous. They should complement the attire with high boots in colours that go with their dress as also light jewellery and a smart clutch."
Designers, however, are not limiting themselves to dresses. They say jeans paired with an embellished top or a shredded cardigan can look amazing. Smartly stitched knee-length dresses with smart cuts, with a waist belt, too, can look stunning. To enhance the look, the girls can wear smart knitted mittens that are in sync with the dress and shoes.
There's a wide range of accessories to choose from for the New Year eve. Beaded earrings are a great choice as these tend to dazzle the face. These are available in exquisite designs to reflect the festive mood. Girls can also go in for and a pendant around their neck and brooches made of Swarovski crystals to adorn their hair with.
For guys, too, there are a number of accessories that can enhance their personality. Cravats, cufflinks, tie-pins, man-purses, mufflers and lapel pins are the flavour of the year ahead. The more adventurous ones can go in for a brim hat or a beanie cap for a sporty look that will not just keep them warm but make them look stylish as well.
Sensuous pleats
Leading couturiers have glamorous designs for girls. Frocks with beautiful embroidery and sensuous pleats are a perfect combination for girls going out on the New Year eve. They could also wear jeans with ruffled tops or even smart three-quarters or pedal-pushers. For accessories, they could wear colourful bangles, which are back in demand as a bold fashion statement.
Says Trivedi, "Girls can look stunning in strapless gowns and dresses. They can complement these with can-can skirts and corseted bodices." She adds that the strapless look can be perfected with a beady neck piece. "Accessories, too, are very important. A smart shoulder bag coordinated with a coloured gown has a whiff of contemporary sophistication to it. Pump shoes in vibrant colours never fail to create a magic of their own."
Most designers say the look for girls should be bold this year. Smart skirts combined with flouncy tops could be a good option for going out on a date. Accessories can include heart-shaped pendants, Swarovski bracelets and necklaces. Shoes and socks in red, black and blue can create a simple yet stunning effect.
Magical aroma
There is emphasis on perfumes as well. The trend this year is perfumes by Eternity and Isabela Capeto. But those with moolah must go in for Jacques Guerlain's Shalimar that has a magical aroma. The French perfume is said to have been created as a tribute to the love story of Emperor Shah Jahan and Mumtaz Mahal. This exclusive perfume is absolutely titillating and is guaranteed to enhance the romantic mood of a New Year eve.
The make-up should also be special on a New Year eve. It should never be loud but light, fresh and natural for that drop-dead look. Opt for a tinted moisturiser that will create a base and help give you a luminous complexion. A moisturiser will also prevent the make-up from drying up on a dry skin and smudging on oily skin.
Use a concealer to mask pimples, dark circles and other skin blemishes, and to even out the texture. Mascara is a must to enhance the eyes by defining the eyelashes. A tinted lip balm is a sure way to give you those tantalising lips.
Whether it is the clothes or the shimmer on the skin, fashion seems to be going the sparkly way this season. Bold colours, glittering cheekbones, and even high boots should be hallmark of this New Year eve. With this look, you will be all set to sizzle the night away.
A PURSE FOR MEN

There's nothing sissy about men flaunting a purse. This stylish over-the-shoulder apparel has been made famous by Harrison Ford in Indiana Jones and Zach Galifiankis in The Hangover. So chuck away that the briefcase and get yourself a real man purse for your wallet and keys.
Price..Rs 1,500 onwards
TRENDY SCARVES

Scarf, the little wisp of fabric, is back to being a fashion essential. It is again making men look stylish and women elegant. An Alexander McQueen chiffon is the perfect accessory that can add pizzaz to any outfit on the New Year eve from the little black dress to a business suit or a shirt and jeans outfit.
Price..Rs 16,225 (Alexander McQueen scarves)
Power Bag

With a trendy snakeskin pattern, this handheld minaudière glitters in crystal mesh in a gradation of neutral tones. The inside is lined with the swanflower pattern in black. This glamorous design from Swarosvki comes with a removable snake chain handle.
Price.. Rs45,000
(Snake power bag)
HAND CANDY

A smart clutch by Lana Marks or Chloe has been the accessory of choice of leading Hollywood ladies and other celebrities. This New Year eve, you, too, can finish off a smart evening ensemble with a clutch that can be in high shine sequin clutch with an elegant broach.
Price..Rs 19,800
(Chloe clutch wristlet)
SHOULDERING ELEGANCE

It's a women's accessory that is hard to beat. The shoulder bag adds an elegant sheen to a lady's personality. Whether it is by Prada or Stella McCarney or Dolce and Gabbana, the shoulder bag is an accessory that matches brilliantly with any smart dress and matching footwear.
Price..Rs 2,500 onwards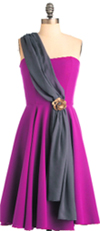 DRESSED TO KILL
Girls, you can add luxe appeal to your personality with a smart party dress. Strapless dresses with lustrous sequins or punchy prints with simple shifts can look gorgeous. Try teaming your New Year party dress with a matching statement sweater to liven up your evening look.
Price..Rs 14,575
(Donna Karan)
BINDING TIES

Gone are the days when men considered the tie as being primarily a formal dress accessory. Today, ties are becoming a part of party wear as well. So wear a quality tie on the New Year eve and make a vibrant fashion statement which is guaranteed to add style and pizzaz to the personality.

Price..

Rs 750 onwards

JACKET ELEGANCE

Protect yourself from the chill of the New Year with this reversible jacket from American women's designer label Coldwater Creek. These are not just warm outfit toppers. Smart jackets are the ultimate attire to bring out elegance and feminity and attract all-round attention.
Price..Rs 4,950 (coldwater creek)
FOR YOUR CUFFS

There's something classy about men's cufflinks that defies explanation. Whether these are made of gold or silver or studded with diamonds or of fine metal, these are an elegant feast for the eyes. Try wearing these black agate and shell cufflinks. From Taylor to Ralph Laurent, these are attention-grabbers are a must have for suave and stylish men.
Price..Rs 7,700 a pair
(Taylor's silver cuffs)
BEAUTY BASICS

An absolute party essential, the small make-up kit is a must-have in a lady's handbag. It is very handy for a quick brush up to retain that stunning look. leading companies like Anne Andre, Maybelline and L'Oreal make excellent handbag make-up kits.
Price..Rs 2,750 (9-piece L'Oreal Make-Up Travel Pack )
STYLISH JEWELLERY

Theme jewellery is the new style statement for party goers. On most festive occasions, you can get custom-made jewellery. Ganesha pendants for Diwali and heart-shaped pendants for Valentine's Day. For the New Year eve, the theme is elegant pearl jewellery in hues suiting your dress.
Price..Rs 3,000 onwards
BOOT CAMP

Knee-high boots are the best way to make an impression. And if it is a New Year party, you want to look your best. Buy a pair of faux suede high boots from any leading shoe company like Nine West, Woodland or Pavers that complement your dress and protect you from the cold.
Price..Rs 3,500 onwards
WALK IN STYLE

Global biggies like John Lobb, Jimmy Choo, Testoni, Berluti, Emilio Pucci and Roberto Cavalli have made stylish footwear a part of men's wardrobe essentials. Suave and sophisticated, the shoes will add a touch of luxe to your ensemble.These are a complete style statement on their own.
Price..Rs 5,000 onwards
PERFECT Peeptoes

Peeptoes booties are one of the hottest trends this year. These can complement your little black dress as well as your evening gowns. Offering shimmer and a stingray-like feel, the contrast panel on the sleek Fendi bootie keeps the look fresh with contrast and texture. Made in Italy, the Fendi Victorian Galaxy peeptoe bootie has a shimmer suede centre with smooth spazzolato leather sides and topstitching at peep-toe.
Price..Rs 54,395 (fendi)
HANDCRAFTED LEATHER BELT

A belt can add style to a woman's dress. A handcrafted leather belt makes a strong fashion statement. And if it happens to be from a top company like Hermes, it will become the object of envy. The French fashion house specialises in stylish and elegant belts made for special occasions.
Price..Rs 6,050 (HERMES belt)
For that super new year party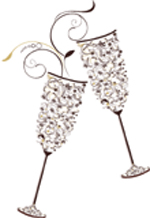 It is fun to go to a New Year party where everything is organised and you just have to arrive and have fun. But if you are the host, there will be plenty to do. Organising a New Year party requires both imagination and originality. Here are some rules on how to make your party a memorable affair:
1 Send out personalised invites to friends. These can be handwritten, or, if these are printed, these should carry a warm, personal note from you.
2 Make sure your guests are comfortable and no one is feeling left out. If some are looking uneasy, draw them in a conversation with other guests.
3 Have a well-stocked bar. It should have all regular drinks and some not-so-common ones in case, there is someone who likes to be different.
4 If you are having a BYOB (bring your own booze) party, make sure you serve all soft drinks and Champagne at the stroke of midnight.
5 Keep the food simple but have elaborate drinks and snacks. Food is the last thing on the mind of revellers who want to linger with their drinks.
6 You may not require them but it will be a great idea to keep some party games ready, in case the conversation lags or the party tempo slackens.
7 Ask someone to take candid photographs. Send prints to your friends. These will serve as memories and the candid pictures will be a source of fun.
8 Swap normal bulbs for colourful dim lights and create a whole new party atmosphere. Have light votive candles for that romantic New Year effect.
9 Go for party accessories. It may sound childish but people enjoy party accessories like hats and whistles. Put all of these in a bowl for guests to pick at midnight.
10 Keep small presents ready to give to your guests as a token of thanks when they are leaving. They will remember your party for a long time.