UGC NET: Whose 'eligibility' is at stake, after all?
Rana Nayar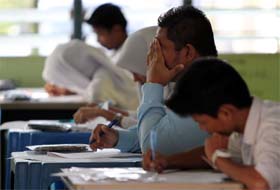 In its present form, this particular examination has become a way of keeping a majority of the aspirants out of the charmed circle.
THE latest edition of the University Grants Commission National Eligibility Test (UGC NET) — held biannually — was conducted on Sunday. This may be a good time to question the rationale of this test. Over the years, the UGC has displayed callous disregard for ground realities, especially in the way in which the NET has been perceived or conceptualised, and is being conducted.
The mandarins in the UGC seem to be living in a fool's paradise if they think that by devising the NET, they have stumbled upon the ultimate antidote for everything that ails our system of higher education. So much is wrong with our modes of recruitment, right from the way interviews are pre-fixed or rigged to the bias against merit and so much more that it needs to be recast on priority.
How we need to replace our existing, archaic method of selecting/rejecting a candidate on the basis of a few 'stagey questions' with a more effective and practical mode of assessing him on the basis of his performance in an actual classroom situation is perhaps a matter for another article. Though there is no denying the fact that this exam is needed as a filter to identify the suitable candidates for lecturership, it is an equally important fact that its present design/model has made it into a poor, if not a completely porous and an ineffective, filter.
First of all, how did UGC mandarins come to this fallacious conclusion that Paper I, which is mainly 'a test of reasoning', should be made compulsory for all? Instead, wouldn't it have been much better if they had devised an aptitude test of some kind to evaluate the suitability of the candidates for the job? What we need to know is whether the candidates love teaching, and have the right kind of an attitude towards the students and are psychologically prepared to undertake the multiple challenges of teaching. By insisting upon 'a test of reasoning,' UGC mandarins have only displayed their own poverty, if not total bankruptcy of thought, which, in any case, is reflected in virtually every decision they take. Theirs is a typical case of 'decide in hurry, and repent at leisure.'
The test of reasoning makes the entire process of selection/rejection of prospective teachers extremely mechanistic, and for that reason, very callous and inhuman. In fact, it is the absence of 'human agency' in most of the decisions of the UGC that often appalls one. For that reason, I make a strong plea for replacing the test of reasoning with a more humanistic idea of an 'aptitude test' to be prepared by some of the best psychologists in the country. Or we may also borrow a model for this purpose from the West. Don't we work with borrowed models in other matters, too?
Now that the UGC has introduced objective type in Paper III, there is no justification, whatsoever, for continuing with Paper II (which is again objective type). Tell me, how will you, in that case, effectively differentiate between Paper II and Paper III? So it's time to dispense with Paper II completely. Paper I, provided it is designed effectively, should be made the basis of elimination in the first round. Only in case of those candidates, Paper II (which should be the only objective type paper) be evaluated who manage to secure minimum 60 per cent marks in Paper I. Paper I should be of two hours duration and have 60 questions (which should be real brain teasers so that the candidates are made to think and reflect. Somehow, this factor of critical thinking is absent in the current dispensation), consisting of 120 marks.
While one may argue against the basic wisdom of introducing an objective type test at this level (given the nature of some subjects, especially in social sciences and languages), now that it is there, let's talk of how it could be improved upon. Paper II (objective type) should be of three hours duration and have 90 questions of two marks each, with a total of 180 marks. The total score in both the papers should not exceed 300. Only if a candidate secures 72 marks out of 120 (that is 60 per cent) in Paper I should his Paper II be evaluated and if he secures 55 per cent (which is the minimum eligibility condition for lecturership at the Masters level, too. After all, there has to be some internal consistency in the way in which we devise the minimum eligibility condition for lecturership), he should be declared pass in the NET.
In its present form, this particular examination has become a way of keeping majority of the aspirants out of the charmed circle, not a way of testing their eligibility. As a result, in most of the cases, even good students (who manage to secure more than 60 per cent marks in their Masters) fail to qualify the NET. Are our mandarins in the UGC trying to tell us that our system of evaluation in the universities is so completely faulty that those who get more than 60 per cent in Masters don't actually deserve to clear the NET?
The idea is not to eliminate potentially good candidates but to sift the potential teachers from those who lack potential for teaching completely. Let us not make total mockery of the system. Let us not act in a whimsical and arbitrary manner (in which the rest of the system works in our country), and let us inject some element of 'human agency' into our callous and inhuman practices.
Let us be prepared to change our modes of evaluation. We can't fail our next generation just because we don't have the right kind of ideas or we are not prepared to try out new ideas. Let's be prepared for the overhaul and let's do it sensibly. Let us not become a laughing stock of all by merely flaunting our own poverty of thought. 
If we make no efforts to bring about the necessary changes in the current model of the NET, then perhaps, it's not the candidates' but the 'eligibility' of the UGC itself that shall be at stake. Let us not forget that it is a body, tethering on the brink of collapse. Aren't there efforts afoot to replace it with the Knowledge Commission (of whatever kind)?
The writer is a Professor in the Department of English and Cultural Studies, Panjab University, Chandigarh