Menopausal zone: Excessive bleeding can harm your health
Dr Meenal Kumar
Shelly, 43, has been complaining of hot flashes for the last couple of years. Her experience has varied from 'a fleeting sense of warmth to a feeling of being consumed by fire'. Many a times a hot flash-induced facial flushing, sweating, chills and confusion sent her running to the gynaecologist. The doctor has often counselled her 'patience' since this could be a normal occurrence in the menopausal zone (the period after 40 years with the cessation of menses) due to the imbalance of oestrogen hormone. Hormone replacement could quell hot flashes, but it's not risk-free, the doctor opined. The doctor further advised her to take more of cold drinks and practice 'slow, deep, full breaths — at a rate of about six to eight breaths per minute'. However, Shelly's problems are far from over since more and more symptoms have been added to her troubles. The recent addition of heavy menstrual bleeding has given her a feeling of ill health, leading to the fear of cancer.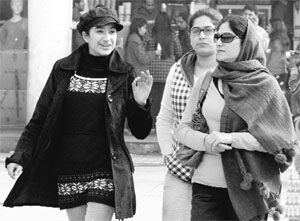 Fortunately, most of the excessive bleeding at the onset of the 'menopausal zone' (perimenopause; a few years before the cessation of menses) is not due to cancer. There are varied causes of excessive bleeding during this long phase; more serious ones like uterine cancer crop up in older women in the later part of the menopausal zone. Here we will focus on excessive bleeding in the perimenopause phase only.
The symptoms
Perimenopause varies greatly from woman to woman. The average duration is three to four years, although it can last just a few months or extend as long as a decade. Some women feel buffeted by hot flashes and are wiped out by heavy periods; many have no bothersome symptoms. Common symptoms that may afflict a perimenopausal woman are "hot flashes, irregular or missed periods, vaginal dryness, bladder irritability and worsening of loss of bladder control, emotional changes (irritability, mood swings, memory loss, depression), drying of skin, eyes or mouth, sleeplessness, decreased sex drive, obesity, constipation, indigestion and poor quality of life. While symptoms like hot flashes occur in 35-50 per cent of perimenopausal women, these are mere nuisance and do not sap one's health unlike heavy bleeding. With less progesterone to regulate the growth of the endometrium, the uterine lining may become thicker before it's shed, resulting in very heavy periods. Also, fibroids and endometriosis (the migration of endometrial tissue away from uterus), both of which are fuelled by estrogen, may become more troublesome and cause a heavy loss of blood.
Being perimenopausal is different from being menopausal. During perimenopause, errant menstrual periods are frequent. Periods are likely to get out of control and involve too much bleeding for too long. After the onset of menopause, no bleeding should occur. Excessive bleeding can be a tremendous nuisance, inconvenience and embarrassment if you are bleeding through your clothes, on to your bed clothing and having to spend a fortune on pads. However, panic of cancer or apprehension of losing uterus through surgery may be unjustified in most cases.
What is excessive bleeding?
During a normal menstrual cycle, an average woman loses 25-80 ml of blood. Most women change their pads around three times a day. A normal menstrual cycle is 21-35 days in duration, with bleeding lasting four-five days. When the loss is more than 80 ml or it lasts eight or more days, it is called excessive bleeding or menorrhagia. Chronic heavy or prolonged menstrual bleeding can interfere with daily activities, and raise concerns about uterine cancer. Studies indicate that about 10 per cent to 20 per cent of women report menorrhagia over 40 years of age with its peak between 45 and 49 years of age. Many women are referred to specialists for hysterectomy, a procedure involving surgical removal of uterus. But should uterus removal be practiced liberally?
It will be pertinent to mention here that several studies provide that bleeding will get better without the surgical removal of the uterus. Heavy bleeding gets stopped without treatment more frequently as women approach menopause. In a study, 17 per cent of women aged 40 to 44 got better without being treated; the rate jumped to 35 per cent in women aged 50 to 54. In any case, bleeding should not be ignored. Women should ask for medical help when they're bleeding heavily, without fear of hysterectomy.
Why excessive bleeding?
It may be caused by a hormonal imbalance or abnormalities at a sub-cellular level in the endometrium. Menorrhagia can also be caused by fibroids, polyps or adenomyosis. The Polycystic Ovary Syndrome (PCOS) is a condition where small cysts form on the ovaries, and this can cause heavy bleeding to occur, but with associated symptoms like weight gain, acne, male pattern hair-loss, and hair growth on the face. Birth control pills and intrauterine device (IUD) both have the possibility of causing heavy and excessive menstrual bleeding. Pelvic inflammatory disease (PID) can cause scarring of the organs and tissues, and if untreated can lead to excess bleeding. The causes can be fungal, viral, parasitic or, most commonly, bacterial. At times it can also be caused by sexually transmitted diseases. Besides excessive bleeding fever, pain felt in the lower abdomen or pelvic region, weakness and body aches may also occur.
Treatment
Three treatment options are:
Watchful waiting: A woman may choose to delay having any treatment, particularly if she is close to reaching menopause. Periodic pelvic examinations and ultrasounds can help track the progression of her fibroids. Use of vitamin K, calcium supplement or pills of tranexamic acid can lead to a significant reduction in menstrual blood loss and an increase in their health-related quality of life. Nonsteroidal anti-inflammatory drugs (NSAIDS — ibuprofen and naproxen sodium) may also be helpful in reducing blood loss in these women
Hormone therapy: Hormonal treatments such as oral contraceptives or a progestin-releasing IUD can help reduce heavy bleeding and pain. Gonadotropin releasing hormones (GnRH) stop ovulation, and thus the production of estrogen, and can reduce bleeding. Progesterone is a hormone made by the ovary that is effective in preventing excessive bleeding in women who do not ovulate regularly. A synthetic form of progesterone, called progestin, may be recommended to treat abnormal bleeding. In some cases, the progestin is given on a regular basis (every few months) to prevent excessive growth of the uterine lining and heavy menstrual bleeding. Progestins can be given as injection, implant, or intrauterine device (IUD). Some women completely stop having menstrual bleeding as a result of the IUD, which is reversible when the IUD is removed.
Surgery: There are many surgical options ranging from less invasive to very invasive. They include removal of the fibroid, removal of the endometrial lining (endometrial ablation), shrinking the blood supply to the fibroid (uterine artery embolization), and removal of the uterus (hysterectomy). However, surgical removal of uterus should be the last resort coming to the minds of the patient as well as the doctor.
The writer is a Chandigarh-based senior gynaecologist. Email: drkumar232@hotmail.com