hr focus
India Inc to bank more on human capital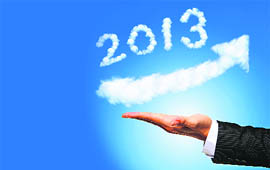 The year gone by saw the corporate world's conscious move towards an organic workplace, reverse mentoring, social media recruitment and a growing public interface in real time. Jobs and Careers gets you a ready reckoner of HR trends in the New Year from country's leading HR experts
Swati Rai
Multiple roles and responsibilities


Managers will be accountable to their line subordinates as their role will evolve into that of a facilitator. Talent acquisition role will encompasses branding, marketing, networking and sourcing to deliver measurable results.
smart strategy: getting noticed at workplace
Have the vision to be visible
One of the biggest mistakes that most professionals make is to work hard quietly while others get recognised for their accomplishments. Although doing a good job is certainly satisfying it can be frustrating when the effort goes unnoticed. In today's competitive environment being a nameless shadow translates into missed promotions. As a consequence to get ahead it is important to gain visibility at workplace. Getting noticed at work is challenging but not entirely an impossible task. It is all about building healthy work relationships and learning to take credit. Moreover, one must not shy away from exhibiting how good you are at your job. The basic idea is not self-promotion but to be confident about expressing views and opinions. It not only gives a feeling of well-being but also helps climb the corporate ladder.
job scape 2013
Moving to the age of specialisation
There is a little possibility of us commuting to work in flying cars in 2013. As a matter of fact it will be immaterial as many of us won't be commuting to work at all. It's no secret that telecommuting, flexible work arrangements, distributed teams and even entirely virtual companies have exploded over the past few years. Reversing the almost antiquated model of bringing workers to the work, companies are bringing the work to the workers, and in doing so, the way we work is changing rapidly, with everything from organisational structures and team workflows to career paths and education, undergoing radical shifts. Those on the threshold of a career can expect the following changes in the job scene in the country and prepare themselves accordingly:
Career Hotline


Can I continue as a regular student after degree from IGNOU?
Q. I passed Class XII in 2005 with 80 per cent marks, but couldn't continue my further studies due to a terrible accident. Now I am working in a publishing house. I want to do my graduation (BA Economics) from IGNOU. Please tell me, can I do MJMC as a regular student after BA from IGNOU. — jasleen nahta
course chat: mbe
An a la carte course
The corporate sector today needs human resource to sense changes in the business environment and analyse their implications for the organisation and act strategically. Decision making thus, involves clarity of business processes, government policies, global orientation, competitors and consumers as these have a major bearing on all companies. Strong understanding of the fundamental principles of business and economics, qualitative and quantitative analysis techniques are thus, imperative for decision making today. The Masters of Business Economics (MBE) programme provides this opportunity and equips the students with the skills required for the same. MBE aims at management of scarce resources by those who have a judicious mix of expertise, wisdom and judgement coupled with logical and analytical decision making in a healthy and interactive atmosphere.


CareerCature
SANDEEP JOSHI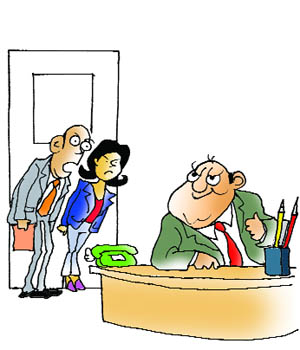 The way he's smiling, I wonder what resolution he's made for this year.
Invest in yourself in the new year
As new resolutions herald the New Year, many students begin to worry about the future and what they can do to enhance their chances at success. Simply having good marks or completing a degree is not enough to be successful in today's rapidly changing economy. More and more studies indicate that often it is not high IQ, good marks or fancy qualifications that mark out a winner, but that extra ingredient of personal qualities that enables one to be successful. Some call it emotional intelligence or EQ, as quantified in Daniel Goleman's book Emotional Intelligence, but increasingly in today's global, information-based economy, it is being felt that school and college leavers are unprepared for the workplace, despite solid educational qualifications. Engineers, teachers, CAs, lawyers, MBAs and others frequently come out of college with excellent technical and quantitative skills, but have an underdeveloped ability to communicate, build teams, negotiate with colleagues, or lead projects and so on.
career in social media
Skill up to ride the social media wave
It's everywhere. In your hands, on your laptop, in the coffee shop sitting on the table, in the multiplex asking for your autograph. It's everywhere you can imagine and if it's not present anywhere, then we're making sure that it reaches there.
Happiness @ work
Resolution time's here
In order to improve on our past, many of us — on New Year — make resolutions. Let us, from true leaders, learn to: