Jatt, Juliet… zoom ahead
Here we are in 2013…a little bit wiser, a little bit hopeful, a little bit optimistic…and with just another chance to get it right again. In the cold winter morning of January, few odd men, snug in their pullovers are hurriedly getting things in order. This is their 'chance' to give final touches to their upcoming Punjabi movie. Debutant director of Tu Mera 22, Main Tera 22 Amit Prasher has lot of hopes from 2013 and so does the rest of the Punjabi film industry, all set to showcase what they've got. Dates have been finalised, projects are being discussed…Punjabi film industry plans to offer the best of the best movies in 2013. New faces, Bollywood influx, more moolah…expect a lot!
The lucky 13!
Welcome to 2013 - the year of speculation, luxury, glamour and comforts. Although 13 is believed to be an unlucky number, if we go by astrological predictions, we have a luxurious year ahead of us! It will be a year where all bad things will come to an end and we will witness a social change, which will mark the beginning of good times. "Thirteen is an unlucky number in Western countries, but not in Hindu astrology.
success mantra
Champion calling
A clear aim coupled with hardwork takes you places, and Yogeshwar Dutt, 30-year-old Olympic medal-winner in wrestling, stands as a true example. Born in village Bhainswal Kalan, Haryana, Yogeshwar found his calling rather early in life. Fame has not touched this humble soul. Wrestling is life for him. Being a vegetarian, does it hinder in a game that relies totally on strength?
Par Excellence
The 'chicken wing' follow through...
One of the reasons for a slice is a high left elbow (for right handed golfers) in their follow through. This is termed as a 'chicken wing' follow through (picture 2). Good players deliberately create this type of follow through when they want to move the ball from left to right. Slicers need to get rid of this high left elbow 'chicken wing' follow through to improve their ball flight.
pet passion
Caezor sharp!
She just finished celebrating the third birthday of her third pet. Cheryl Puri, 17, Class XII student, proudly claims to be not just a pet owner but a dog lover and rightly so. Many people keep a pet, but few care enough to remember and celebrate the birthday and keep the date, traditional style. Think birthday candles, cake, cards et al. "We just finished celebrating Caezor's third birthday.
Doc Talk
Dazzle the world
Look your best, shine and dazzle. Forget about the facials; pamper your skin with scientific skin solutions. Pure Radiance Therapy: It consists of Vitamin C,SPA and milk peels, which give your skin an instant and long lasting glow. These are rightly called the Party Peels as they can be done just a few minutes before an important function. These are absolutely painless and safe procedures.
Future shock
Get smart!
Two things happened recently. iPhone 5 has finally hit China (a big market for Apple) and a judge in the US has declined Apple's request to ban Samsung from selling its smartphones. With these developments, Apple is likely to gain market share globally. Equally, Samsung is set to take away a lot from their pie. This has made the war of the titans fiercer.
HEART TALK
Go slow & easy
I am an 18-year-old girl working as a dance tutor part time. I have realised that I am pretty good in choreography and should pursue it. But my parents are totally against making dancing as a profession. What can I do?


Karisma's style check
Cocktail, the movie re-defined fashion and style. While one recalls Deepika's bold and raunchy style, with ultra-stylish and sexy dresses, one should also not forget her beautiful and sharp look from the song Second Hand Jawani.

Katrina's flying high
Katrina Kaif appears really cheerful, sweet, and friendly in her movies, at media events, and with her fans. Her behaviour when she is on flights is another story altogether and takes many by surprise. A source says, "Katrina never talks to the air hostesses when she is flying. She won't ask them for a glass of water or respond to their questions.

Air time: Katrina Kaif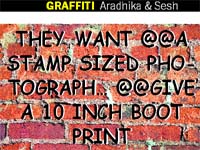 CHATTER BOX


ASTRO TURF


THE YEAR AHEAD