Jewellery cuffs are the style mantra this season. You can choose from materials like leather, rexine and go right up to diamonds and platinum
All on the wrist
Surekha Kadapa-Bose
Make a statement this season. No, don't resemble a walking jewellery shop. Just flick your wrist. Wear a cuff on a well-styled dress. No need for earrings or necklaces. And you will proclaim to the world that you are ready to be noticed and heard. Yes, jewellery cuffs are the style mantra this season. The broader you can flaunt, the bigger statement will you be making.
The best part of these cuffs is that you can choose from materials like leather, rexine and go right up to diamonds and platinum. All it has to be is broad with open ends so that one can clasp on the wrist — minimum width should be 1½ inches, and you can go up to four inches broad.
The broader these are, higher is the style quotient. Normally cuffs are one plain broad band of any material — fabric, plastic, beads, leather, wood, ceramic, rexine, ordinary metals like copper, brass, or even oxidised metal. Or very high-end cuffs in precious metals like gold, silver, and very rarely in ivory. These can either be plain band of metal or have a central motif of stone — precious or semi-precious.
Generally, because of their width, cuffs are worn on their own and only on one wrist. But there are some women, who prefer to wear two of high-end cuffs on each wrist or team with some chunky bracelets. It can be a display of style and grace. Even First Lady of America late Jackie Kennedy, who was the epitome of elegance, grace teamed cuffs with bustier dresses. In the 1960s, it was she who made Van Cleef & Arpel's hammered gold cuffs famous by wearing them almost at every event she attended.
It is said Coco Chanel, pioneer French fashionist and founder of brand Chanel, rarely left the house without her cuff bracelet. Her favourite was an enamel cuff, decorated with a gold Maltese cross illuminated with cabochons of precious stones.
Historically cuffs were worn even during the ninth century Byzantium. Since then, it has been very popular across cultures and has for some reason been associated with Inca jewellery. Several of Hollywood actors flaunt it and back home star celebrities like Aishwarya Rai Bachchan, Kareena Kapoor, Deepika Padukone, Bipasha Basu and others, too, wear it. However, don't mistake cuffs with large kadas or bracelets as worn by Bengali women during Puja and weddings.
According to Sulish Verma from Vikas Chain & Jewellery, Delhi, trends are changing from time to time with more of international designs coming in.
"Women should opt for statement jewellery pieces following the trend rather than padding oneself with loads of it. One standalone piece makes an impact. A cuff not only helps in brightening up your ensemble but also makes you feel comfortable in your attire," is his advice to women.
The universality of cuffs this season can be gauged from the fact that the leather-look cuffs by Versace, Nicholas King and Chanel cuff, wood-carved bangles by Belmacz and bang-on-trend coloured lizard skin cuffs by Kara Ross have become hot accessories this season.
It is also true that cuffs can be worn by women all ages. These best suit western attire but sarees can never be left behind for making any fashion statements.
Mumbai-based Priyanshu Shah, executive director of A'Star Jewellery, says, "Though cuffs as a rule are big in size, the final design will decide if the piece would look elegant or flamboyant. An elegant interlaced design would definitely look better on a fine-boned wrist."
Preranaa Makhariaa, manager product development at Tara Jewellers, commented, "Cuffs could be worn by any woman but they could choose designs and sizes best suited for their wrist — round, more flattened or wide. One must look for a cuff that mirrors the shape of one's wrist. The size of the cuff should be decided on an individual body frame, and not height or weight."
Further, she advised, "If one has a round wrist, one should opt for a cuff bracelet that has a round "C" shape. For a petite frame, large cuffs appear to swallow you whole and, thus, the smaller size can be opted for. If one has dramatic shoulders and defined arms, bolder pieces will show appropriately against the skin. A cuff is a great accessory for an occasional wear — formal, festive or party. One must avoid cuffs for office wear. And it certainly is a big no for household work."
Another plus point for cuffs is that you can pick one up from a street vendor or go for a designer cuff. Depends on your budget and the occasion you want to wear it. So this season, be happy to be handcuffed.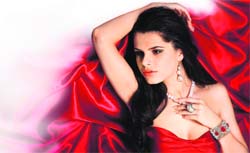 Ruby delight
Best way to look dressy without looking garish is to dress in heavy cuffs. Made in 18K gold and studded with diamond, rubies and emeralds, this cuff by Tara Jewellers of Delhi, will make you the envy of all your friends. Wear it on Western or Indian outfit, you will not go wrong
price: Rs 6, 78,000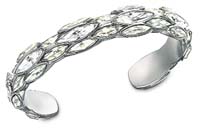 Scaly look
Pure glamour! This unique rhodium-plated Swarovski cuff is adorned with clear crystals and crystal silver shade in the navette cut, creating a snakeskin look. Add the matching necklace to create an ensemble fit for the red carpet.
price: Rs 10,500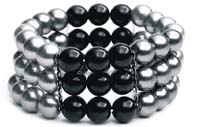 set for party
Have an evening out with a boyfriend? Or a college get together? This black and silver coloured pearl cuff from Ayesha, held together in white metal, will add a dash of party mood to your attire. It will go well with any formal attire.
price: Rs 590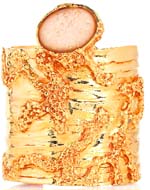 Arty collection
When you say style, it has to be Yves Saint Laurent. The 'Arty' jewellery collection has fast become a cult classic and fans of the designs are sure to adore this large gold-plated cuff with a cream glass stone. Wear it to add instant glamour to your off-duty look, or with a party dress as your signature adornment.
price: Rs 33,800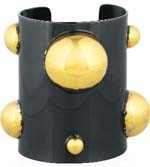 Brass art
Work a dose of urban cool into every look with Kelly Wearstler's hard-hitting brass and 18-karat gold-plated cuff. This modern art-inspired piece will make a sartorial statement at your next event.
Price on request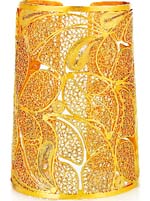 filigree artwork
Handcrafted using a time-honoured technique passed down through generations of artisans, Mallarino's intricate filigree cuff will instantly elevate your jewellery portfolio. Wear this Mallarino Cielo's 24-carat gold-vermeil filigree style cuff to lend a touch of opulence to your sophisticated looks.
price: Rs 1,00,000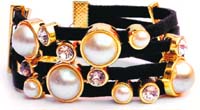 Pearl finis
A collegian will find this cuff from Ayesha, very fascinating. It looks stylish but at the same time is young and hep. Small pearls on suede strips attached with golden plates adds a jing to the accessories. Flaunt it in a dress, ankle length skirts as well as a pair of jeans.
price: Rs 590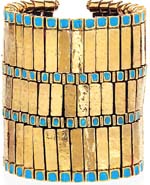 evening opulence
Inspired by South American ornamentation, Aurelie Biderman Mendoza's designs the beautiful bracelet cuff. Delicately dotted with blue enamel, this 18-karat gold-plated piece will infuse modern evening wear with instant goddess appeal. Wear it with a jewel-toned shift dress for evening opulence.
price: Rs 1, 43,000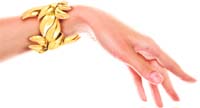 Modern chic
Opulent jewels were a highlight of Oscar de la Renta's FW12 collection, and this rich 24-karat gold-plated leaf cuff is simple yet sophisticated, it's an effortless way to work the brand's signature Park Avenue chic for day or night.
price: Rs 37,500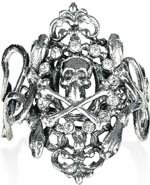 Swarovski style
Elegance and edge seamlessly combine in Tom Binns' silver-plated cuff where dazzling Swarovski crystals shimmer alongside a snake and skull motif.
price: Rs 44,500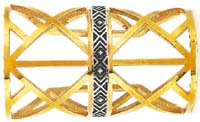 unique designs
The bronze and silver-plated cuff. Pamela Love's unique jewellery designs have won the hearts of everyone from editors to the A-list, so make like those in the know and invest in this bronze cuff. Finished with an intricately engraved silver-plated panel, this statement accessory promises to imbue every look with signature rock 'n' roll appeal.
price: Rs 59,800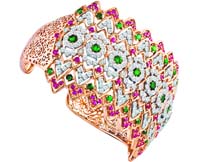 Diamond elegance
Set in Pristinium, with diamonds and onyx, this is a dream cuff for new-age woman. Best suited for evening parties. This cuff from Delhi-based Tara jewelers will look great on a dark coloured drape gown.
price: Rs 3,48,000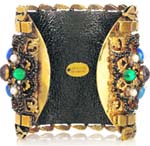 crystal charm
Taking inspiration from Byzantine adornments, Erickson Beamon's gold-plated cuff will give each and every look a hit of show-stopping opulence. Swarovski crystals accentuate the intricate design, so be sure to wear yours solo for maximum effect.
price: Rs 67,000
Gucci glamour
Gucci is the personification of elegance. This glamorous chunky gold-plated and leather cuff from the international fashion brand is sure to make an instant style statement. You will look an modern chic with this.
price: Rs 90,000
Know your cuffs
Currently the cuff jewellery, especially for women, may be the trendiest and a statement piece. But it isn't a new phenomenon at all. Women in our mythology, too, adorned their wrists with cuffs made of flowers! Mogras or any other sweet smelling gajras of flowers were wound around the wrists as one of the most popular adornments.
Later, these flower garlands found a way into different materials like leather, metal, etc. by men as protection gear once waging wars, brutally conquering enemies became the normal way of life of several civilisations. As rulers became more bloodthirsty and started waging more and more hand-to-hand combat, the need to have protective armory, too, increased. This resulted in having strong and large-sized cuffs, sometimes encompassing entire forearms.
It turned into jewellery form using different materials from the times of Incan, Aztec, Etruscan, Persian, Greek, Asian and Egyptian history. Of course, before all these, was the Mayan civilisation during the classic period of 200AD-900 AD, which was highly developed and started the trend of ornamentation. During this period, metal was beaten into fine sheets, and, then, embossed with different material to enhance the metal. Though several other ornaments made an appearance, basic concepts of cuffs, by and large, have remained the same.
Though these are trendy, when selecting a cuff, one should keep some points in mind. These pointers apply to men as well as women.
1 Many cuff pieces are adjustable. These can be opened or closed accordingly. If it has stones or beads on it, make sure when you adjust the size by pressing, you don't do it at this point as otherwise the stone or the bead may just pop out.
2 Make sure you wear a soft cuff which should act as a second skin and not hurt your arm by its size or contact. As a cuff is broader in size, it might press into your upper wrist which, in the long run, may hurt you. So a soft one, round edged and one which is conical shaped is better than a cylindrical one.
3 Even while wearing a cuff, don't just push your hand into it as you would do in a bracelet. If you are wearing it on your left hand, then curve it over the top of the bracelet. In one movement, press the lower edge of the bracelet into the soft area on the underside of your wrist. Then roll the bracelet over the top of your wrist.
4 Every cuff has a gap that allows one to put it on and take it off with ease. Ideally the gap should be nearly 3/4" to 1" wide. This will see that you put it on properly and it also doesn't fall off easily even when you are travelling in a crowded public transport.
5 Choose the right size. If you have small delicate wrists, don't go for large-sized cuffs hoping that you can press these into small size. This will spoil the shape of the cuff. Similarly, if you have a large wrist, don't opt for a small cuff, however, endearing it might look to you.