Unleash the New You in the New Year
Aruti Nayar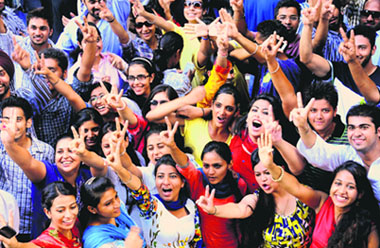 Come New Year, and even the most cynical are not averse to making a wishlist. There is an increasing reliance on motivational, life coaches or trainers to show the way. Perhaps, due to the increasing pressures of corporate life and the drift towards a 'secular spirituality,' there is a vacuum as organised religion finds fewer takers. We asked some trainers who conduct holistic workshops to help people find equipoise to share their success mantra.
---
ARTS
'Art & soul
Some splendid views of ports
B. N. Goswamy
At a recent exhibition on the port towns, one could sense history in all kinds of images and documents, which focused sharply upon the coastal towns of Kutch and Saurashtra in Gujarat
Close to two weeks back, I was at Daman — former Portuguese possession on the west coast of India and now, together with Diu, a Union Territory — and what had taken me there was a symposium on the port towns of Gujarat. I had little title to be there for I am no expert on port towns and know precious little about that maritime region.

Broad Brush
---
LIFE
Written in stars
P. Khurrana takes a peek into your future, telling all about your career, money, relationships, love, friendships etc with a special focus on astro-advice
---
Society
Protest for a pause
Mallika Kaur
A pause could help in seeing our own contribution to the culture of gender violence: when we laugh off our boy's exploits for being such a 'Casanova' or 'stud,' while we pride ourselves in curtailing our girl's movements and dreams
---
TRAVEL
Enjoy the walk
Preeti Verma Lal
Vancouver's a great city to walk around as its different alleys offer
interesting walk tours
In some cities, beginnings can be confusing. No, not the beginning of the city, but where to begin the city tour. Vancouver certainly is one such city. Where do you begin in a city which takes its name from a Dutch captain George Vancouver and is often touted as the world's most liveable city and Canada's most walkable city?

Globetrotting
---
ENTERTAINMENT
On the cards: Super sequels and big-ticket movies
Deepa Ranade
Dhoom 3, Krrish 3, Race 2, Once Upon A Time In Mumbai Again and many more, the year is replete with franchises which consolidate cine branding more than ever before. An overview of upcoming releases that include big bonanzas like Chennai Express, Kick and Himmatwala; an eclectic mix of serious and spurious films that have the making of a hit parade
A season for makeovers
Swati Rai
The Indian 'idiot box' is bustling with a plethora of makeover serials. Cashing in on the wedding mania in India is the much-hyped Band Baaja Bride on NDTV Good Times. In its second season with anchor Ambika Anand and the 'now less wooden', former model, Bharat Arora, this programme charts the journey of a bride in distress and transforms her into err…the best she can look. From hair, skin to make-up to the dress, and even teeth, the would-be bride goes through a series of therapies, spa treatments and salon fixes!
---