Vaccine for cervical cancer patients
Bharti Goel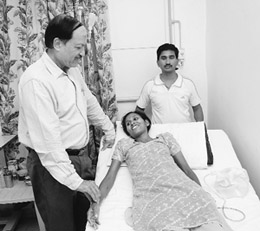 A cervical cancer vaccine has been on offer in India since 2008, but the queries regarding its usefulness still prevail. This article aims to throw some light upon this vaccine regarding its status in healthcare, proposed benefits and its shortcomings in the scenario today.
We know that cough, cold, fever and diarrhoea are some of the common ailments caused by viruses. We have been immunizing our children against viral infections like polio, measles, mumps, rubella, hepatitis B and chicken pox for more than a decade now. Besides these well-known diseases, there are some cancers which are also caused by viruses such as liver cancer, blood cancer and cervical cancer.
Cervical cancer is the cancer of the cervix which is the lower end of the uterus located at the top of the vagina in the female genital system. It ranks as the first most frequent cancer among women in India. Current estimates indicate that every year 1,34,420 women in India are diagnosed with cervical cancer and 72,825 die from the disease.
Cervical cancer is caused by a virus known as human papilloma virus (HPV). There are multiple subtypes of HPV. Some of these cause warts which are not cancerous. Types 16, 18 and some other types cause cervical cancer. Among these types, 16 and 18 are responsible for about 70 per cent of the cases. They also cause most anal cancers and some vaginal, vulvar, penile, and oropharyngeal cancers.
Since cervical cancer shows a complete association with HPV which is transmitted through the sexual route, the only definite way of preventing it is complete sexual abstinence because even a single sexual exposure can lead to infection. The HPV infection is not synonymous with cervical cancer as our body has a partially effective natural mechanism of clearing out the infection, but certain factors put a person at a high risk for cervical cancer. These are onset of sexual activity at a younger age (less than 18 years), child birth at a younger age (less than 20 years), multiple pregnancies, multiple sexual partners, poor general health, immunocompromised state and smoking.
On the other hand, the routine use of condoms provides protection against HPV and other sexually transmitted infections.
Cervical cancer vaccine (HPV vaccine)
Vaccines contain inactivated forms of viruses or partial components of viruses which, when given to a body, produce immunity or ability to fight against the virus whenever natural infection occurs. By the same logic, cancer caused by a virus should also be preventable.
HPV vaccines are now widely available for the purpose of cervical cancer prevention. The quadrivalent vaccine (Gardasil) and bivalent vaccine (Cervarix) have been approved for this purpose in more than 100 countries, including the US, Canada, Australia and the UK and other European nations. It has been included in the national immunization schedule for teenage and pre-teenage girls in the US, the UK and Australia.
The Drugs Controller-General of India licensed the use of these vaccines in 2008. Both the bivalent and quadrivalent vaccines protect against the infection of HPV subtypes 16 and 18 that account for about 70 per cent of HPV-related cervical cancers. In addition, the quadrivalent vaccine also protects against HPV types 6 and 11 that are responsible for about 90 per cent of the genital warts. The HPV vaccine does not treat the existing HPV infection or pre-existing cancerous or precancerous lesions.
Vaccination target group
The bivalent vaccine has been approved for use in females aged 10 to 45 years, whereas the quadrivalent vaccine has been approved for use in girls and women from 9 through 26 years of age. Three doses are required at specified intervals.
The recommended age for the vaccination for girls is between 10 and 12 years since the maximum immune response to the vaccine is seen in this age group; the hence maximum expected long-term benefit.
HPV vaccination is recommended before the beginning of sexual activity but may be offered to all women up to 45 years regardless of sexual activity, as it may protect against infection with high risk HPV types if the patient is not already infected. The decision is based on the informed discussion between the woman and her health care provider regarding the risk of previous HPV exposure and potential benefit from vaccination.
In the US, the quadrivalent HPV vaccine is also recommended for males in the age group of 9- 26 years as it offers protection against genital warts and anogenital cancers. In India, this vaccine is not yet recommended for males.
Long-term efficacy
Since the cervical cancer vaccine is a relatively newer vaccine, studies regarding the duration of efficacy are ongoing. Till date, these vaccines have been shown to be efficacious for 6 to 7.2 years without any need for boosters and are expected to be beneficial over a longer period.
Selective benefit: These vaccines can protect against cervical cancer and pre-cancer caused by HPV types 16 and 18 only. They do not provide effective cross-protection against these lesions caused by other high risk types. Since 70 per cent of cervical cancer cases are caused by these two types, hence the efficacy of the vaccine.
Cervical cancer screening: Cervical cancer can be effectively diagnosed in the pre-cancerous stage by periodic targeted gynaecological examination and Pap smear which should be started after the age of 21 years, within three years after the beginning of sexual activity. This can easily be done in most centres in our country in a cost-effective manner. Since HPV vaccination does not provide complete protection against cervical cancer, the screening needs to be continued as per schedule irrespective of the vaccination.
The mantra for good health is "Prevention is better than cure". For cervical cancer we have two types of prevention:
HPV vaccine which offers partial but substantial protection against infection with a high-risk HPV virus.
Routine screening for pre-cancerous or cancerous lesions of cervix.
Both processes are independent of each other and one does not replace the other.
The high cost of the HPV vaccine (approximately Rs 9000 for three doses) is a major barrier for the routine administration of the vaccine. According to the current statistics, it is a safe and approved option but we need more time to be sure of its long-term efficacy.
The writer is Consultant Gynaecologist, Government Medical College & Hospital, Chandigarh, and working closely with the Tata Memorial Hospital, Mumbai, on cancer.