M A I N N E W S

criminals in POLITICs


Justify separate laws for MPs, citizens, SC asks Centre
Legal Correspondent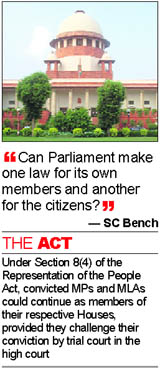 New Delhi, January 10
The Supreme Court today directed the Centre to justify the existence of two different laws - one for ordinary citizens involved in criminal cases and another for the similarly placed elected representatives.
"How did you carve out separate laws for the ordinary citizens and MPs? Can Parliament make one law for its own members and another for the citizens," a Bench comprising Justices AK Patnaik and Gyan Sudha Misra wanted to know while hearing a PIL on decriminalisation of politics.
When Additional Solicitor General Paras Kuhad tried to explain, the Bench said it would not accept any oral submissions on the issue. "Please put it in an affidavit," the court said.
On the other hand, other provisions in the same section debarred people from contesting any Assembly or Parliamentary election if they had been convicted for a serious crime.
This distinction between the candidates aspiring to contest an election and sitting members was against the fundamental right to equality guaranteed under Article 14 of the Constitution, senior counsel Fali S Nariman contended while arguing for the PIL petitioner, Lily Thomas.
The petition has prayed for declaring the provision which was very lenient against convicted representatives of the people.
The Bench noted that criminalisation of politics was the root cause of most of the problems being faced by the country. "We are quite aware of that. You don't have to strive hard to convince us on this aspect," the Bench told retired IAS officer SN Shukla, whose NGO was an intervener in the case. The Bench made the remark when Shukla contended that criminals in politics were responsible for almost all problems in governance.
As he pleaded for striking down Section 8(4) of RP Act in order to unseat MPs and MLAs who had a criminal background, the Bench wanted to know as to whether the government would survive in that eventuality.
"Confirmed lawbreakers cannot be lawmakers," Shukla persisted. He also cited the cases of cricketer Navjot Singh Siddhu and actor Sanjay Dutt. While the SC allowed Siddhu, who had killed a person in a road rage, to continue to seek re-election, it had refused to let Dutt to contest election as he had been convicted under the Terrorists and Disruptive Activities (Prevention) Act for illegal possession of weapons.