The cast and crew of the movie Saadi Love Story are upbeat about their collective venture and the Punjabi film industry in general…
A story, with love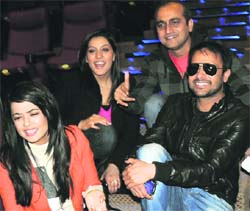 It's an ensemble cast comprising Jimmy Sheirgill, Diljit Dosanjh, Amrinder Gill, Surveen Chawla and Neetu Singh. Saadi Love Story conforms to the norms of the box-office today and has everything else going for it; a romantic comedy, high on entertainment with a blend of drama and Punjabi cinema. While it's too early to appreciate the product, the makers, meanwhile, revel in the expectations. "It's the only movie to be releasing with a lot of prints and sixty-one shows in Chandigarh," shares the director Dheeraj Rattan with the cast in tow at Wave Cinemas, Chandigarh.

Screen delight: (L-R) Surveen Chawla,Neetu Singh,Dheeraj Rattan and Amrinder Gill.
Strong voice, stronger intent
'To make the earth a better place' is an attitude that Mallika Sarabhai inherited in her genes. And striving for it she is, day in and day out. In Chandigarh on Thursday, Mallika inspired hordes of women and men as much from her act as her interaction with the audience.
gyan zone
Courting theatre
Taking the play Court Martial to its 400th show is a milestone in more ways than one. When conceived in the year 1999, director Sudesh Sharma had a dream. A dream to connect the audience to theatre as well as to make theatre viable in this part of the country.
Diamond deal
Tanishq jewellery brand has announced an exciting offer on its wide range diamond jewellery. Up to February 28, customers can avail a discount up to 20 per cent on all diamond jewellery at any Tanishq store across the country.
Saving option
TTK Prestige has come up with its annual New Year's promotion the Super Saver Offer that is on till February 28. The offer promises a host of deals on the entire range of Prestige products. Consumers can avail the following exciting discount offers, exchange offers and free products offer.
Doc Talk
Get glowing
This New Year take 10 new resolutions for a youthful, glowing skin ....!
TRENDSETTER
Casual charm
Every person has a sense of style in his own right. Yet, there are only a few who'd attract the second glances, who have the power to make the camera go zoom on them. It could be the tousled hair, it could be the torn jeans. Our this week's face in the crowd Balli Riar, 25, singer and actor, likes to make a style statement while at the same time be laid-back and relaxed about it.
Mega prize
The Merry Shopping Festival at the upscale DLF City centre mall located in Chandigarh's IT Park, ended with giving away' of a Rs 5.7 lakhs powerful Harley-Davidson Super Low Bike to Panchkula resident Radhika Aggarwal.
star track


SRK parts ways with his PR


Parineeti's glam avatar


Mama's wish


How Saif keeps fit


Arjun uncut


Amrita disappointed!


Europe tour
chatter box


Aamir in awe of Big B


New release