Gone are the days when nails could be taken for granted. Any fashionista will tell you that these need as much pampering as your hands and face
Fashion on your fingertips
Nutan Sehgal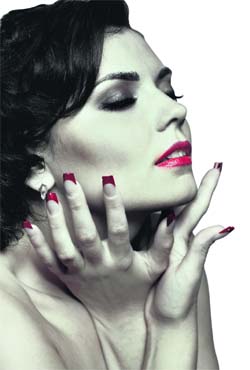 No matter how refined your sartorial tastes and how good your make-up, unkempt nails can be a sure sign of sloppiness. There's no camouflaging messy nails, unless, of course, you are in the habit of constantly wearing gloves or keeping your hands in your pocket, neither of which is practical. Thus, given their visibility, nails need constant care and indulgence. Applying the most expensive nail polish will not work on nails that have not been pampered and given the special treatment they deserve. Remember, professionally manicured and polished nails are a joy to behold.
Time was when all that was needed for nail care was a set that comprised a nail cutter, a nail filer, an emery board and a softening cream. But now hand and nail art is becoming as sophisticated as skin care. Apart from the basics, the tools can now include a cuticle minimiser, nail hardener, nail cream, hand cream, night-time moisturiser, ridge filler, hand mask, sealers, tweezers and more.
Nail artists
In many countries, salons divide nail care in either intensive care or just maintenance category. Like beauty salons, there are exclusive studios that promise a complete makeover of nails. Specialists in some of these leading studios are as sought after by the glitterati as any big star in another field and their fee as much — and sometimes more — than that of any top make-up artist.
Even in big Indian cities, experts are giving nails the royal treatment these deserve — for a steep fee, of course. Shirley, a Mumbai manicurist-turned hand specialist, says she only takes clients by appointment. "I have stopped taking walk-in customers," says the lady, who flits from one upmarket beauty salon to another.
Today nail art has become a mega business. Ladies are not just looking for a nail polish or a simple manicure. There's a lot more to embellish those talons. There are nail extensions made of fiberglass, acrylic or silk. There are nail rings, nail decals, nail stickers, gel, silk overlays and an array of other nail decoratives.
Nail bars & spas
Gone are the days when beauty salons offered manicure and pedicure as an add-on service. They still do, but the high rollers would rather visit a nail bar or a nail spa that has specialists skilled in painting nails with intricate designs.
Nail art is big business and nail extensions are here to stay. There are specially trained technicians to pamper you with the currently in-vogue French manicure where the tips are polished white while the lower part of the nail is left natural.
Many big city malls have nail pit-stops that provide services ranging from regular polish to fixing gel or acrylic nails or fitting rings on the nails and offering other enhancement services. This is a fast growing business as these pit-stops have low cost set-ups and promise excellent returns because of their relatively low prices.
Brisk business
An example of this is the nail spa, which first set up shop in Gurgaon in 2004. There's been no looking back since then. Today, it has five branches in India and one in Nepal. All the branches offer a bouquet of services and do brisk business.
Similarly, nail bars and spas in Delhi like Rhapsody, Nail Mantra, Simar's and Nail Lounge have a steady stream of clients and offer services like nail art, nail extensions, manicure or pedicure, French manicures, overlays, silk wraps, and some even have special nail treatment with plenty of "gossip magazines to indulge in while your paint job dries," as Simar's tagline puts it.
However, if you thought there are just a standard dozen or so nail treatments, perish the thought. Like couture, nails, too, follow trends where shape, size and colour are concerned.
The current trend is almond-shaped nails with a reverse French manicure — that is, a blank base and coloured tips. Red has given way to glassy blues, rich emerald greens and opaque purples. According to experts, the style for 2013 are going to be minimalist colours like cream, grey, white and light pink with top-rounded shapes.
So next time you visit a nail spa to pamper your nails, keep these trends in mind before extending your hand to the hand of a 'nailist'.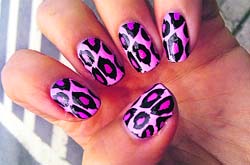 Stylish Stickers
Similar to decals, nail stickers serve the same purpose of decorating nails in different patterns and designs. Some funky ones can make for eye-popping designs. Their immense popularity among young people stems from the fact that these are highly affordable as nail adornments.
Price: Rs 1,250 for 10 quality stickers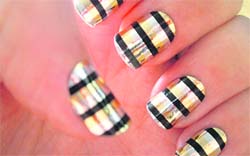 Fancy Wraps
Wraps are the latest fad to embellish nails. According to experts, the best way to decorate nails is to have some eye-catching designs on these wraps that are usually made of silk. Little wonder than that a host of movie and rock stars have taken to these fancy nail wraps.
Price: Between Rs 1,375 and Rs 2,750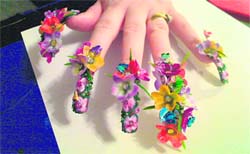 Extreme art
These are intricate, convoluted and…well…extreme. Extreme nails have complex details, 3-D designs, and even faces of famous people or flowers or anything under the sun that will evoke extreme emotions. You either love these or, if you hate these, these stand out like sore thumbs!
Price: It's art, so sky is the limit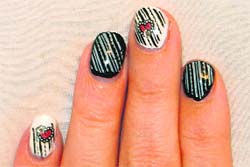 Silk Decals
These are decals or stickers made of silk. Apart from the embellishment effect, the silk decals are excellent in repairing broken or damage nails. Many experts consider these better than acrylic nails as these are more flexible and 'breathable' and the most natural of all artificial nails.
Price: Rs 1,320 for 100 pieces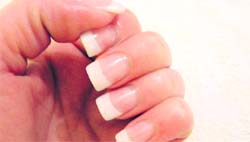 From France, with love
This is a simple manicure with the most stunning effect. The French Manicure comprises cutting, filing and shaping nails of hands but not polishing the nails. A white polish is applied to the tips while the the lower nails are left natural giving them a most eye-catching effect.
Price: Starting at Rs 600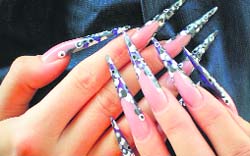 Pointed look
This is the hot new look of 2013. Long and pointed nails have been popularised by stars like Lady Gaga, Beyonce Knowles and Adele, who have been seen sporting these at concerts. Beauty experts say that these emphasise femininity and elegance while creating a shock appeal.
Price: Rs 1,100 - Rs1,37,500 For 10 nails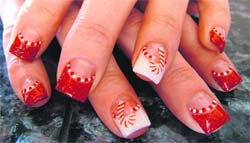 Acrylic appeal
These are one of the most popular and longest lasting cosmetic enhancements. Acrylic nails are artificial nails made from polymer powder and liquid monomer applied over whole natural nails or just the tip and painted in imaginative colours for that instant stunning effect.
price: Rs 3,000 for 10 nails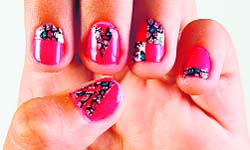 Fibreglass Mesh
These are the most natural-looking nails and consist of a thin mesh that is applied on the natural nail, and then treated with UV light. Also known as silk wraps, these are the safest nail extensions. However, these are not too popular as these don't last long and need constant maintenance.
Price: Rs 3,500 for 10 nails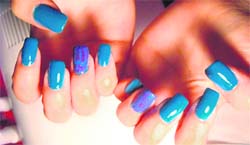 Gel quick fix
These are artificial nails that are closest to natural nails. But these are not as strong or durable as acrylic nails. However, these are preferred by a number of women as these enhance the look of nails and can be used to fix split or broken nails.
Price: Rs 3,000 for 10 nails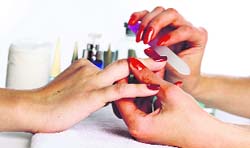 Beauty Treat
Two of the commonest nail enhancements, manicure and pedicure are beauty treatments for nails of the hands and feet respectively. The procedure comprises softening nails by dipping these in hot water, and then, cutting, filing and shaping and applying nail polish.
Price: Between Rs 300 and Rs 1,000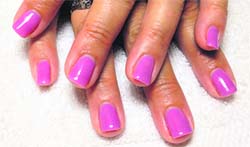 Eye-catching Overlays
Overlays are basically gels that are applied over nails to make them stronger and help them grow. These also aid in repairing damaged nails while protecting these from any further wear and tear. Overlays come in different colours and give nails an eye-catching effect.
Price: Rs 2,500 for 10 nails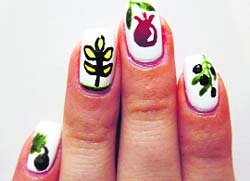 Peppy Decals
These are itsy-bitsy stickers to give your nails a peppy and instant makeover. The funky designs come in sets of dozen or more.
These come in different shapes, sizes and colours, and are attention-grabbers because of their quirky designs.
Price: Start at Rs 50 a dozen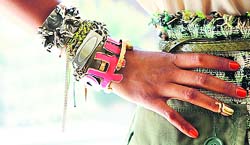 Ring Tones
Nail rings were primarily invented by the Chinese to help women protect their long nails. Today, these are a great fashion statement. Though there are a number of nail rings made from different metals, the sophisticated and expensive ones are in gold, silver and Swarovski.
Price: Rs 600

Pricey Paint
The most basic adornment, nail polish has been around since 1300 B.C. Today, there's a plethora to choose from some costing a few rupees to Models Own brand whose bottle has a hand-crafted gold lid inlaid with 1,118 diamonds to make your nails glitter like diamonds.
Price: Rs 71.50 lakh
Tips for great nails
For years, nails have been the neglected part of the hand. But with nail art and nail extensions taking centrestage, nail adornment has become as important as face and eye make-up. Nail artists suggest the following ways to have great nails: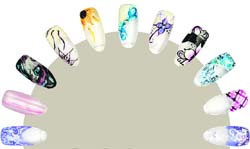 Trim and file your nails on a regular basis. These should be chopped straight across and slope gently on the sides.

Tip of the nail should jut no more than a quarter of the entire nail length. Very long nails are out of vogue.

Treat your nails to a home manicure and pedicure every fortnight. This will keep them party-ready.

It is a common misconception that nail polish is not good for nails. On the other hand, it gives great protection.

Eat a healthy diet with fresh fruits and vegetables, besides nuts like almonds and walnuts and whole-wheat bread.

Drink at least eight glasses of water. This will help keep your nails hydrated and prevent breakage due to dryness.

Before going to bed, soak your nails in warm water with few drops of lemon followed by a good massage to hands.

Whenever doing housework like cleaning and washing, use rubber gloves to protect these from chemical-laden detergents.