Food talk
Cook cauliflower in a different way
Pushpesh Pant
Khees is commonly made with corncobs and is a traditional delicacy in Malwa. It is a time consuming preparation that requires constant watching while the cooking is under way. A fair amount of ghee goes into it and one is left sated if a wee bit guilt-ridden after the stuff has been consumed. The milky sweetness of sweet corn lingers long after the last spoonful has disappeared and the hint of the tempering and tang of the squeezed lemon juice still register their presence on the palate. Well, we must confess we have never been able to pull it off and shamelessly scrounge at friendly homes like Wankhedes but when Punit at IBN-7 shared his tiffin recipe of gobhi ka khees with us we could console ourselves with a consolation prize of sorts. To be honest, this khees can't be compared with the real McCoy but is an interesting variation on the cauliflower theme — very useful to break the monotony when the vegetable begins to jade. Do try it out.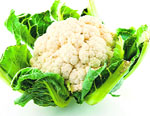 Gobhi ka khees
Ingredients
Cauliflower (medium-sized) 1 head
Dried ginger powder 1 tsp
Clove powder ½ tsp
Black pepper powder ½ tsp
Cardamom powder ½ tsp
Cinnamon powder ¼ tsp
Mace powder ¼ tsp
Green chilli (slit lengthwise One and deseeded)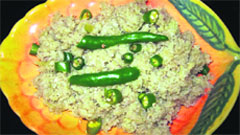 Lemon juice 1 tsp
Ghee 2 tbsp
Method
Wash and grate the cauliflower. Heat ghee in a pan and add the grated gobhi. Stir-fry on high flame for about one minute sprinkle the powdered spices along with salt. Mix to blend, pour in the lemon juice. Adjust seasoning, garnish with green chilli and enjoy hot.