Sports stars light up silver screen, finally
Bollywood is at last stepping in to re-discover the heroism of the sports stars because their stories are original tales of grit and glory
Aradhika Sharma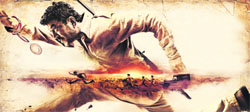 India has not really learnt to look after its icons. Except for Bollywood icons, and sometimes, cricket legends, Indians do not celebrate any 'greats' unless, of course, a jayanti comes up; a painting is sold in Sotheby's for millions of dollars or a foreign celebrity becomes a fan or a follower. The person who is the flavour of the season — writer, singer, actor, scientist, sports person, tech genius — is feted and celebrated and then forgotten. Sports stars have had to take the hardest beatings.

From Top:
The Raging Bull, Bloodsport,
The Basketball Diaries,
The Hurricane,
Ali,
The blind side
Things, however, seem to be on an upswing as film directors are focusing on the achievement of sports stars. Filmmakers seemed to have discovered that within the lives of these heroes and heroines, lie stories of perseverance and struggle. It is the triumph of human spirit, as they run, sprint, box and swim towards medals — bringing glory to their nation. The stories of grit and glory are original tales, with real heroes and heroines. What could make for a better film plot?
Both mainstream filmmakers and talented new makers of movies are discovering how they can use these sports icons to make meaningful cinema — thus eternalising them on celluloid. It's a good state of affairs because while the filmmakers get their original plots and screenplays, the sportspersons get a new lease of life and sports get encouragment in a country where sportspersons don't really have too much support. With popular filmstars playing the roles of these sports stars, it's a win-win situation for all concerned. The film starts get meaningful, protagonist-oriented roles, the filmmakers get unique plots and a chance to take their films to national and even international festivals and platforms, and the sports stars get the recognition they deserve.
Women Power
Magnificent Mary
The much talked of biographical film on M C Mary Kom, for example, has Priyanka Chopra playing Magnificent Mary and is made by Sanjay Leela Bhansali. Mary Kom's life is an inspiring one, especially empowering for women. The life of a simple girl from Manipur, a mother with twins, who boxed her way into international fame.
When she was a little girl, Mary had helped her parents in the fields, cutting wood, making charcoal and fishing and looking after her younger siblings. The five-time world champion, punched her way to women's boxing in the London Olympics, winning a historic bronze.
Bhansali says that "Not many films are based on biopics of living people, so this is a rare experiment." But he also maintains that Mary's is an inspiring story that depicts her struggle to the top, which deeply touched his heart. The release date is yet to be announced.
Thrice Olympic Gold winner
The Wizard

It seems that Bollywood has woken up to the magic of The Wizard, since several biopics on him are in the pipeline. Dhyan Chand was so called because of his splendid ball control. The hockey legend is regarded as the greatest player of all time. When India was the master of the game, he was part of the team that won the country three Olympic gold medals (1928, 1932, and 1936). He scored over 400 goals during his international career
Perhaps Bollywood's interest in the 'Pele of Hockey' has come about because of the recent speculation about him being given the highest civilian award, the Bharat Ratna. Be that as it may, rumours have it that Shah Rukh Khan is one of the choices to play the hockey champ on the silver screen. It's a logical choice since SRK has successfully played the dedicated coach who creates a winning women's hockey team from a motely bunch of girls in Chak De! India. That apart, what makes SRK uniquely qualified to play Dhyan Chand is the fact that during his school days at St Columba's, Delhi, he captained the football and hockey teams besides playing cricket at the zonal and national levels.
It seems that Manmohan Shetty (of Walkwater Media) and actor-director Satyajeet Puri have contacted Chand's son, Ashok Kumar, regarding a film on his life. While Ila Bedi Dutta, who also wrote Karan Johar's Agneepath, is the script writer, debutant Rohit Vaid is to be director.
The lady runner
Ashwini Nachappa
A film (in 1992) was made on the Arjuna Award winner, Ashwini Nachappa, who acted in the movie, directed by Moulie Shastry. It did not make a mark when it was released because it was ahead of its times.
Leading from front
The foreign film industry has always been ready to celebrate their sports heroes on celluloid. Leading actors and directors made these films that came up for awards and accolades. Take a look at some of these movies:
The Raging Bull (1980)
Based on the story of Giacobbe "Jake" LaMotta , nicknamed "The Bronx Bull", an Italian-American professional boxer and former World Middleweight Champion. Robert De Niro played Giacobbe.
Bloodsport (1988)
The story of Frank Dux, American martial artist. His former teacher in the martial arts invites him to "The Kumite", the secret martial arts tournament where only the world's best fighters are invited. Jean-Claude Van Damme played Frank Dux.
The Basketball Diaries (1995)
Played by Leonardo De Caprio , the film is the depiction of the 1978 memoir written by author and musician Jim Carroll. To begin with, Carroll was a member of an apparently unbeatable high school basketball squad. But then deteriorates into a free fall into the harrowing world of drug addiction.
The Hurricane (1995)
The film is the story of Rubin "Hurricane" Carter, a boxer wrongly imprisoned for murder, and the people who aided in his fight to prove his innocence. Denzel Washington played Rubin Carter.
Ali (2001)
This is Muhammad Ali's biographical film, from his early days to his days in the ring. Will Smith plays the legendary boxer.
The Blind Side (2009)
The story of Michael Oher, a boy with and alchoholic mother and a jailbird father, adopted eventually by a foster family, who helped him become All American football player and first round NFL draft. Michael Oher is played by Quinton Aaron.
The runner-turned-renegade
Paan Singh Tomar
One could say that a definitive work celebrating a sportsman and one that flagged off the trend of making biopics on sports heroes is Tigmanshu Dhulia's Paan Singh Tomar. This small budget film was excellently made, superbly acted and the cinematography so flawless, that it quietly but steadily, more through word of mouth than advertising, is out there being counted among the best and is vying for prizes and awards. The story is of Paan Singh Tomar, who was an Indian athlete and a seven-time national steeplechase champion during the 1950s and 1960s. He represented India at the 1958 Asian Games in Tokyo, Japan. Tomar served in the Indian Army, where his talent was discovered and nurtured. He was national champion in steeplechase for seven years and his national record of nine minutes and four seconds in steeplechase 3000m remained unbroken for 10 years. However, Tomar's fame changed to notoriety, when, after he left the Army, he became a dacoit in the Chambal valley. The story thus, is dramatic, full of the highs of winning for the country and then becoming a rebel, hunted by the lawmakers of the same country that feted him. Irrfan Khan as Paan Singh Tomar continues to win accolades. His performance was flawless. And the question of an athlete's fate after the applause stops still remains as true now as it was in the days of Tomar's zenith as sportsman. The film was released in March 2012.
The athlete who set the tracks ablaze
The Flying Sikh
"Bhaag Milkha Bhaag!" These words were spoken by Milkha Singh's father as he urged him to flee for his life during the riots during Partition. Milkha lost many of his family. He ran then, to save his life and he ran, later, for the glory of the nation. With no coach to train him, no facilities or incentives offered by the state, yet fuelled by an iron will, Milkha wrote his own destiny and in 1958, was awarded the prestigious Padma Shri.
What a story!
Milkha Singh has sold the story of his life for just one rupee. The promos show the sweat and tears of a sportsman transposed on screen. Directed by Rakeysh Omprakash Mehra, the movie promises to be a winner even before it is released. The biopic will hit the screen on July 12, 2013.
Please turn to page 8 to read Seema Sachdeva's interviews with Rakeysh Omprakash Mehra and Milkha Singh