ARTS
'Art & soul
New notes on the horizon
With a number of apps offering international music of all genres, besides access to live radio from the US,
the popularity of international music has reached new heights
Navjosh Singh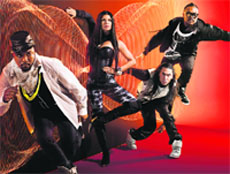 Let's not go way back. Let's go back into time only by a few years. Remember walking into your local music store looking for your favourite artist's cassette? Or the album containing that song you heard on the radio or TV, when channels used to play music that is! Music lovers would certainly reminisce the days when they used to flip open tapes and spend some minutes analysing content in booklets and liner notes. Ditto for compact discs (CDs). Hardcore fans used to love the smell of the freshly exposed booklet within the CD case containing the album lyrics and credits. Those days are almost history!
As we all know, today is the age of digital music, of course which has its own pros and cons. As a music enthusiast and critic, one would say pros overshadow the cons. But then from the point of view of an artist, that argument may seem inappropriate because of both acoustic as well as financial reasons.
The mp3 format, which originated almost two decades ago, allowing digital quality sound compressed into small, easily transferrable files is clearly the most popular mode of listening to music among fans today. And why not? An mp3 file can be shared with peers within seconds and duplicated into as many copies one likes and onto various devices like mp3 players, phones, CDs, USB drives, memory cards. The list goes on. The iPod and other mp3 players started to gain popularity worldwide around 2002, which also gave birth to a whole new issue of piracy and unauthorised distribution of copyrighted material. The mp3 player got even more revolutionised when mobile phone companies started incorporating the technology within handsets. That meant you did not have to carry two separate devices in your pocket anymore — your music player and your phone. With this, listening to music or radio also became a more personal experience than a shared one.
Today, people prefer listening to music on their headphones over playing the same loudly in their homes. One of the factors also is that due to varied tastes in music between generations, it's rare these days that people living under the same roof would have the same taste in music, so we would like listening to own choice of music within individual spaces to avoid disturbing others. With today's lifestyles demanding more travel than ever before, it's most convenient to catch up with your favourite music while on the go. All you need is an mp3-enabled mobile device along with a pair of headphones and you're good to go. There was a time when "video coaches" became a popular phenomenon in our country with most private and public bus services offering the experience of a movie or two during the trip. That trend has started to fade away since more and more people now choose to listen to their preferred music on their devices and some also having the luxury to watch videos and movies on phones, pads or laptops. Pads and notebooks becoming more affordable has also contributed to this shift in trend.
With mp3 files easy to find on the internet with a simple search, there has been much debate about the disadvantages of easily available digital music with respect to artist and music companies' rights. Most of us know the case of peer-to-peer file sharing network Napster, which gained popularity in early 2000s where users could share mp3 files with each other at no cost. The network ran into major legal problems with music labels and artists due to copyrighted material being circulated and was ultimately shut down and acquired by another electronics giant in 2008.
With music becoming more and more personal around middle of the last decade and the explosion of digital music becoming unstoppable, music companies started focussing on curbing piracy by promoting the use of mp3 players and retailing digital music on the internet. As the years went by, purchase of digital music became the new way of accessing music legally on the internet. In 2011, digital downloads accounted for a record-breaking 50.3 per cent of the total music sales, thus surpassing physical sales for the first time ever. Less people are now flocking stores to buy CDs, and understandably so. Picture this: would you travel all the way to the music store to buy a CD only to then convert the same into mp3 format to make it compatible for your mp3 player, or rather purchase the same album sitting on your couch in your house and transfer it directly from your computer to your device, at a lesser price? For an average music fan, the latter seems to be the obvious choice and artists/music companies have been smart enough to realise it. This has given rise to online music stores like "Flyte" from e-commerce retailer Flipkart, which has already become a popular destination for music fans to purchase authorised digital music. Because of the demand from music listeners to have their desired music on phones, there has also been a boom in the number of music streaming sites. Most of these sites offer free streaming of popular music, mostly Bollywood,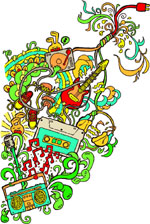 on their websites which can be accessed directly or via an application on internet-enabled phones. With the urban Indian population growing by the day and internet making the world shrink, the popularity of international music has reached new heights. And as supply meets demand when it comes to technological advances, a number of apps offering international music of all genres and even live radio from the US have begun to surface, which is a tremendous development for fans. How far have we come from purchasing cassettes of our favourite artistes, which used to arrive in stores here months after their release in the US market.
There has been a tectonic shift in the way we consume music. Though it has been a decade since digital music arrived on the mainstream scene, the digital era in a sense is still nascent. These are interesting times for us music lovers. With the age of convergence already in full bloom, the future seems bright and exciting, curiosity and anticipation remain high, what next?

Memory Tapes — Grace/Confusion
(Carpark Records)
Ex-Hail Social member, Davye Hawk has releases his third album Grace/Confusion, offering the chill wave sound that Hawk is known for but with a fuller, crisper and more melodic take. Six-minute opener Neighborhood Watch is a continual surprise, setting the pace with sweet pop melodies that grow and bend with increasing adrenaline. With six tracks clocking in at more than 39 minutes, the album is a pleasing change of pace for Memory Tapes, freeing Hawk to weave together songs from scrappy hooks, snatches of melodies and bombasts of instrumentals. Let Me Be is a low-tempo offering that balances the album, however the soft vibe doesn't last for long, as Hawk follows this up with a very Hall And Oates-like track, Sheila, in which Hawk sings of love atop a fun electronic beat with 1980s undertones. The cheerful Thru the Field swerves dreamily between the explorations of Bear in Heaven and the excavations of Boards of Canada, then literally leaving the path to run off into the rain. Hawk doesn't just move between textures and sounds, he merges and layers them. Follow Me, suitably concludes the album. It's a blend of beguiling electro melodies that characterised Seek Magic, but it exudes more ripeness and control, floating above interweaving harmonies.
Best track: Sheila
Worst track: Safety
Rating
Scott Walker — Bish Bosch
(4AD)
Bish Bosch is Scott Walker's (aka Noel Scott Engel) third solo album in close to two decades, taking its name from a pun on the British expression "bish bosh", a slang term for something completed hastily. Lyrically, Walker is still bang-on, merging that theatrical and industrial soundtrack with his inimitable vocals. As on the ground breaking album The Drift, the visibly rock moves are front-loaded, See You Don't Bump His Head mixes a persistent drum thump and guitar slashes, as Walker sings, "While plucking feathers from a swan song / Spring might gently press its thumbs against your eyes."
The sound of album is as widening and deepening we've come to expect of Walker, but it's also got elements of a brightening of that sound as well. Bish Bosch isn't quite as desolate and dark as The Drift, nor is it as overtly musical as Walker's 1995 masterpiece, Tilt. Walker sets the album's centrepiece, the 22-minute-long SDSS1416+13B (Zercon, a Flagpole sitter) in the court of Attila the Hun, but the song constellates the last days of several famed empires: Greek, Roman, Hun, Gaul, Brit, and American. "Your Helipolis is a scrapheap," Walker sings, equating the stretch of empire with the rise of bestiality and buggery. The song Phrasing, traces a vast web of chemical agents and compounds, "a protein moon in a protein sky, running protein fields with my protein eye." The most pleasant song to listen to is the groovy first single, Epizootics! a jazzy, Hawaiian-influenced track with an appropriately scary music video accompanying it. The space between the instruments, and Walker's signature dramatic baritone, is often expressive in itself and allows him to play with words, references and avant-garde instrumentation.
Best track: Epizootics!
Worst track: Dimple
Rating
Ty Segall — Twins
(Drag City)
Having already released two critically acclaimed LP's in 2012, including Hair, the psychedelic rock collaboration with White Fence, and Slaughterhouse, a garage rock record with his touring band, Ty Segall has gone for the hat-trick and released Twins, his third and final studio album of the year. Opening track Thank God for Sinners wastes no time picking up from where Slaughterhouse left off with a fury of guitars drench in reverb and Segall's voice bubbling to the surface. Despite the guitar tones on Twins being muddier and more crushing than ever before, they're in effect responsible for giving the album a richer, fuller, and more densely packed sound than any of Segall's previous solo albums. They Told Me Too is straight punk-laden track, reeling with Segall's irresistible falsetto vocals. The album's first single The Hill features a voice other than his own for the first time on record, leading with the vocals of Brigid Dawson, keyboardist and singer for fellow rockers Thee Oh Sees. More than anything, the diversity belongs to Segall's ability in being able to create superb songs that neatly fit around each other. He stretches out on Inside Your Heart, allowing himself for some classic-rock and letting the whole thing slowly unravel at the end. On sweetly titled numbers like Love Fuzz and Would You Be My Love, Segall indulges in a falsetto, and Gold on the Shore is a lovely, Beatles-esque acoustic piece. The album bounces from ballad to sludge, from pop to punk, and blends them all seamlessly, crafting a record that fails to fit within any specific genre, and ultimately triumphs for the same reason.
Best track: The Hill
Worst track: Handglams
Rating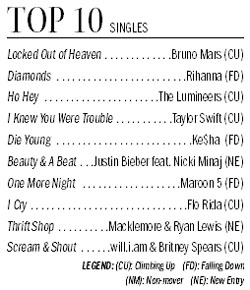 Big Boi — Vicious Lies and Dangerous Rumors (Def Jam)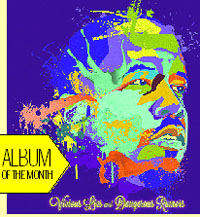 Outkast's Antwan Patton's 2010 solo debut Sir Lucious Left Foot: The Son of Chico Dusty saw the rapper establish himself as a critically acclaimed artist, free from the shadow of André 3000. Better known as Big Boi, the rapper is back with the highly anticipated follow-up album Vicious Lies and Dangerous Rumours. Along with producers from the Outkast stable, the album features fresh collaborators like the punky rock band Waves, who rev up Shoes for Running, a song about class warfare and the inevitability of death. Patton's palette is simply astounding, and his skill to orchestrate the whole show is impressive, especially when drawing upon so many different influences. The only disappointment that makes it all a bit tougher than it should have been is the bewildering sequencing, which leaves a lot to be desired. Apple of My Eye is the kind of song that pretty much anyone could identify with, a personal anthem for all of us when relationships turn rough and smooth. Many of the rhymes are dedicated to love and loss, with She Hates Me hinting at his own domestic friction in a manner we haven't heard since Outkast's Ms. Jackson. Recalling The Love Below's acoustic guitar songs, Descending, one of several tracks here to feature Little Dragon, is bliss, but it's the Phantogram collaborations that really impress. Tremendous Damage is particularly personal as he really digs into himself at points while flexing his ego at others, but it's all on a simple piano loop and some bass guitar while Bosko sounds fairly like Eliot Sloan. It showcases Ludacris and T.I. at their most charismatic and ferocious in years.
Best track: Shoes for Running
Worst track: Higher Res