Entertainment
"It's been a labour of love"
The biopic Bhaag Milkha Bhaag is based on the extraordinary life of an ordinary Indian. Director Rakeysh Omprakash Mehra and Flying Sikh Milkha Singh share their experiences about the making of the film
Seema Sachdeva
Rakeysh Omprakash Mehra, who is back with a biopic on the legendary Milkha Singh, talks about the making of Bhaag Milkha Bhaag. Excerpts from an interview: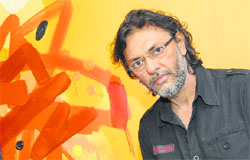 Not too many films on sports have been hits at the boxoffice. Do you think Bhaag Milkha Bhaag is likely to do well with the audience?
I don't see Bhaag Milkha Bhaag as a sports film. It is a story inspired by the extraordinary life of a sportsman Milkha Singh. It is the real-life story of a human being who beat all odds to run for his country. I have tried to capture the period from the 1940s to the 1960, beginning with the time he left his hometown in Multan. It is also the story of the time of the emergence of new India when everyone was fired with idealism.
Why did you choose Milkha Singh's story for a biopic?
I had read his autobiography and the idea of a film on him had been in my mind for quite some time. I spoke to many youngsters and realised that today's generation was not aware of the exploits of this sporting legend. It was an honour for me that Milkha Singh gave me an opportunity to tell his story. Jeev made it possible for me to make the film. More than a film, it is a labour of love. As a token gesture, a 1960 one-rupee note was given for the story of the film. At my end, I have not charged a single penny for directing the film.
Do you think a biopic like Bhaag Milkha Bhaag is viable in today's time?
The YouTube trailer of the film has already got more than 1.2 million hits. One can easily say that the youth today is as equally receptive to biopics and sports heroes as it was 50 years back. Also a good story will be appreciated, irrespective of the times.
How much research went into the making of the film?
While making a film, I do extensive research. However, in this case, the story was there in front of me. We are fortunate that we have a living legend among us. After discussing the story with Milkhaji, all that was needed was secondary research about the era, society, political situation, sport, etc. All this took almost 18 months.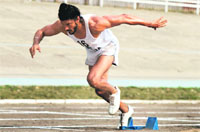 Farhan Akhtar as Milkha Singh in Bhaag Milkha Bhaag
Do you see Milkha Singh as a national hero?
Milkha Singh was the first iconic national sports hero. Before him, we only had idols like Mahatma Gandhi, Rabindranath Tagore, Jawaharlal Nehru, Sardar Patel, Subhas Chandra Bose, etc. as heroes whom one could look up to. When Milkha Singh ran in the Olympics, it was for the first time that India got a national hero who was a common man.
Why did you choose Farhan Akhtar for the role?
I am a very intuitive person. The moment I decided to make a film on Milkha Singh, I could only think of Farhan Akhtar for the role. There is a lot of depth and intensity in his eyes just like that of Milkha Singh. On his part, Farhan did not just play the role of Milkha Singh but his level of commitment was such that he became Milkha Singh.
Any interesting incident that occured during the making of the film.
was surprised that at an auction, Milkha Singh's blue spikes, which he wore for the 1960 Olympics, were the second highest item to be sold at the bidding. At a press conference in Chandigarh, I presented these memorable spikes to Milkha Singh but he was so magnanimous that there and then, he presented these to Farhan Akhtar. We took the 5.30 pm flight to Mumbai and by night I got a call from Farhan Akhtar. He had tried on the spikes, and these were a perfect fit. He gave me a call at night, saying, "My hands are shaking. I don't know what to do. These fit me perfectly." It was an emotional and unforgettable moment for both of us.
Publicity and film promotion have become an essential part of filmmaking and a major chunk of the film's budget goes into it. In such a scenario, what scope do small-budget films have?
I was in the ad industry for a long time. Things have to be advertised. It is only if you tell about your product that people will get to know about it. However, the first and foremost thing essential is the story of a film. Yes, you can build a film with marketing but it alone cannot sustain the film. The overall package is important but a good film like A Wednesday or Vicky Donor grows on you irrespective of the promotion or the star cast. On the contrary, many big budget films bomb if the storyline is weak.
Do you see cinema as a medium to bring about a social change?
The first responsibility of cinema is to entertain. Cinema has its own language. It enters your consciousness like no other art form. It is the most dynamic piece of art. I am lucky that I am good at it. It is such a beautiful life and story. I am the medium to tell the story and I'll tell the story as best as I can.

No substitute for hard work: Milkha Singh
What made you offer your story for making the film?
My life is an open book. I offered the story of my life for the film so that the new generation gets to know that I could make a name in the world of sports despite hardships in my life. After watching the film, I hope that the new generation is inspired to excel in their field and bring pride to our country.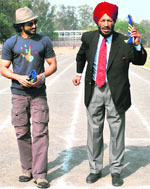 Milkha Singh gives tips to Farhan Akhtar during the making of Bhaag Milkha Bhaag Tribune photo:
Pradeep Tewari
Has Rakeysh Mehra been able to capture your story well?
He's been able to bring alive my story quite well. He and the entire team of Bhaag Milkha Bhaag have worked very hard and I wish them a lot of luck.
Do you think Farhan Akhtar has done justice to your role?
I saw the teaser of the film and was quite impressed with Farhan Akhtar's performance. He has prepared well for this role. I had guided him on my specific style of running and he was open to my suggestions.
What made you gift the spikes to Farhan Akhtar?
I felt that Farhan Akhtar would be able to perform the role with much more ease if he wore these spikes. I have donated all my medals, including the Padma Shri, to the Government of India. I felt these would serve no purpose in my drawing room but may inspire others.
Do you think other than cricket, the rest of the sports in our country remain neglected?
Cricket has dominated the sports scene of our country for long. I would like to request sports associations, players and mediapersons to pay attention to other sports as well. They need to understand that if they continue to neglecting other sports, there will be no takers for these.
What would you like to say to the present generation of sportspersons?
My message is not just for sportspersons but for everybody, including parents and children. There is no substitute for hard work and discipline. Nothing is impossible if you have the will to achieve it. We got Independence after many sacrifices. We need to inculcate a sense of pride for our country in our children. — S.S.

Stand up and be counted
Every day, thousands of people come to cities with dreams of making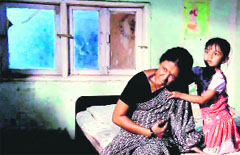 a name for themselves. But the illusion quickly fades away as reality sets in. In a bid to achieve their dreams quickly, people often fall prey to greed and take a wrong turn on their road to success by committing crimes to fulfil their desires and aspirations. But people in big cities have stood up against such wrongdoings. Savdhaan India weekends at 10 p.m. and weekdays at 10.30 p.m. on Life OK is all about the common man's struggle against injustice. Watch this serious serial that deals with real issues like sexual harassment, female foeticide, child labour and untouchability. The movement alerts viewers and inspires them to counter injustice with firm determination.
Savdhaan India: Real-time issues
Unravelling the future
When technology drives your car, the power of your mind steers the wheelchair, when robots become a part of your world, then that is the beginning of a new world. Take the next leap forward with Professor Stephen Hawking in the Brave New World, Fridays 9 p.m. on History TV18. Professor Hawking examines how science is preparing for the future of mankind. He fronts a global exploration of the scientific breakthroughs that could transform our lives in the 21st century. Aided by a team of scientific experts, including Richard Dawkins, Sir David Attenborough, Aarathi Prasad, Lord Winston and Maggie Aderin-Pocock, this series travels the world to see how science is striving for humankind's next big step. The episodes focus on the way science is shaping our lives and changing the way we live in five different spheres: health, machines, biology, environment and technology. Watch this gripping show that takes you from the jungles of Cameroon to the quads of Oxford. The Brave New World celebrates the work of scientists striving to change our world for the better. — NF