M A I N N E W S
Chautala, son convicted, held in teachers' recruitment scam
* Sentencing on Jan 22
* Two IAS officers among 55 guilty
Legal Correspondent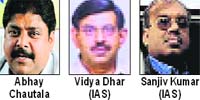 New Delhi, January 16
A CBI court today convicted Haryana former Chief Minister OP Chautala and his son Ajay for corruption, cheating and forgery in the recruitment of 3,032 junior basic trained (JBT) teachers in 1999-2000 during his term as the Chief Minister and sent to Tihar Jail.
The 78-year-old senior Chautala, chief of the Indian National Lok Dal (INLD), was held as the "main conspirator" by Special CBI Judge Vinod Kumar in his 308-page verdict. The trial court is expected to pronounce the quantum of sentence on January 22 after hearing arguments on January 17, 19 and 21.
CBI special judge Vinod Kumar also convicted Chautala's then political adviser and Kurukshetra MLA Sher Singh Badshami, and IAS officers Vidya Dhar, then Officer on Special Duty, and Sanjiv Kumar, then Primary Education Director, besides 50 others.
"There is a complete chain of circumstances which pinned down accused Om Prakash Chautala as the main conspirator," the judge said in the verdict that holds the 55 accused guilty of committing offences, including criminal conspiracy and use of fake documents.
The CBI had registered a case against 62 officials and politicians on May 24, 2004. They included chairpersons and members of the district-level selection committee constituted for recruiting JBT teachers in Ambala, Bhiwani, Faridabad, Fatehabad, Gurgaon, Jhajjar, Jind, Karnal, Kurukshetra, Kaithal, Mahindergarh, Panchkula, Panipat, Rohtak, Rewari, Sirsa, Sonepat and Yamunanagar districts. Of the 62 accused, one was discharged while six persons died during trial.
The CBI had filed the chargesheet in the case on June 6, 2008 charging the accused under Sections 120B (criminal conspiracy), 420 (cheating), 467 (forgery), 468 (forgery for cheating), 471 (use of forged document showing it as genuine) of the Indian Penal Code (IPC) and under the provisions of the Prevention of Corruption Act (PCA), 1988.
The Chautalas can continue as MLAs in the current Assembly till the expiry of its term in October 2014 despite their conviction today. They get protection under Section 8(4) of the Representation of People (RP) Act, 1951, which allows convicted MPs and MLAs to retain their status as representatives of their constituencies in the Lok Sabha or the respective Assemblies.
To take benefit of this protection, they have to simply file an appeal against the conviction within three months. However, their eligibility to contest the election -- be it Parliament or Assembly -- will depend on the outcome of their appeal against the conviction.
They will be allowed to contest the election again if the high court or the Supreme Court stays their conviction pending disposal of their appeal. However, getting a stay on the sentence, which will be awarded by the trial court on January 22, will not help them contest the election again.
In the event of their failure to get relief from the high court or apex court, they would not be able to contest any election during their sentence period as well as for another six years from the date of completing their sentence.
One of the accused in the case, IAS officer Sanjiv Kumar, had moved the Supreme Court in 2003 contending that whatever he did was at Chautala's instance. The court, however, allowed the CBI to go ahead with pursuing the case.
During the arguments in the trial court, the CBI had contended that its investigation had established that appointments of the teachers were made on the basis of a fraudulently prepared second set of interview lists prepared at the behest of Chautala, his son (who was then an MP), and the three top officials -- Badshami, Dhar and Sanjiv Kumar.
The trial court had taken cognisance of the chargesheet on July 16, 2008 and framed charges on July 23, 2011 against 61 persons after discharging a retired official of the Education Department. The defence evidence had concluded on August 4, 2012 and the final arguments were over on December 17, 2012.
(With PTI inputs)
How it happened
1999-2000: OP Chautala's INLD comes to power in Haryana; appoints 3,032 JBT teachers
June 5, 2003: Sanjiv Kumar moves SC alleging corruption in the recruitments, submits list of candidates originally selected
SC directs the CBI to probe matter, especially bribery charges
June 6, 2008: CBI formally charges the father-son duo and others
CBI says appointments made on basis of a fraudulently prepared second set of interview lists prepared at the behest of Chautala, his son, Ajay Chautala, his political advisor SS Badshami and IAS officers Vidya Dhar and Sanjiv Kumar
List of those convicted
Charges were framed against 61 accused persons by the Special CBI Judge. During trial, six accused, all retired officials of Education Department, Haryana were expired.
One retired official of Education Department, Haryana was discharged.
Om Prakash Chautala, Ajay Singh Chautala, Vidya Dhar, Sher Singh Badshami , Sanjeev Kumar, Srimati Prem Bahel, Shashi Malhotra, Krishan Gupta, Brahmanand, Vind Kumari, Maman Chand, Sawan Lal, Shrikanta Sharma, Mrs Phool Khurana, Harbans Lal, Ram Karan Kukreja, Chandar Singh Verma, Yogesh Kumar Sharma, Abhilesh Kaur, Sher Singh, Anar Singh, Kailash Kaushik, Ajit Singh Sangwan, Ram Kaur, Mahabir Singh Lathar, Narayan Singh Ruhel, Krishan Lal Narang, Usha Rani, Madan Lal Kalra, Veer Bhan Mehta, Dilbagh Singh, Ram Kumar, Pushkar Mal Verma, Durga Dutt Pardhan, Bani Singh, Daya Saini, Ram Singh, Snesh Pal Singh, Rekha Sharma, Raksha Jindal, Jeet Ram Khokhar, Nirmala Devi, Amar Singh, Sudha Sachdeva, Krishan Dayal Varma, Sarosh Sharma, Tulsi Ram , Om Prakash Tiwari, Bihari Lal, Rajinder Singh Dahya, Dalip Singh, Rajinder Pal Singh, Shravan Kumar Chawala, Urmil Sharma, Joginder Lal
Six accused — Prabhu Dayal, Udai Prasad Sharma, Shashi Bhushan, Puran Chand, Nathuram, Kamla Devi — were involved in the case died during trial of the case. One Brajmohan has been discharged.