Sukhmani Bhore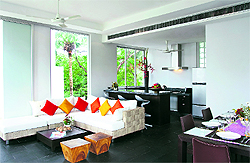 White is the most favoured hue to achieve a contemporary look. Vibrant accessories can perk up the decor

If you are finding your existing decor a bit too traditional and want to change the look without making major changes, there are a few things that you can change around the house that will help you to achieve the modern look. Modern or contemporary style is 'the style' of the year. It is simple, subtle and sophisticated. It highlights space rather than things. The contemporary decor is sleek and stylish and focuses basically on colour, space and shape.
Colour
The first thing you can do to give a modern look to your house is to change your paint colour. Get rid of the green and blue walls and paint them cream or white. Contemporary interiors feature tone-on-tone colour palettes. Neutrals, whites, browns and black work best for modern homes. The colour palette can be perked up with vibrant accessories.
Flooring
Hardwood flooring, vinyl, polished concrete and stone finish go well with the contemporary décor. Do away with wall-to-wall carpets and show some floor. In case you don't want to spend too much on changing the flooring of the whole house, replace your existing traditional carpets with modern rugs with geometrical patterns or solid colours.
Fabrics
Natural fabrics such as silk, wool, linen and cotton are used for their textural aspect and inherent neutral hues. However, bold colour or geometric pattern may be brought into the design with pillows, a rug or a throw. Get rid of your dainty floral prints.
Furniture
The most distinct element of this style is its straight lines. Add pieces that are straight and sleek. The look should be clean and uncluttered. Furniture should have straight lines with no frills, trims, curves or carvings.
Shine
Contemporary rooms are nothing if not polished, and that means high-gloss surfaces fit right in. Chrome, steel, lacquer, glass, plastic, tile and more all work in tandem to help bounce light around a space. Mix materials for contrast and depth. Too much shine will make you uneasy therefore remember to break up the gleam with matte elements.
Accessories
Your accessories should be few, simple, large and well chosen. Place them strategically to create a focal point in the room. Do not clutter up the room; try placing one accessory per surface. In contemporary decor always remember that less is more.
Wall art
Walls in contemporary rooms don't usually have much in the way of adornment: no heavy mouldings, no plate collections, and no family photo groupings. So they're a perfect foil for large works of art. As for the artwork, use large paintings with bright colours or a group of black and white paintings. The frames can be wood or chrome finish. Replace your traditional paintings with abstract and modern art.
Window coverings
Windows in a contemporary house are usually abundant, and they're often left undressed to highlight their crisp lines and to let the natural light flood in. Usually privacy is an issue in most houses therefore, window blinds or eyelet curtains work best with this style. Do not use any lace, frills or tassels. Get rid of sheers and keep the look simple.
Bedrooms
To get a modern look in a bedroom add a platform bed. Replace everything that has carvings with something straight. Even your vanity mirror must be straight lined.
Kitchens
Keep it clean: the door style you choose should not have decorations and ornate details. Frameless cabinets, and perhaps a little glass, will work well in a contemporary kitchen. Use larger tiles instead of small. If you use grey, silver and black tiles for your kitchen, accent it with bright coloured dishes like red, blue or yellow. Generally, in a contemporary kitchen, the colour scheme is eye-catching. Use contrasting colours or a complementary colour scheme based on your cabinetry, appliances, etc.
Bathrooms
Since contemporary is all about straight lines, bathrooms too need to feature straight, clean and neat lines. Whether it is the bathroom cabinets, the bath fittings or the bathroom vanity, the silhouettes have to be minimalistic, uncomplicated and simple. Make use of mirrored mosaic tiles in the bathroom and accent with bright colored towels and candles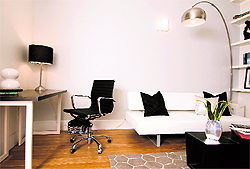 Lighting
The lighting design is used as an artistic statement in a contemporary interior. Add floor and table lamps that have straight lines and sleek metallic finishes; colour might be introduced with a special shade. Recessed or track lighting draws attention to well-placed art and accessories. Use chrome, nickel or stainless steel fixtures and give a layered look to your lighting. Get rid of all fixtures that have a shade, as these represent a traditional decor style.
The writer is Interior and landscape designer and can be contacted at www.archtechsolutions.com