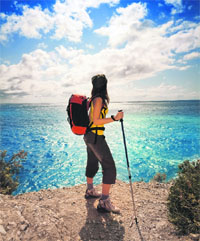 Following the solo trail
More and more women are yielding to the wander bug and the pull of the unknown. They follow their hearts and carve out a solo trail. We listen to a few of them who dare to be different and follow the dictum: Explore. Dream. Discover
Puneetinder Kaur Sidhu
Come vacation time, Dr Harpreet Gill, an academician with MCM DAV College, Chandigarh, happily puts away her saris and satchel in exchange for rugged outdoor gear and a rucksack; taking off for shores unknown and spaces unexplored, all by herself. "I love travelling", she states matter-of-factly. Elaborating further, she says, "Different places, landscapes, cultures, they were all part of my growing up as an Army brat. Solo travelling, for me, was a natural progression.
---
ARTS
'Art & soul
The mysteries of Chavin
Combining primitive religious beliefs and practices and great sophistication at the material level, the mysterious temple in Peru, which was the theme of a recent exhibition at Zurich, continues to remain a puzzle
B.N.Goswamy
Mysteries, it seems, will never end. Till a friend called me up to tell me about a splendid exhibition featuring it at the Museum Rietberg in Zurich, I had never heard the name Chavin. He told me that it was an ancient archaeological site — the full name is Chavin de Huantar, after a village — up in a high valley in the Peruvian Andes. I decided to look it all up.

BROAD BRUSH
---
LIFE
More for less
The inexpensive mustard oil can be more beneficial than many costly cooking mediums. Rich in mono-unsaturated fats, its consumption can reduce the risk of coronary heart diseases by almost 70 per cent
Considered a poor man's oil, mustard oil was almost discarded by the rich and elite for fears of being adulterated or causing heart disease. A traditional oil native to north and north-east India, it seemed to have lost its glory to refined oils. However, scientific research has re-discovered its goodness. And once again it has found respectability and is back in favour on the grocery shelves.
---
Society
Under The Greenwood Tree
We must heed our culture's reverence for trees of all kinds. This means preventing the extinction of the kikar tree. In this endeavour the forest department, our farmers and regional research laboratories must unite
Deepak Rikhye
To determine when the Acacia farnesiana or the kikar tree arrived in India can entail a labyrinthine search. The kikar has been the quintessence of our landscape in Punjab, Haryana and Ranthambore. But alas! It is diminishing. JR Vaid, a farmer who has been farming his land for decades, is located in Haryana's Ambala District.
---
TRAVEL
A haven for city weary
Sudha Mahalingam
Lansdowne is a jewel in the Pauri Garhwal district of Uttarakhand that has so far managed to remain undetected by the roving eyes of the inveterate SUV-borne Delhi tourist. It is a benign and a relatively obscure hill town with a seductive name and can barely provide beds for car loads of tourists who may land up without notice. Lansdowne can accommodate no more than a couple of hundred people at a given time. And these are wise people who have planned their trips and booked their rooms well ahead.

Globetrotting
---
ENTERTAINMENT
The curious case of quirky titles
Filmmakers are dangling new baits for cinegoers with quirky, tongue-twisting film titles. Impossible-sounding names like Matru Ki Bijli Ka Mandola and Luv Shuv Tey Chicken Khurana are intriguing audiences and bringing them to the theatres
Deepa Ranade
Ever since Salman Khan's films with dry and commonplace titles like Mr & Mrs Khanna and Veer tanked at the boxoffice, Salman has made sure that his films have catchy titles that will instantly catch the fancy of the audience. Wanted, Ready, Ek Tha Tiger and, of course, Dabangg bear testimony to his resolve that 'well begun is half done'. Two years back when Dabangg released, most of us wondered what it meant. But today once-incomprehensible Dabangg has become a common phrase for anyone who is fearless and audacious!
Flickering Angels
Subhrajit Mitra's documentary sheds light on the plight of children of prison inmates in West Bengal and the society's indifference towards these young people who are marginalised for no fault of their own
Shoma A. Chatterji
Prisoners belong to a ghettoised world. Label them under the common heading called 'criminals.' What about their children? What happens to these kids while their parents, often both, are behind bars? No one conceives of prison inmates as people with a family with wives/husbands, in-laws and children. So, one does not question what happens to the children of people serving a jail sentence. Flickering Angels is a documentary that sheds light, perhaps for the first time, on the children of prison inmates in West Bengal.
---