Fashion becomes pocket friendly
Many big names in the fashion industry have adopted the concept of budget lines to capitalise on the potential of the great Indian middle class
Ashima Batish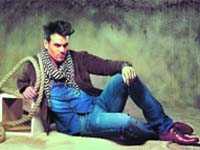 Raghavendra Rathore describes his budget line, Club J, as his, "true blue prêt collection"




A creation by Gaurav Jai Gupta of Akaaro. Gupta says that unlike the West, the prêt line sells at a faster rate than couture in India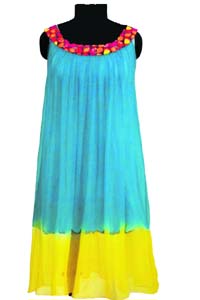 Designer Rahul Mishra has tied up with Westside to sell his budget line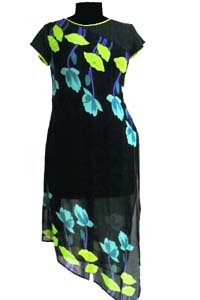 A Rahul Mishra creation
IT is amusing when celebrated fashion designer Manish Arora makes the statement that his creations are more affordable now. But it is enough to give you the heart to at least check out a beautifully embroidered chauridaar suit, admire the genius in him and most importantly flip the price tag attached to it. What glares back are two pairs of zeroes with a humbler two preceding them, read them together and you know a budgeted Manish Arora at Biba stores makes affordability a very subjective term.
Yet the concept of designer wear, selling through retail stores, has caught the fancy of fashion followers. It gives some hope to the new-found obsession for fashion of people in India to wear a Manish Arora, to flaunt a Ritu Kumar, to brag about a Wendell Rodricks. If couture introduced Indian fashion to the world, then budget line did it to the people of India. Kick-started by Ritu Kumar, the concept of budget line has been gradually adopted by every designer, who understands the potential of the great Indian middle class.
The popularity of brands like Zara and Mango is another reason why fashion designers are compromising on prices. In fact, they are doing much more than just tying up with retail stores that enjoy a bigger footfall. Gaurav Jai Gupta of Akaaro says that unlike the West or Middle East, it's the pr`EAt line that clears the shelf at a faster rate than couture in India. "How many people in India can spare a few lakhs of rupees on a single piece of couture? Instead, offer them a pr`EAt or anything that is reasonably priced and a 100 pieces will sell off in a no time." To cater the options for the middle-class, he has come up with a shirt-line ranging between Rs 4,000-Rs 16,000, his definition of value for money.
The budget line or a reasonably-priced-segment of pret, as the designers say, is the natural progression towards expensive and exclusive couture. It introduces people to luxe. Sabyasachi launched a budget line in 2010, which sufficed two purposes, first, it provided financial support to the traditional weavers of Murshidabad, and second the price range began from Rs 3,500, making it possible for a lot more women to afford a Sabyasachi.
Then there is a fashion designer like Shyam Narayan Prasad also, who never ventured into the couture segment, instead he kept himself busy making clothes for a bigger clientele base. "I targeted a market that had a lot of scope to grow." He realised that there are takers of bespoke fashion but not all can shell out a lot of money. "Nothing can ensure that than a budgeted line," says the Delhi-based designer, who only focuses on ethnic wear. With his extremely popular works and a huge client base, no wonder he hasn't really felt the need to publicise his label. Word of mouth does it all.
Designer Rahul Mishra went a step ahead. He successfully tied up with Westside with the brand name 'Rahul Mishra for Westside' two years ago. Beginning from Rs 2,600, it went up to Rs 5,000. "The best part of the collaboration was that the whole slot was sold off in no time. Interestingly, not a single piece was left for the end-of-season-sale," informs Rahul.
Next on the cards is a tie-up with another retail brand, Pantaloon, the pricing this time will be more buyer friendly — between Rs 700 and Rs 2,600. "Offer people tasteful designs at the price they will not mind and there's no better way of promoting yourself. Also, a budget line can be done in huge volumes, which means that a larger number of people will be able to wear my label." For the latter deal, 40,000 pieces will be brought out in the markets.
The last season of Blenders Pride Fashion tour was utilised by Raghavendra Rathore to promote his new venture — Club J, which he describes as his, "True blue pr`EAt collection." It largely comprises denims, on which he and his team experimented optimally. It begins from a humble Rs2,000 and goes up to Rs 15,000. The parent label, RR (Raghavendra Rathore) is not only different in terms of design, also in pricing, which can be pretty high. Talking about his budget line, Rathore says,"People aspire to dress up well, to be able to wear designer clothes. It can only be made possible if the pricing is nominal."
He is planning to come up with a slew of Club J stores in India. The cue of the business model, he says, has been taken from Donna Karen's parent label and the retail label, DKNY, which was also the training ground for Raghavendra in New York. "It's imperative to understand the future of retail in India, which is only possible with the budget line," adds Raghavendra.
But all said and done, fashion designers have to very carefully weigh the pros and cons before they move towards the budget segment. As Manidra Wirk says, "Zara or Tommy Hilfiger can afford it because they come up with bulk collections. In our case, the selling point of clothes is our exclusivity. The question is — will we be able to bear the spiralling overhead charges, while compromising on the price." She, too, has collaborated with Westside in the past, as has Wendell Rodricks. And the list is getting bigger with big names from the industry.

While Giorgio Armani and Emporio Armani remain to be the high-end labels from the house of Giorgio Armani, Armani Jeans and Armani exchange make for the bridge level. They are retailed and thus much affordable. At the International Fashion Weeks, it's the high-end labels that find a spot, while the sub-labels sell off only through the Armani stores and other retail tie-up arrangements.
From the House of Versace

It begins with the Versace couture, which comprises all high-end, handcrafted products, followed by Versace Collection, again a high-end line but the target group is the younger lot that follows fashion with dedication. Versace Jeans is the casual line of the parent brand. It is affordable as compared to the high-end segments and besides selling through the Versace boutiques, also is retailed from various stores. But the actual low-cost collection came in 2011 when Donatella Versace, the creative director of the house, tied up with retail store, H&M, a Swedish discount retailer.
More to Alexander Mcqueen

While the label became popular for making the wedding gown of Kate Middleton, it also caters to clients who don't fall in the category of red-carpet celebrities. The parent brand is for the elite, but McQ is its reasonably priced, diffusion line. In 2005, the label teamed up with Puma, which made it more accessible but it was the collaboration with Target, the mass retail chain, that made it truly popular with masses.
For people who love YSL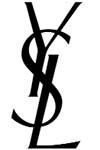 In 1966, Yves Saint Laurent became the first French couturier to launch a prêt-a-porter line, which was sold through the company's Rive Gauche stores. The line became so popular that it generated more finances than the haute couture line. Last year, while announcing the line of ready-to-wear creations, the brand dropped its first name and retained Saint Laurent.