M A I N N E W S
42% vote in DSGMC poll, counting on Jan 30
Tribune News Service
New Delhi, January 27
Elections to the Delhi Sikh Gurdwara Management Committee (DSGMC) were held on Sunday, with 42 per cent voters coming out to exercise their franchise across 46 wards.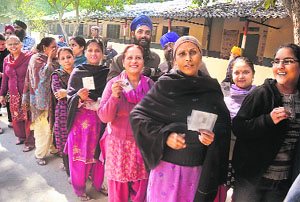 Voters stand in queue to cast their vote at Chakhandi polling station, Tilak Nagar, during the DSGMC elections in New Delhi on Sunday. Tribune photo: Manas Ranjan Bhui
Delhi Government Directorate of Gurdwara Election Director GP Singh said polling was by and large peaceful and no untoward incident was reported. He said a total of 42.28 per cent votes were polled as against 42.5 per cent in 2007. The maximum votes -- 73.6 per cent -- were polled in Ward No. 40, Karampura, considered one of the hyper-sensitive wards, said GP Singh.
Gurmeet Singh Shunty was the SAD Badal candidate from the ward while SAD Delhi was represented by Jaspal Singh. Shunty was the general secretary in the Paramjit Singh Sarna-led DSGMC and he had quit Sarna's party to join SAD Badal.
The lowest polling - 21.5% — was recorded in Paharganj ward where SAD Badal's Kulmohan Singh was pitted against SAD Delhi's Prabjeet Singh.
The result of the election would be announced on January 30. The DSGMC, an autonomous organisation, comprises of 51 members — 46 elected and five nominated. It manages Sikh shrines, various educational institutions, hospitals, old-age homes, libraries and other charitable institutions in the National Capital.
Low turnout was reported in most wards except Karampura, Shahpur, Punjabi Bagh, Tilak Vihar and Vishnu Garden where a large number of voters queued up to exercise their franchise.
The situation was tense at Chander Vihar polling station of Punjabi Bagh where SAD Delhi's Paramjit Singh Sarna and SAD Badal's Manjinder Singh Sirsa had locked horns. Going by frequent argument between supporters of both candidates, the Delhi Police had tightened security in the area and tear gas and commandoes were on standby.
The Tribune team saw Sarna, Sirsa and their supporters standing on either side of the road at Chander Vihar abusing each other.
The police said the situation was tense, but under control.
Voters came out in large numbers at Chaukhandi polling station in Tilak Vihar ward. People were seen standing in queue and waiting for their turn at all booths. Manvinder Singh, 25, said people had been coming to cast their vote from the very beginning. Baljit Kaur, 75, said, "We've been exercising our franchise for the past many years. This year, too, we decided not to waste to our vote."
Tilak Vihar, where a large number of 1984 anti-Sikh riot victim reside, also reported high turnout from the time voting began. Said Manpreet Kaur: "We want somebody who will fight for our rights." A rush of voters was also seen at Shahpura ward, the most populated of the DSGMC.
Delhi Police commandoes were deployed at polling stations of Karampura. Vishanber Kaur, 70, a patient of paralysis, reached the polling station on a wheel chair. "The DSGMC is an important body of the Sikh community in Delhi. Keeping this in view, I have come to the polling station with my son to cast my vote," she said.
Tirath Singh, who came with his daughter to cast their vote, returned disappointed on not finding their name in the voters' list. "I had voted in the last Assembly election as well as in the civic polls. I am surprised that my name is not in the voters' list for the DSGMC election," he said.