M A I N N E W S
245 killed in Brazil nightclub fire
Santa Maria (Brazil), Jan 27
At least 245 persons died today when a fire tore through a nightclub packed with university students in the southern Brazilian city of Santa Maria, the police said.
The death toll from the inferno stood initially at 70 but rapidly increased as firefighters searched the charred remains of the "Kiss" club, believed to have been packed with 300-400 revellers at the time of the blaze.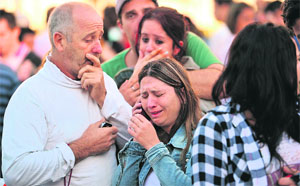 Relatives of victims cry outside a hospital in Santa Maria city on Sunday. — AFP
Brazilian President Dilma Rousseff cut short a visit to Chile, where she was attending a European and Latin American summit, to head to Santa Maria and oversee the response to the tragedy, a Brazilian official said.
Major Gerson da Rosa Ferreira, who was leading rescue efforts at the scene for the military police, said the victims died of asphyxiation or from being trampled, and that there were possibly as many as 500 persons inside the club when the fire broke out at about 2.30 am.
Television footage showed people sobbing outside the club, while shirtless firefighters used sledge hammers and axes to knock down an exterior wall to open up an exit.
"It was really fast. There was a lot of smoke, really dark smoke," survivor Aline Santos Silva, 29, told Globonews TV. "We were only able to get out quickly because we were in a VIP area close to the door."
Luiza Sousa, a civil police official in Santa Maria, said the blaze started when a member of the band or its production team ignited a flare, which then set fire to the ceiling. The fire spread "in seconds," Sousa said.
The disaster recalls other incidents including a 2003 fire at a nightclub in West Warwick, Rhode Island, that killed 100, and a Buenos Aires nightclub blaze in 2004 that killed nearly 200. In both incidents, a band or members of the audience ignited fires that set the establishment ablaze.
Brazil's safety standards and emergency response capabilities are under particular scrutiny as the country prepares to host the 2014 World Cup soccer tournament and the 2016 Olympics.
Rio Grande do Sul state Health Secretary Ciro Simoni said emergency medical supplies from all over the state were being sent to the scene.
"A sad Sunday!" tweeted Rio Grande do Sul Governor Tarso Genro. He said "all possible measures" were being taken in response and that he was on his way to the scene. — Agencies