Leather industry
Get into the supple skin of success
Leather is an interesting option for those looking for a career in fashion and design fields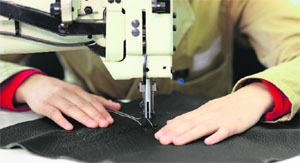 Today it is not only Britney Spears and Paris Hilton whom you see dressed in stylish fashion garments in leather, but many a young thing in India can also be seen sporting snazzy leather boots, silver studded leather belts and a variety of other leather accessories. Leather is not only making fashion statements among the celebrities but has also beome a preferred garment to brave the chilly winetrs in the region.
Career Hotline
Can I have a secure job as wildlife photographer?
Q. I want to do a course in wildlife photography and want to know whether I can have a secure job as a wildlife photographer?— Tridev Singh Chahal
A. Exciting? Yes. Adventurous? Yes. Secure? Not really!
NEWSBOARD
Texas Instruments launches Centre of Excellence at Delhi college
Texas Instruments (TI) recently announced the launch of a Centre of Excellence at Netaji Subash Institute of Technology (NSIT), Delhi. This is the first Center of Excellence for Embedded Product Development that TI is setting up in any educational institution in India.
course chat: entrepreneurship and family business management
Training the new guard
B-schools focus on entrepreneurial skills to give well-structured and systematic approach to family-owned business
India, being a country with the highest presence of family-owned business in Asia (two out of every three listed companies are family-controlled), the scions of small to large business houses are looking forward for specialised skills to take over the reins and work in an increasingly professional corporate environment. With such a scenario Entrepreneurship and Family Business Management has become the new hot discipline for MBA aspirants.
CareerCature
sANDEEP jOSHI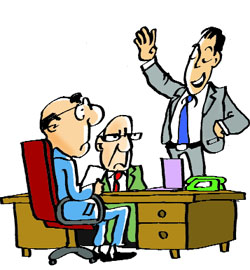 All my former employers misunderstood my concentration- enhancing meditation as sleeping at work
on board(s): parent angle
10 commandments for parents
A child's basic education begins at home and the family can play a very important role in helping the child cope with exam stress. It is a difficult period for all, particularly for the child. So as a parent you need to take charge and help create a conducive environment at home that helps the child to study. Remember, it is your child who is taking the exam and not you. Here are some tips that parents can keep in mind to lessen the stress for themselves as well as for their children:
field in focus: banking sector
Ride the growth tide
Banking is one of the sectors that has undergone a paradigm shift and changed its face altogether. For those of you who snort their nose and scoff at by calling it a boring and lackadaisical career, it has got a facelift and become a profession that involves creativity and out-of-the-box thinking. With a plethora of financial products and services flooding the market, it has become adventurous to venture into banking.
smart strategy: effective meeting
Meeting manners
When it comes to business meetings, exercising best etiquette shows respect, dignity and professionalism and goes a long way in establishing relationships and closing deals. Some things may seem intuitive, but it's always good to freshen up on skills that will make you a more marketable and in-demand professional.
Right questions to ask at an interview
First, let's start with what NOT to ask in a job interview. THE biggest faux pas one can make is asking: "What does your company do?" If you've not done your homework and researched the company, you don't deserve a seat at the table. But let's assume you've done your homework.
Fair business sense
While the jury is still out on whether women truly are more successful business owners than men, a new survey has shown that many women feel that way. According to a new survey, 91 per cent of female small business owners say their business is successful based on how they feel their business is operating right now.
Happiness @ work
Gems of ancient wisdom
On top, don't fall in your own eyes
Life is full of ups and downs. Whenever you find yourself on top, make sure that you don't fall from grace. As his elder brother King Vira Narasimha of Vijayanagara had ordered his death, Krishnadeva went underground. A temple dancer, Chinnadevi, gave him shelter. When Vira passed away, Krishnadeva Raya assumed the throne on August 8, 1509, and married princess Tirumala Devi. Despite not needing Chinna any more, he married her as his second wife.