Animal instinct


MF Husain's 'Sprinkling Horses' sold for $1.14 million at an auction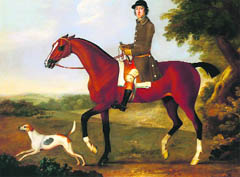 at the Christie's — one of the highest prices ever paid and one of the highs for the Indian art market. The work brought out the dynamism of horses paired with a human figure. Pablo Picasso used the bull as a metaphor throughout his art works. James Seymour matches his love of art with love for horses and became widely recognised for his equestrian art. Elephants, horses, tigers, bulls, butterflies…while the interpretation of animals in art depends on the context, the inspiration doesn't.

success mantra
The magic is in words...
Surjit Patar, the renowned Punjabi poet, found his calling right in his childhood. Poetry was not a vocation that got him much encouragement at home or school, but he chased his dream with utmost tenacity. Honours big and small have landed at his door, including the prestigious Padma Shri Award.
A century of running!
Wrinkled skin, drooping eyes, unkempt turban, he is just another old man on the street, until he puts on his shoes, that track suit and he is ready to go! He is a 'youth' icon in his own right. "I don't consider myself old. I still feel the zeal to do anything," he says during his visit at Arya College, Ludhiana.
Social calling
Upaasmar: The Taste of Hunger is a film that highlights the unfortunate deaths of children in Melghat, Maharashtra. And the director of the movie Ajay Saklani hails from a small village in Mandi District, Himachal Pradesh. He always dreamt of making films and this one is a dream start. A wanderer who kept changing cities for education and then work, Ajay came across Melghat, a cluster of 370 villages in the Satpura wilderness in Maharashtra in 2009. The tribals live in abject poverty out there, without basic amenities. Thousands of children lose their lives to hunger.
Future Shock
On the face value
No, this is not what is expected of the Facebook Graph Search. I have been trying the new search product from our favourite social networking site and I am not impressed. In a highly speculated event, Facebook launched its Graph Search facility, which has been in Beta stage the last two weeks. However, most of the reviews pouring in have numerous reservations and fears. After Facebook gave me access to this fascinating new feature, I got down to trying it this week. And as I said, it failed to meet my expectations.
Nature's melody
The gallantry of art lies not in the audacity with

which it beautifies the most ostentatious realms of intellect, rather it manifests deep within the shades of all possible colours of nature. Inspired by the same ideation, Anu Ganju, Gurgaon-based artist exhibits a host of paintings at IFM's Art Portfolio, Sector 9. The exhibition was inaugurated by Vijai Vardhan, IAS, Chairman Haryana Tourism Corporation.
green thumb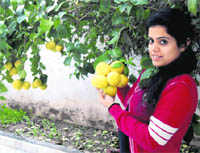 Sweet & sour
When a gardener plans a home garden, there are many preferences that are considered by the family and those likes and dislikes when executed make it every member's garden. But there are a few plants that are 'must haves' in a garden. One of these is lemon which, whether it is winter or summer, is of day-to-day requirement. At times, this fruit is so costly in the market that one avoids buying it.
Game On
With gaming becoming the new buzzword this season with Bollywood, the makers of Race 2 have tied up with Hungama Game Studio to announce the launch of several entertaining and exciting games across Mobile, Internet and DTH platforms.
Star track
Big B a hit with Bolly beauties
Pun'jab' Sandeep Joshi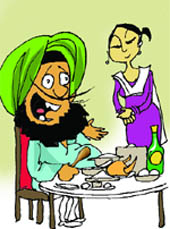 Wise choice: The doctor told me to have soup for dinner, so I always have a bowl before my shredded lamb dinner and fruit-cream dessert.
chatter box