M A I N N E W S
Amarnath Yatra to begin from June 28; health certificate must
Tribune News Service


OTHER DECISIONS

The duration of the pilgrimage will be 55 days


No one below the age of 13 or above 75 years can undertake yatra


Women with more than six-week pregnancy would also be debarred
Jammu, January 31
The Shri Amarnath Shrine Board (SASB) has decided not to allow anybody to undertake the arduous pilgrimage without a health certificate this year. The duration of the pilgrimage will be 55 days and it will begin on June 28.
No one below the age of 13 or above 75 years would be allowed to undertake the yatra. Women with more than six-week pregnancy would also be debarred from undertaking the yatra.
These decisions were taken at a meeting of the board held in New Delhi today. The meeting, chaired by Governor and board chairman NN Vohra, was attended by Sri Sri Ravi Shankar, Dr Kapila Vatsyayan, Justice GD Sharma (retd), Pandit Bhajan Sopori, Vijay Dhar and Prof Ved Kumari Ghai, all members of the board.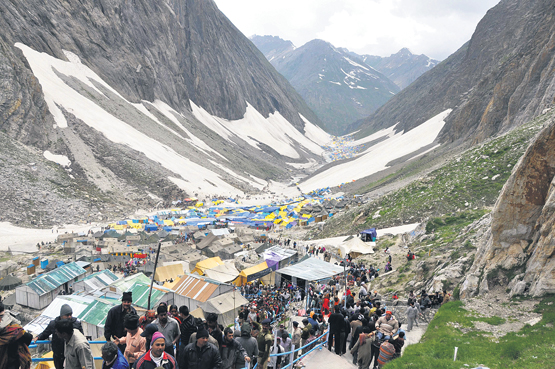 Chief Executive Officer Navin K Choudhary and Additional Chief Executive Officer of the shrine board Preet Pal Singh were also present on the occasion.
The board took note of the judgment passed by the Supreme Court on December 13 last year regarding responsibilities of the Centre, the state government and the shrine board as regards arrangements to be made for Amarnath Yatras from 2013.
The Supreme Court had constituted a committee to review arrangements for the smooth conduct of the yatra and suggest measures to upgrade health facilities, track condition, infrastructure in the yatra area and steps to preserve environment.
A comprehensive action plan has been chalked out to implement recommendations of the committee and directions of the Supreme Court.
The shrine board CEO said the yatris would have to furnish a health certificate while seeking registration for this year's pilgrimage. A committee of medical experts drawn from the Union Health Ministry and the State Health Department had designed a format for the compulsory health certificate that the yatri would have to submit while seeking registration for the yatra. Every Yatri would have to make a declaration about his/her current health status, past medical history and details about ailments from which he/she might be suffering or might had suffered in the past.
The compulsory health certificate would have to be obtained from authorised doctors and medical institutes and it must have been issued after February 1. The CEO said all states and UTs had been asked to furnish a list of doctors/medical institutes that could be authorised to issue the compulsory health certificates.
The board directed its CEO to issue advisories for yatris from time to time to keep them informed about various requirements for undertaking the yatra. The CEO was also directed to put the state-wise list of authorised doctors and medical institutes on board's website www.shriamarnathjishrine.com