A young dream
If you have ever dismissed a twelve or a sixteen-year-old as a kid or you were about it, just sit back and roll your eyes over this. Chandigarh-based, 16-year-old Karuna Singh excitedly and pretty much professionally handles the stage, answering the questions thrown at her from left, right and centre. The pretty and young eleventh grader has won Gladrags Little Miss India title. She had won the Little Miss India Punjab in 2012 and then represented Punjab at the finals held in Mumbai in 2013.
It makes sense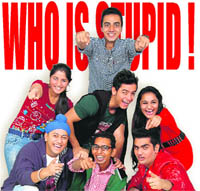 The film has to begin and end with the eternal theme ó love. If the director decides to pour in creativity, you can expect something different like theme politics but this again is heavily impregnated with dollops of love and mushy songs. So, for the first time a bunch of seven school-going kids are brought on screen through the Punjabi movie Stupid 7. School-going, you would probably want to turn to another counter and buy tickets for something more mature, mushier! We thought you could do with some advice. Grab a ticket and settle in to watch Pali Bhupinder Singh's Stupid 7, it would probably take you down to your own school days.
Punjabi Scope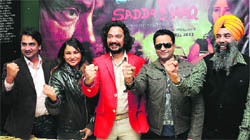 Real life on reel
Kuljinder Sidhu can now sit back and relax. His dream project will finally hit the theatres, which means his 'believe in honesty' and realistic cinema is not tampered with. The controversial Punjabi movie Sadda Haq finally gets the clearance from the Censor Board with a 'U' certificate from the Film Certification Appellate Tribunal.
Tea off
"There is nothing as soothing as a cup of tea in the morning," says Radhika Sharma, who wakes up to the warm aroma each morning. "Now I take green tea as bed tea, rather than normal tea," she adds. The vapour billowing from the cups and the quiet sips are getting more ubiquitous in homes and cafeterias. The splendid taste, the aroma of these organic and green teas apart, the increased effervescence in the tea cups is also because of the health benefits of these teas.
Eye catching
Titan Eye Plus, India's biggest eyewear retail chain makes a stylish splash in the New Year with the launch of Trendz 2013 collection. It caters to value-conscious consumers, who seek affordable yet stylish eyewear products.
Shop, donít drop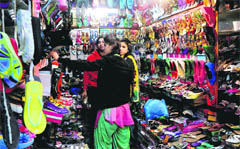 Itís that dreadful time of the month when you have spent all your pocket money on the glorious flaming shots while clubbing for two consecutive Saturday nights. To your utter realisation, itís your friendís birthday and you need a fancy new overcoat. So where do you shop with just a couple of hundreds in your clutch? Smile the frown away while we walk you through the cheap yet trendy places.
High Spirits
Pale-Ammo-U
Your cocktail glass will be weapon to shoot this cocktail.
Doc Talk
Best hand forward
One has a tendency to care a lot on facial skin for that youthful look so that the mirror can tell you that you are 20 years younger than your actual age. But wait till you look down at your hands.
TREND SETTER
Positively fashionable
Every person has a sense of style in his own right. Yet there are only a few whoíd attract the second glances, who have the power to make the camera go zoom on them. It could be the tousled hair, it could be the torn jeans. Our this weekís face in the crowd Mehak Sra, a student at Punjab Engineering College, likes to make the most of positives and tone down the rest.
Star track
chatter box