M A I N N E W S
HC no to institution tax in Punjab
Saurabh Malik
Tribune News Service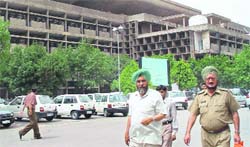 Chandigarh, February 1
The Punjab and Haryana High Court has quashed a February 2, 2011, notification of the Punjab Government for levying institution tax. A Division Bench held the notification was violative of the Constitution of India.
Notices raising demand from the institutions and commercial buildings outside the municipal limits have also been quashed. The court has, however, upheld the validity of Punjab (Institutional and Other Buildings) Tax Act, 2011. The development is significant as the state government cannot now collect institution tax and, in fact, will have to refund the amount already collected. The tax was levied on the commercial properties situated outside municipal areas. The decision comes as a jolt to the state government that is already reeling under financial pressure.
The ruling came on a bunch of six petitions filed by manufacturer of "India Gate" rice, KRBL Limited, and other petitioners. Taking up the matter, the Division Bench of Justice Surya Kant and Justice RP Nagrath observed the notification issued by the state government was violative of the doctrine of equality. "The notification also suffers from the disability of unreasonable classification as it sweeps everyone with the same broom. Conversely, it treats unequals as equals".
It was further held that the notification neither satisfied the test of equality, nor was in consistence with the provisions of the Act. "The notification is full of the sin of discrimination and it must take toll for its sins," the Bench ruled. Arguing on behalf of the petitioners, senior advocate KL Goyal had earlier sought the quashing of the tax on various grounds, including the fact that the tax was levied inequitably upon the different industries across the state without considering the inherent dissimilarities in buildings.
It was added that the 2011 Act made no attempt to extend equal treatment to like persons. It was "a glaring example" of treating unequals as equal, "as all the buildings having a floor area of 500 sq feet have been clubbed together and subjected to the levy of the same amount of tax".
Moreover, most of the factories had semi-permanent structures such as tin roofs, while the buildings of hospitals, colleges or marriage resorts were "constructed with superior material".