Getting naughty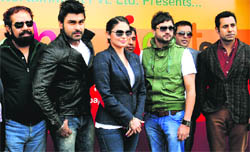 Sergeant Nicolas Broody, a war hero, returns to his country and family in the English series Homeland. Now, everyone wants a bit of him. Okay, it ends here. Now is the time to draw an interesting analogy. Our man, the jatt returns home from the lush green fields; to his college, to his 'modern' beautiful lady and here again, everyone wants a bit of it. At least, Pollywood is in no mood of leaving him alone!
Starry eyed


Kirti Kulhari has made her way to filmdom and she is here to stay. With her four movies — Rise Of The Zombie, Jal, Single Chal Riyaa Hun, Sooper Se Ooper — slated to release this year, she is happy portraying all characters — from a simple village belle to the modern babe. Having taken her first step in the glamour world with commercials, Kirti moved to music videos next. Theatre provided the training ground for acting.
pet passion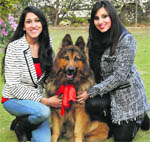 German connection
She rolls out the red carpet in an unimaginable way, or in a quite imaginable way shall we say? "Whenever anybody comes to my house I tie a red ribbon to my German Shephard Macc," Nimer, LLM student, reasons out. The double-coated, six-year- old, is anyway a champion at giving a grand reception. "No matter what time you come back home, and from where, he jumps about excitedly and gives a heart warming welcome."
Strings of legacy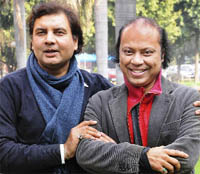 Ustad Nishat Khan: A name synonymous with seven generations of classical music and a four-hundred-year-old legacy. The artiste has not only upheld the tradition, but transcended boundaries and touched diverse realms such as Western classical music, abstract jazz, Flamenco and Gregorian chant. In Chandigarh, on the invite of SPICMACAY (Society for Promotion of Indian Classical Music And Culture Amongst Youth), Ustad Nishat Khan left the audience spellbound with a rare rendition of Raag Yaman on Thursday evening at IMTECH-39.
Call of the wild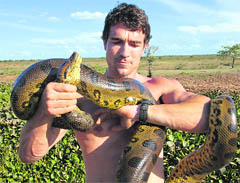 At times, it is important to push your limits and bite into your fears. Niall McCann is set to venture into the wild and this time, he will take it a notch higher. In the new series of the show Biggest and Baddest, to be telecast on Animal Planet, Niall, who is also a biologist, will be the host. You have seen him before in Lost in the Amazon, however, this show according to him, is very different. "Lost in the Amazon was more like a historical biography. In the new series of Biggest and Baddest, I will be exploring some of the most dangerous and interesting species of animals," he says.
the 'in' side
Accessorise your staircase
Staircase railings were earlier designed to serve a practical purpose, to help make your trip up and down the stairs easy and safe. Today, in addition to its functionality, railings add a great deal to the look of your stairs and home. They give stairs a visual presence and make a staircase a work of art. There are various options to choose from that will suit your decor and style.


Left but not over
Does it happen ever with you that you have a little bit of a paneer dish, a little bit of a cooked cauliflower or a piece of curried chicken shouting for attention from the fridge-shelf? They are small portions of leftovers, which are neither here nor there. Nobody wants them but the housewife doesn't want to show them into the bin either. Well it is time to give these leftovers an exotic makeover! The dish presented today is a Potato Roesti. It is Swiss in nature but takes easily to Punjabifying"! The leftovers get concealed successfully within the grated potatoes, yet add their lovely flavour to the resulting dish.
High Spirits
Highballs high heels
Star track
chatter box
first-day-first show
Treat for the mind