Now, Made for India
Multi-national chains looking at deepening their market reach are wooing Indians like never before by customising their products to Indian needs
Mukesh Khosla




Zandra Rhodes' Indian silk suit with peacock feathers and Swarovski crystals
What's going on? Surely there's something wrong. These global chains could not be selling stuff like gulab jamuns, kesar pistas, elaichi mawa, murg choley sandwich, tandoori paneer and a lot more Indian delicacies. The truth is they are.
Wooing Indians
Call it fusion food or mutant food, multinationals looking at deepening their market reach are wooing Indians like never before by customising to suit ethnic tastes and sync their products to Indian needs.
Take for example Dominos Pizza and Pizza Hut. The two American chains have added a distinct Indian flavour to their new range of toppings that include keema do-pyazaa, peppy paneer, kadhai chicken, teekha chicken masala and another chain, Slice of Italy, offers (hold your breath) kukkad pataka and Patiala jugaad!
Special deals for festivals like Diwali, Raksha Bandhan and Holi are planned to attract the ever-increasing "lets-eat-out" middle class Indian families.
Navratri special pizzas
There are also strictly vegetarian Navratri special pizzas and burgers, just so that the customers continue to flock in during that fasting season. Last Navratri some restaurants in Delhi were offering pizzas made from kuttu ka atta (Buckwheat flour) with an artichoke topping and risottos made from sabudana (tapioca) instead of Arboio rice. Hotel Hilton in Noida had a shakarkandi (sweet potato) soup, steamed cabbage and kalakand and almond cake for dessert.
And it's not just food. With this new "lets-turn-Indian" mantra, customised products are flowing fast and swift. In tune with the traditional Indian predilection of soaking clothes and scrubbing out the stains for a spotlessly white wash, Whirlpool washing machine comes with gentle hand wash plus a roll-over action that replicates the Indian style of washing clothes.
Whirlpool sometime back also introduced refrigerators with wheels. This was a clever strategy as it not only did away with the unseemly wooden stands, it also addressed a typically Indian problem of dust and grime under the refrigerator.
Test for Indian market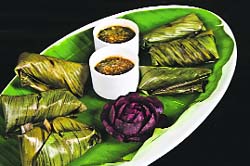 Chicken in banana leaf with a nutty sauce



Mutton in broccoli puree, iced feta and smoked almonds
Samsung is said to have created a room in its plant in Seocho- Gu in Seoul where it replicates the loud din and clatter of the Indian streets so as to test the efficacy of the audio of its mobile phones meant for the Indian market. Nokia's made-for-India handset Nokia 1100 comes with the dust-resistant keypad, anti-slip sides and a torch.
South Korean giant LG too has conditioned its products to suit the Indian market. Its washing machines come with a gentle saree wash cycle.
Its microwave ovens enable consumers to cook curries, paneer, chicken, daals and vegetables quickly. Keeping Indian power cuts in mind some of the company's refrigerators come fitted with quick freeze chambers, especially designed to keep food cool for four to five hours.
In couture too, overseas designers are keenly wooing Indians. Fashion designers like Zandra Rhodes, gave a spin to the Indian saree by putting zippers on it. In fact, the saree first got the western touch when Valentino created the 'saree dress' for Jacqueline Kennedy in the 1950s. Of late, Jean Paul Gaultier has been tinkering with the saree and has versions of it in a number of his collections. Leading French fashion house Hermes launched a limited-edition Indian saree range to "connect" with Indian culture.
Dramatic mind shift
What has led to this dramatic mind shift among global eateries, white good manufacturers, fashion designers who earlier eyed India largely as a place to dump their outdated products? Why this sudden rethinking in their marketing strategy and vision?
Experts say that India has become a very strategic market for global players. The burgeoning buying power of middle class Indians is motivating these companies to launch product features specifically suited to Indians tastes and needs.
They are adding an extra desi touch to their products. Or, as Michael Perschke, head Audi India told a conference of luxury retailers some time back that the German car major was fitting its Audis meant for India with special horns because the amount of honking done by a Mumbaikar on a daily basis is what an average German does in a year.

Eesha's grandparents have never heard of a doughnut, leave alone taste it. On a visit to a south Delhi mall, the 16-year-old girl takes them to a Dunkin Donuts' outlet. The grandparents' initial resistance turns into instant acceptance when they see doughnuts with prefixes like motichoor surprise, kesar pista and petal jamun with a gulab jamun placed in the centre.

A group of college girls walk into Starbucks in Mumbai's Horniman Circle-the first outlet of this American chain in India — and order elalichi mawa croissants, tandoori paneer rolls and Konkani twist puffs with their special Starbucks' 12-ounce cappuccino.

Café Coffee Day, the world's second largest chain after Starbucks, is offering Indian foods like chicken tikka sandwich, paneer tikka sandwich, murg chhole sandwich, chana sandwich, veggie samosa, mirch masala chatka. The Coffee Bean and Tea Leaf offers masala omelette, spicy barbeque paneer, vegetable mayonnaise and more.

Some of the most popular offerings on the McDonald's menu are fast foods like McAloo tikki, big spicy paneer wrap, McVeggie and chicken maharaja-mac. Kentucky fried chicken too has fast moving stuff like crunchy chana patty and curry punch chicken.
INDIAN FOOD gets International spin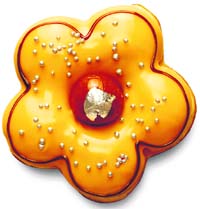 Petal jamun donut has a gulab jamun at the centre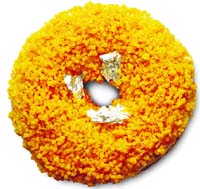 Motichoor surprise is Dunkin Donuts' gift to the Indian customers

Even as international food chains make a bid to pander to Indian tastes, the country's leading eateries are going global with Indian fusion food. Whether it is chowmien-stuffed samosas or gulkand cheesecake or even eggplant bharta pizza and masala fruit juice golgappas creative chefs across the country are giving a global spin to Indian food as well and serving Indian cuisine that looks nothing like the food that grandma cooked.

It's food where most of the ingredients are Indian but nothing which looks like Indian cuisine. That's because the look, presentation and plating are coming in for a change. Explains chef Arun Bhasin, "Indian food which has caught the fancy of the world looks a bit messy on the plate so the effort is to give it an international look."

At a recent festival in a five-star hotel in Delhi it was fusion food at its best. The daal, for example, was served in the shape of a spiral pastry held together with cottage cheese and served with a fusion of dates and tamarind. Then there was savoury cheese rolled into a rice pancake medallion accompanied with pickled spices.

The main course for the vegetarians was a mushroom dish which looked fresh out of a Swiss eatery. Char grilled mushrooms with a cascading melange of vegetable pearls simmered with a delicate lemon yoghurt emulsion and scented with fennel. For the non vegetarians there was tender supreme of chicken packed with lightly spiced quail with lemon yoghurt.

The dessert comprised figs and cinnamon encased in flaky pastry set against apricot-flavoured rabri. From drinks by the poolside to the candle-lit tables and the refreshing paan sorbet in tall champagne glasses, everything was exotic and nothing resembled a table full of local cuisine.

It was Indian food in new attire and one of the many experiments to redefine how our food would look in the years to come. The idea behind such creativity is to internationalise Indian cuisine both in taste and looks and to virtually convert it into a novelle cuisine.