M A I N N E W S
J-K rock band row: Case slapped on online abusers
Majid Jahangir/TNS


Srinagar, February 5
Days after the first all-girl band of Kashmir gave up, the state police has formally registered a case against online abusers who had threatened the girls.
The case has been registered at the Rajbagh police station against unidentified abusers under Section 66A of the Information Technology Act and Section 506 (criminal intimidation) of the Ranbir Penal Code.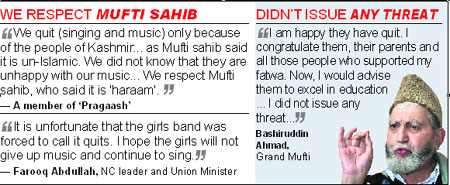 A police spokesman in Srinagar said after the registration of the case, the investigators had been trying to identify those involved in issuing online threats to the girls.
After the registration of the case, officials of the Rajbagh police station, assisted by the cyber cell of the J&K Police were surfing the messages that were posted online on the Facebook page of the all-girl band to identify the culprits.
"While nearly a dozen Facebook users who had posted abusive messages have been shortlisted by the police, the investigators are ensuring to make a foolproof case against those who posted these messages before making any formal arrest in the case," said a police officer privy to the investigations.
"So far, we have identified six IP addresses from which the hate messages were posted on the Facebook page of the Pragaash (the band's Facebook page). Some of them are from Srinagar, Anantnag and Bijbehara," he added. At least, 15 persons have posted hate messages against the girls.